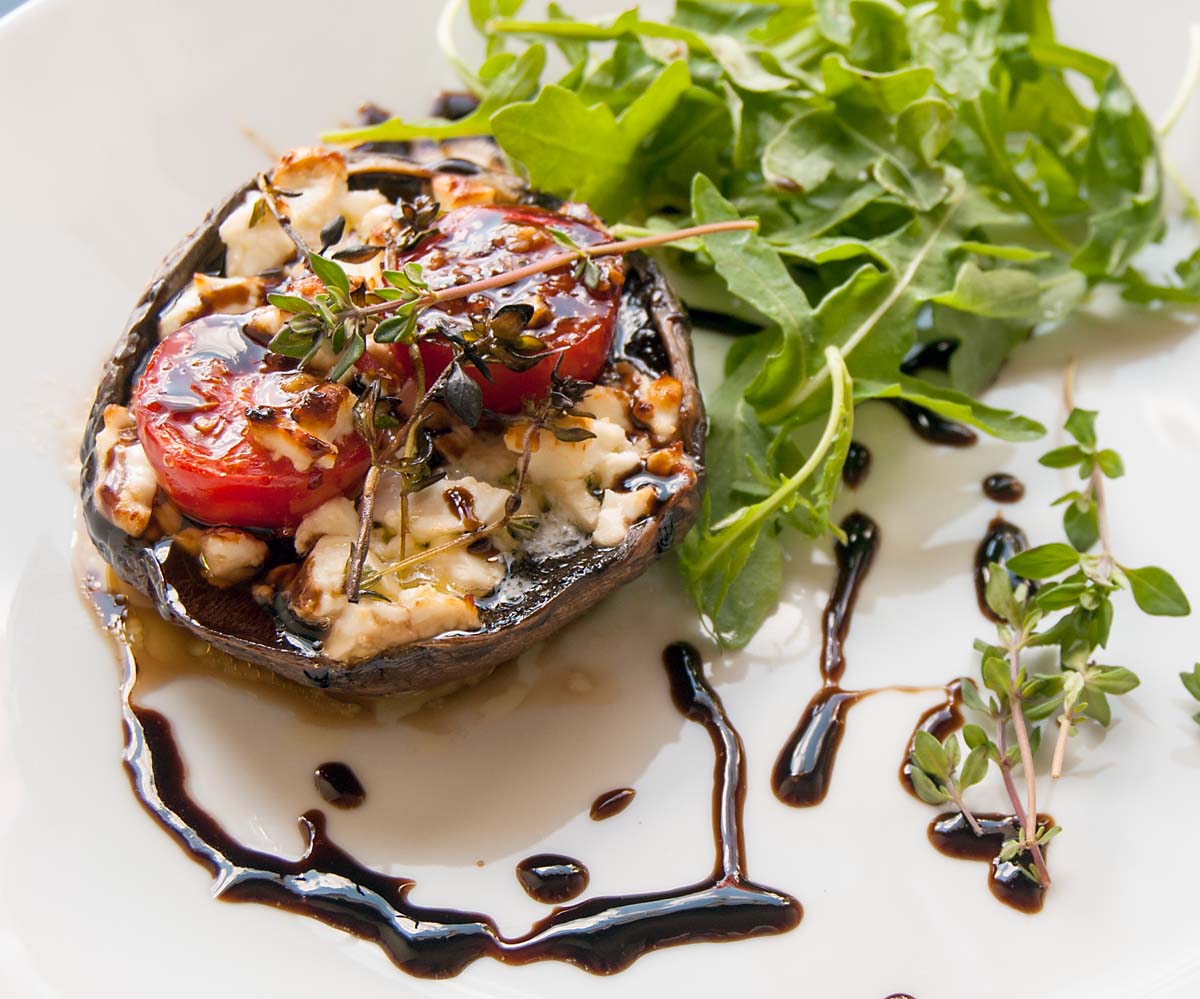 For this post, I looked for inspiration in the refrigerator. The most inspiring I could find was a Portobello. A bit pathetic for a guy that is running a food blog won't you say?
You must make the most of what you have, I said to myself. So I sat down and tried to imagine an incredibly delicious recipe with portobello as a base ingredient. After one hour I gave up. But I had to do something.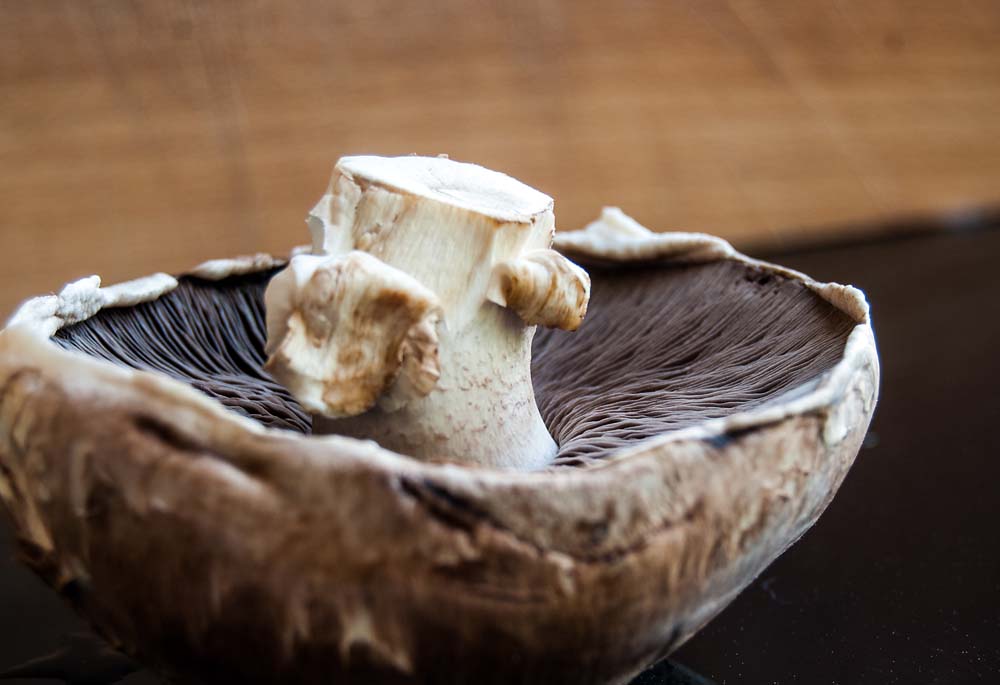 So I turned to Pinterest.
I found a recipe for Caprese stuffed garlic butter Portobello. It looked delicious. You fill a Portobello with garlic butter, cherry tomatoes, and mozzarella, and on top of that, you add some basil and balsamic glaze.
A perfect appetizer. Few ingredients and easy to do. Now I just had to put some personal touch to it. Finding inspiration is one thing, stealing a recipe is something completely different. Something I would never do. I can copy a recipe, but in that case, I always give credit to the source.
But I realized that this would be a different recipe when I looked for mozzarella in the fridge.
I had none.
All I could find was a piece of Feta cheese. Quite a disappointment. Now, don't get me wrong. I love Feta cheese. It's unbeatable in many recipes. But for this recipe, you want something that melts and gives that fat, delicious, cheesy taste.
Mozzarella is king when it comes to delivering that. Feta cheese has one major problem. It doesn't melt.
I started looking for a replacement, but all I could find was a standard child-friendly-put-on-the-sandwich cheese.
Too boring.
I realized that I had to go with the Feta cheese. It might not be that bad after all.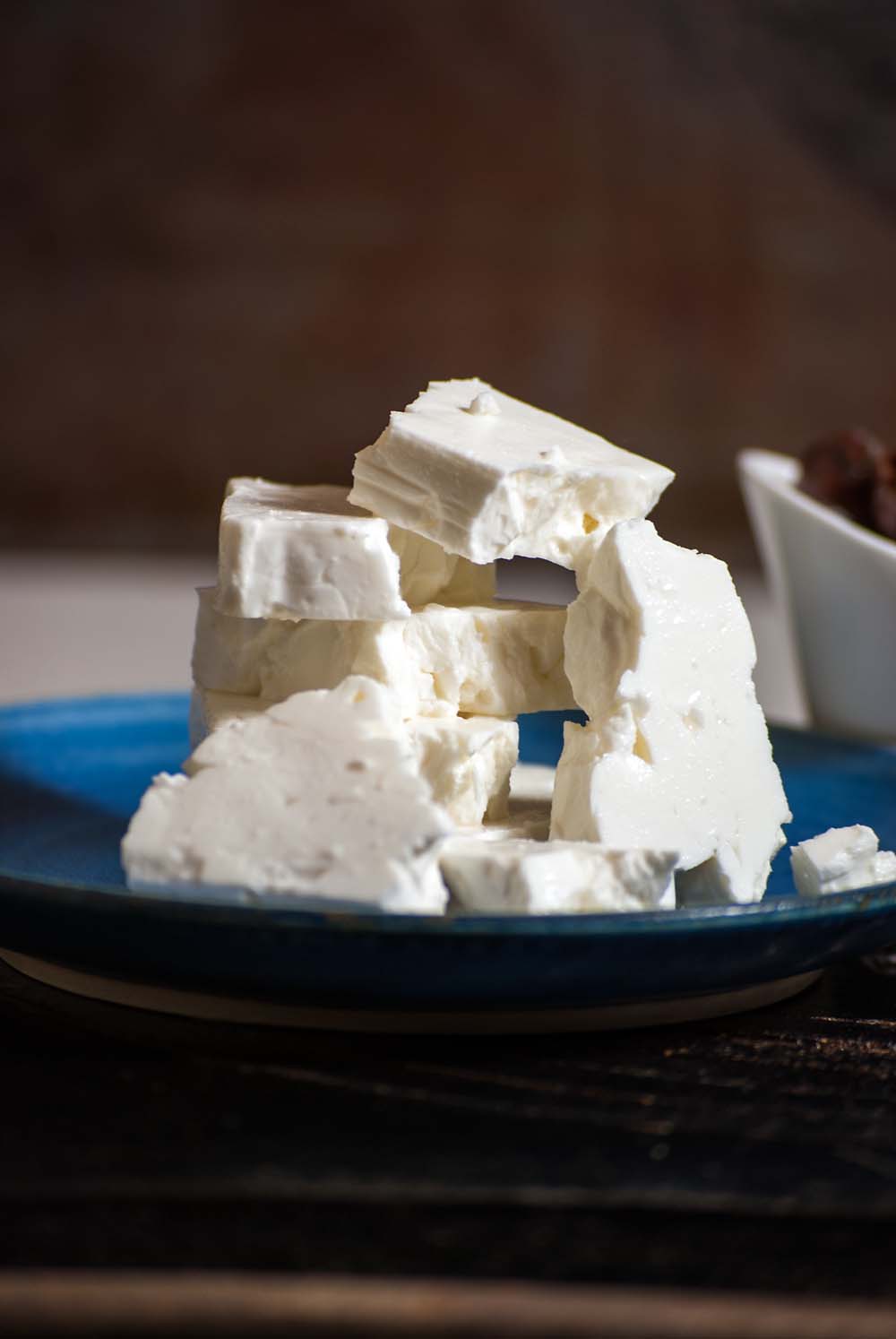 Feta cheese has a tangy, quite salty, and a bit sour taste. Even if I think it becomes a bit milder when heated, it needs to be balanced with some sweetness. The balsamic glaze adds some sweetness, but I wanted more. So I decided to add some muscovado sugar on the tomatoes.
But first things first. As mushrooms go very well with butter and garlic, these two ingredients was a must. I spread some chopped garlic over the Portobello and added plenty of butter. Over that, I placed a halved cherry tomato. On each piece, I added some muscovado sugar. The muscovado sugar may be optional, but I do encourage you to try it. It's loaded with flavor that will lift this dish to a higher level.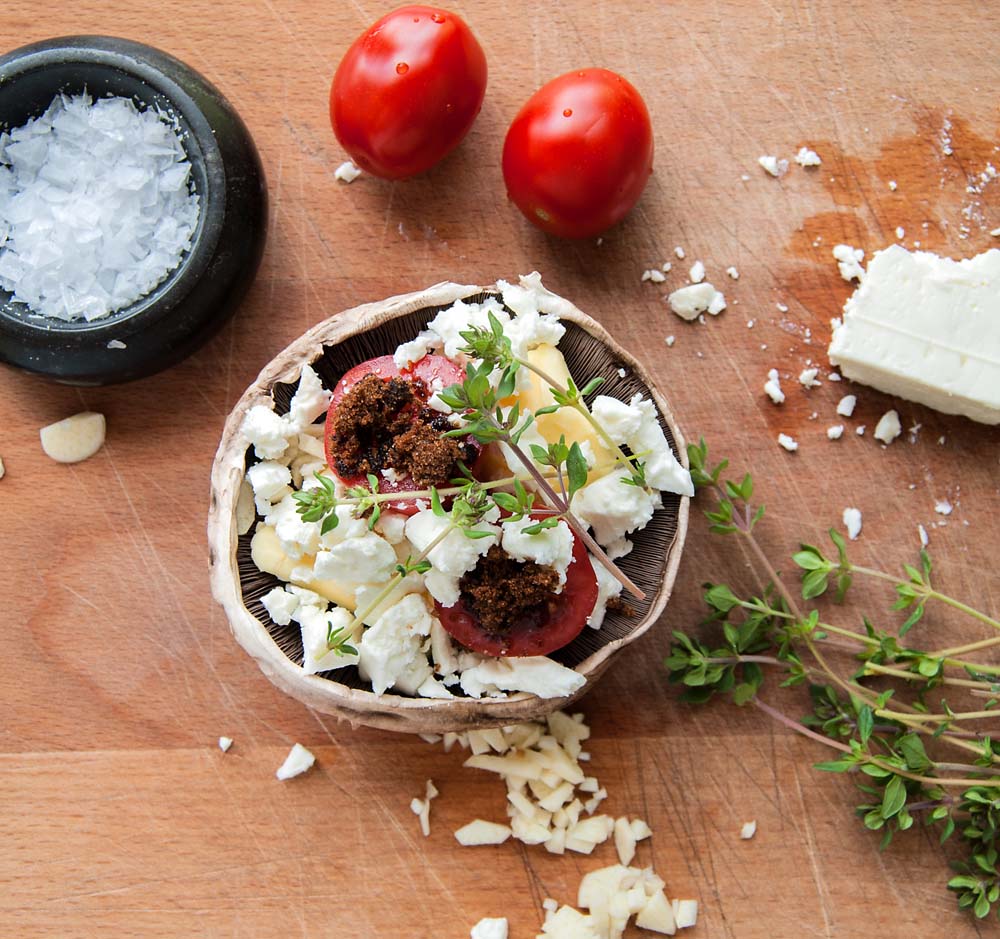 Mozzarella and basil are the perfect combinations. Like yin and yang, salt and pepper, Han Solo and Chewbacca, and pizza and beer. It's more or less a symbol for Italien food. Feta cheese and basil are not. It's not bad, but I think you can find better combinations. Like thyme or oregano. I chose thyme. Mostly, because I have a surplus of fresh thyme in my garden.
Feta cheese and thyme will give this dish a more Greek touch, which is not bad at all. I love Greek food. But the balsamic glaze is more Italien, so let's call this a Mediterranean dish.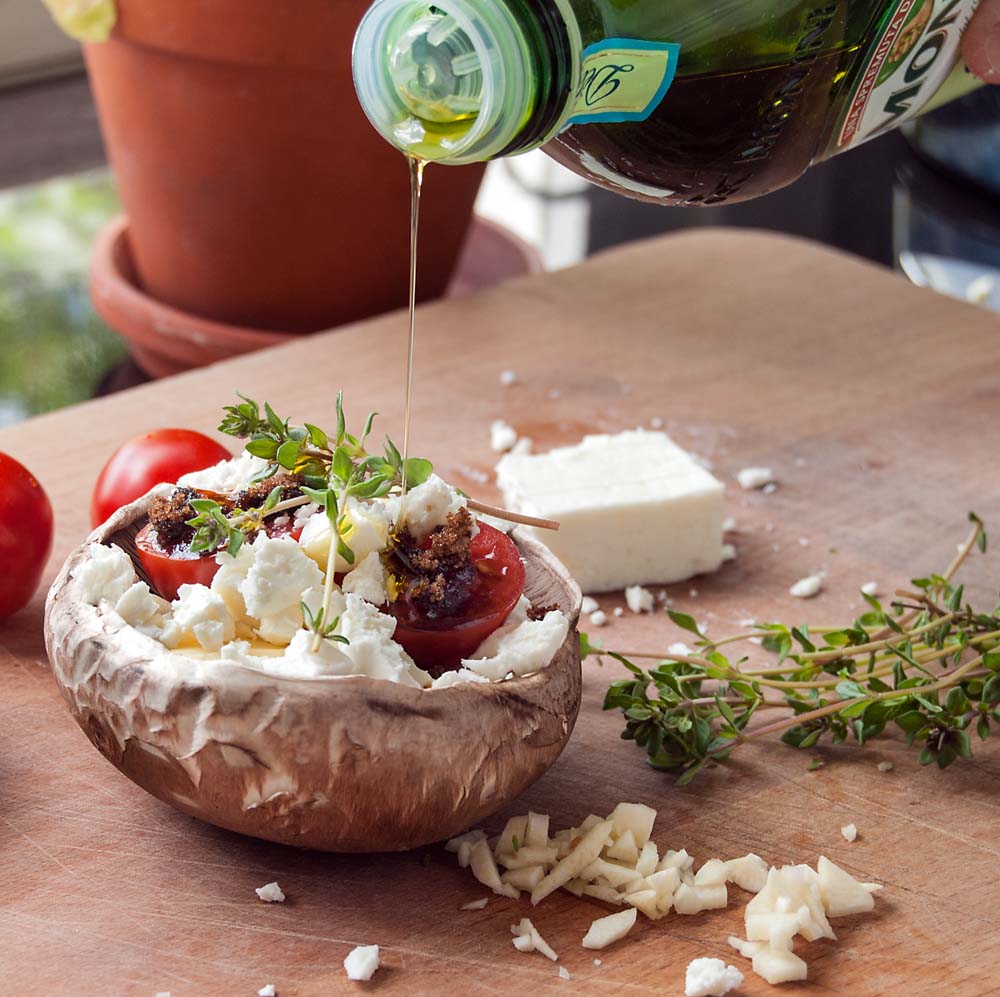 On top of everything, I drizzled some olive oil and a pinch of salt. But be careful with the salt as the cheese is quite salty. After 10 minutes in the oven, it was ready.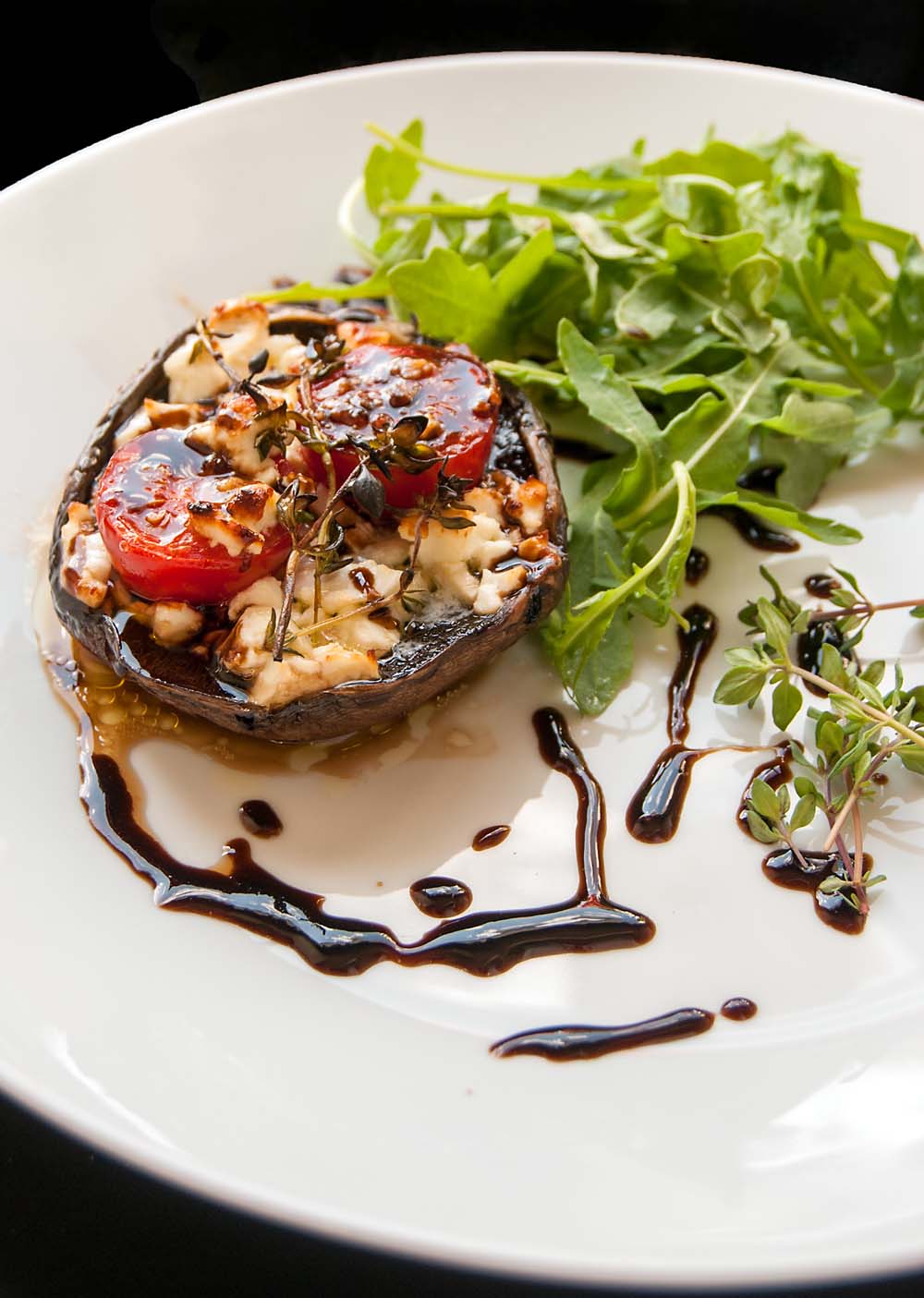 The result exceeded my expectations. There were many flavors that complemented each other. Sweet, sour, salty, garlic, and the somewhat softer flavors from butter and mushroom. As mentioned before, a perfect appetizer together with a glass of Beaujolais.

Preheat the oven to 480ºF / 250ºC

Remove the stem from the portobello. If necessary, clean them with damp paper towel or brush them with a pastry brush. NEVER rinse mushrooms with water. Place them "cap" side up.

Distribute the garlic and butter in the mushrooms. Top with a halved cherry tomato and crumbled feta cheese. Add some muscovado sugar on each tomato halfe.

Add some fresh thyme on top and drizzle a teaspoon of olive oil over each mushroom.

Grill in the oven for 8-10 minutes.

Serve with arugula (rucola), and some extra thyme. Drizzle some balsamic glaze and add salt if required.