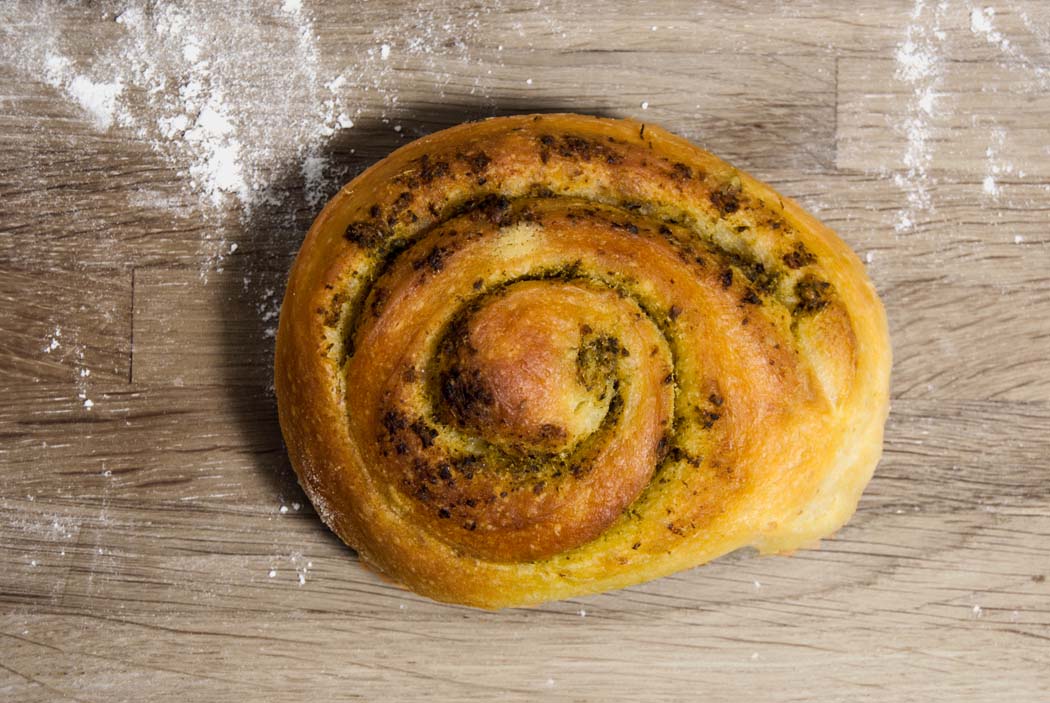 I know that I have already written a recipe for sourdough bread for beginners. But perhaps this recipe suits even better.
You only need a minimum of experience and equipment to succeed.
This recipe requires a big kitchen bowl, kitchen scale, cling film (or a food-safe plastic container with a lid), a sharp knife, and a working surface. It helps if you have a rolling pin and some parchment paper, but it's not necessary.
The ingredients required are wheat flour, butter, milk, sugar, sea-salt, pesto, and a mature sourdough starter.
The mature starter is probably the biggest challenge in this recipe. But if you haven't cracked that code yet you can always buy a starter. But I urge you to try to make your own. It's more satisfying, and it's not that hard. Besides, buying a starter feels a bit like cheating, don't you think?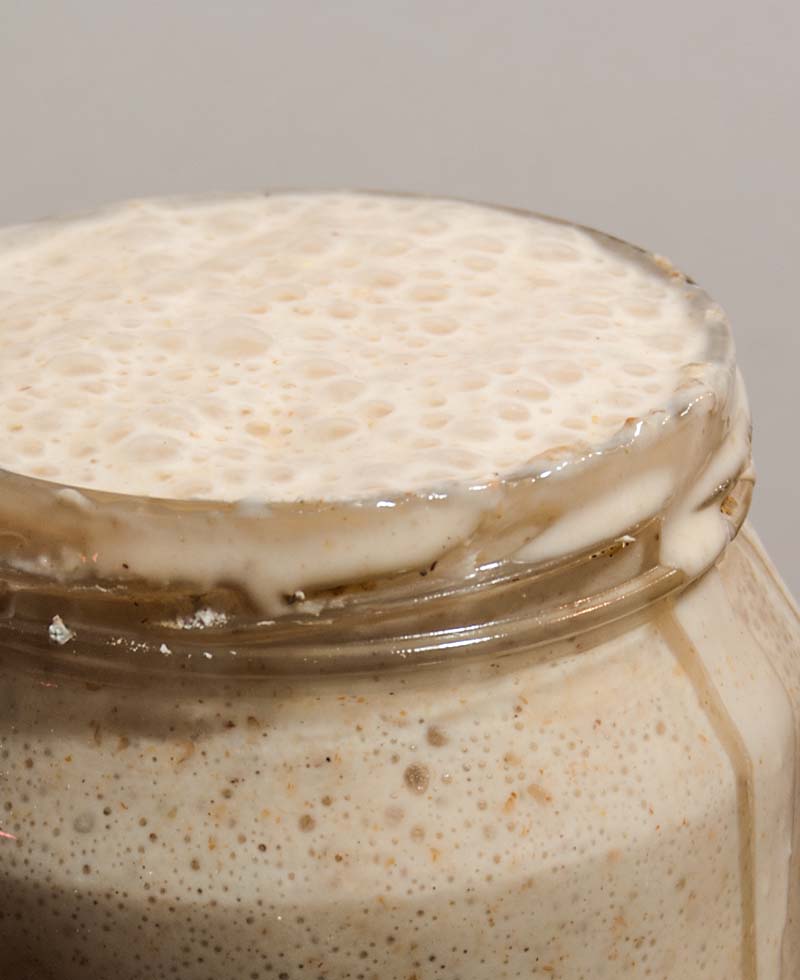 I found a half-filled jar of pesto in my fridge that had to be used. I bought it to save time on another occasion. It's not anything I do very often. Homemade pesto tastes better, but some brands are not that bad (did I hear anybody saying anything about cheating). So you will not find any recipe for pesto in this post, but that shouldn't be any problem. Just Google "Pesto" and you will have more recipes than you will ever have a chance to try. If you want to be adventurous, you can always try my kale and Rucola pesto. Or you can be as lazy as I was and buy your pesto.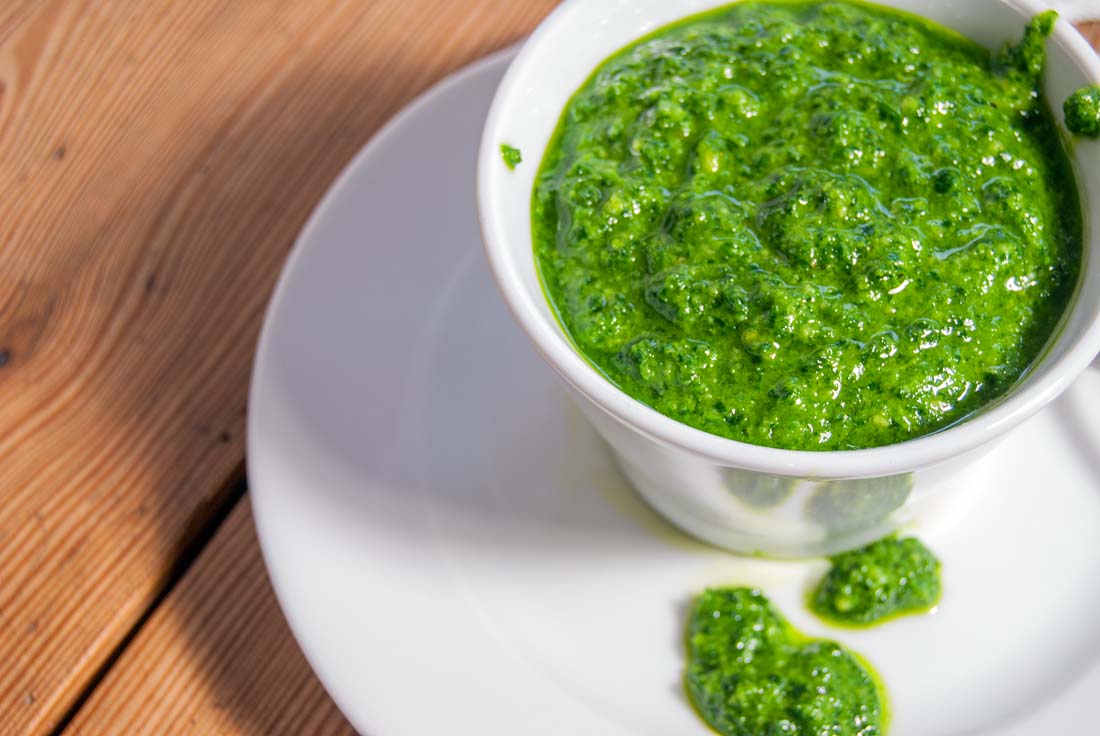 There's a lot of milk and butter in this recipe, so you will not get that crunchy crust that is typical of sourdough bread. Both the crumb and the crust will be quite soft. But with much more taste. That's the reason why I try to exchange yeast for sourdough starter most of the times. It takes longer, but it will be tastier. Adding the pesto and you will have an unbeatable combination. They will taste like an Italian cinnamon roll, but without cinnamon, if you know what I mean.
Kneading all that butter into the dough by hand take some time. But it can be done. I did it and so can you. So if you don't have a dough mixer, don't let that stop you. Besides, there is no better way to get to know your dough. You will experience how your dough transforms from a sticky mass to be more and more manageable during the process. So get your hands down to the bowl and start working.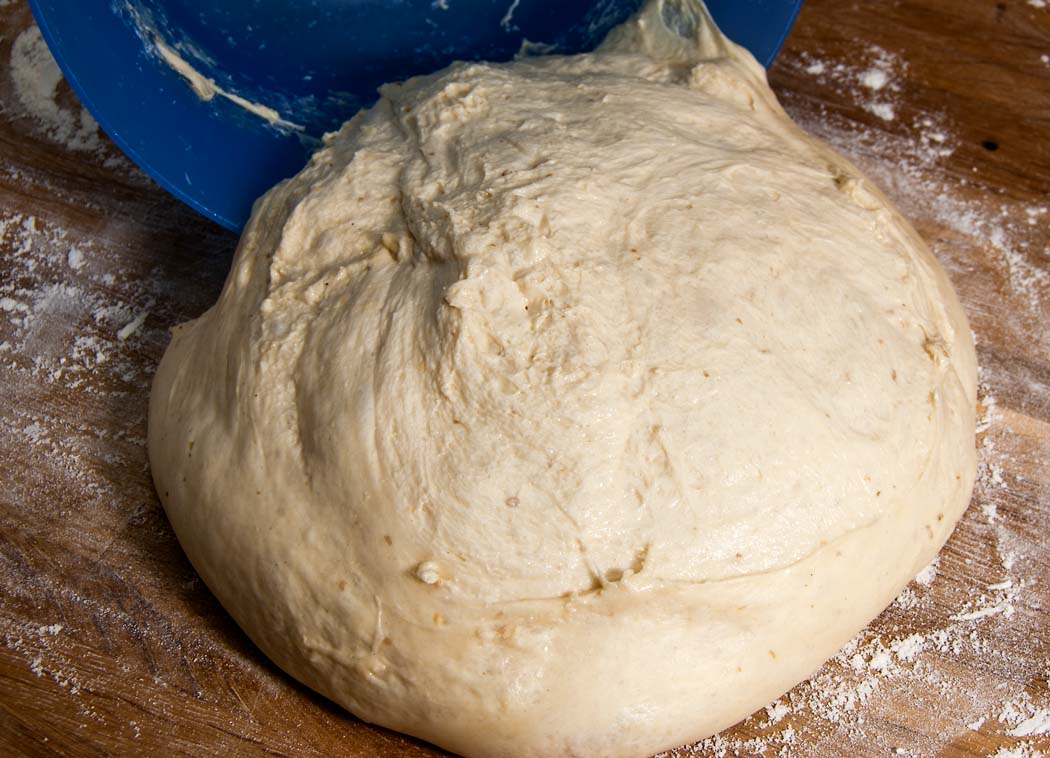 Forming the loaf when you are baking sourdough bread is important. I don't claim it's rocket science to form a loaf, but it still requires some training. Scoring the loaf is even trickier. With these sourdough pesto rolls, you don't have to bother about that. You only have to roll out the dough into a square. If you don't have a rolling pin, you can just flatten it with your hands. Spread some pesto on top of the dough and roll it tightly.
Scoring the dough is even easier because it's not necessary. You only have to cut the rolled dough into pieces and place them on an oven plate with parchment paper.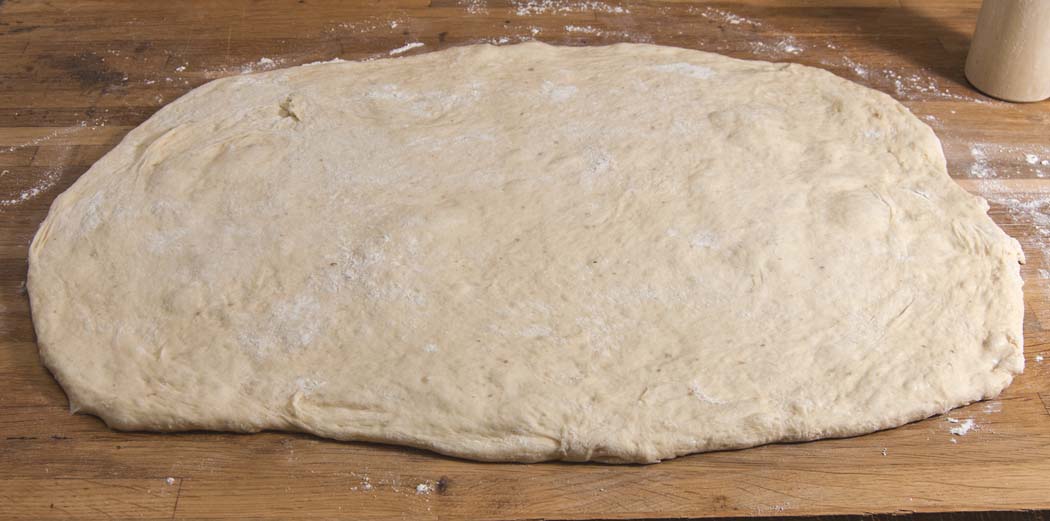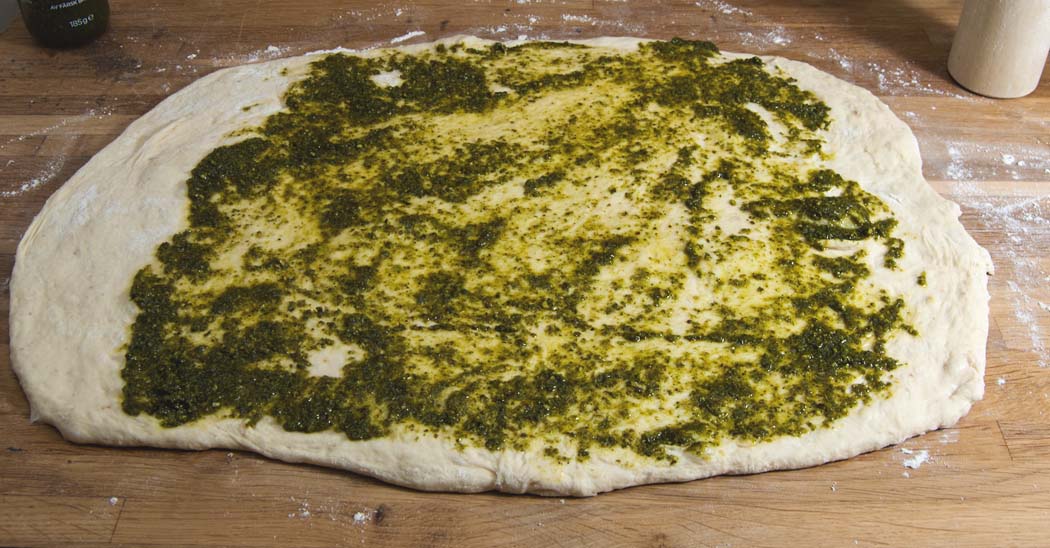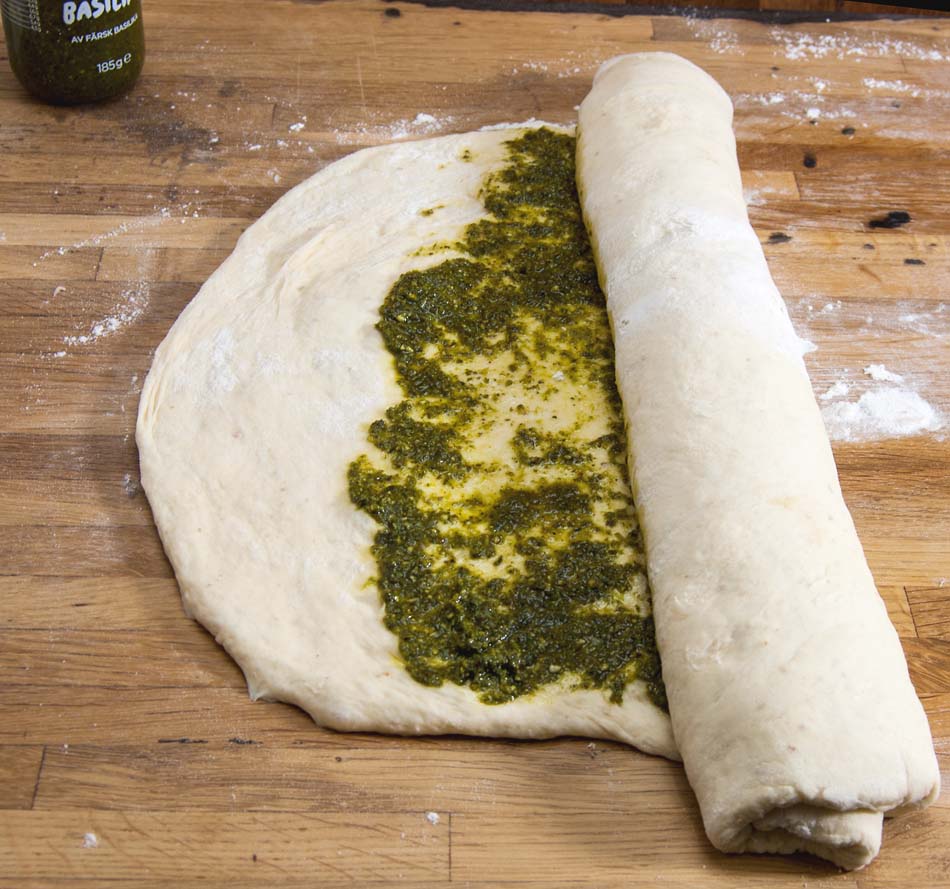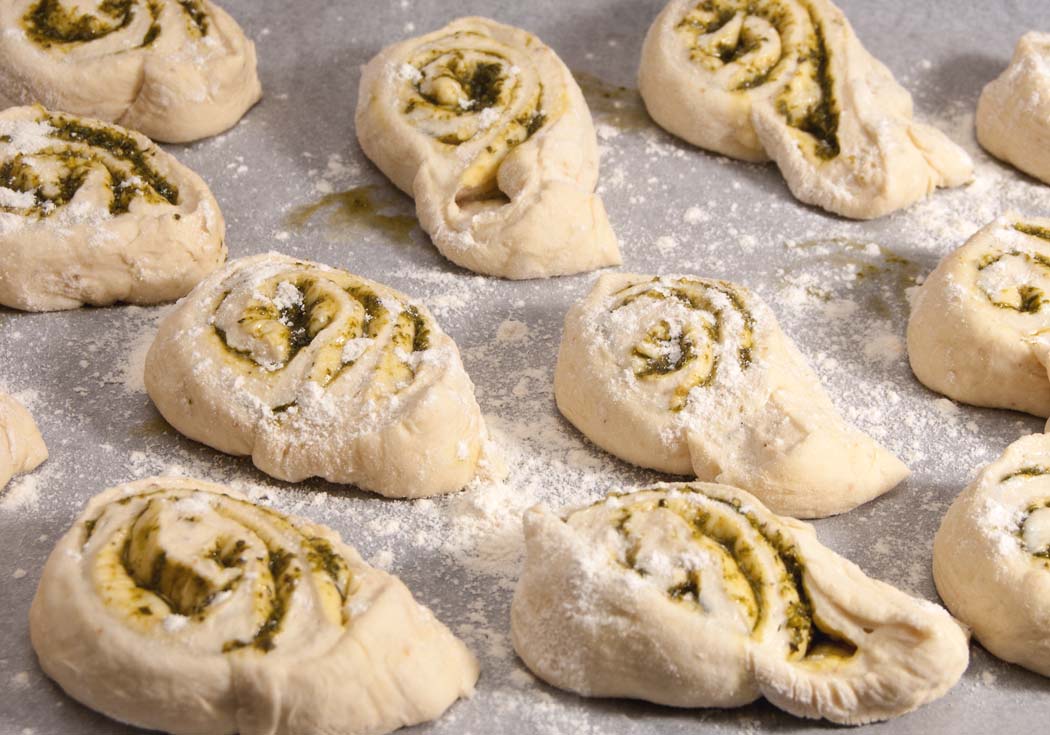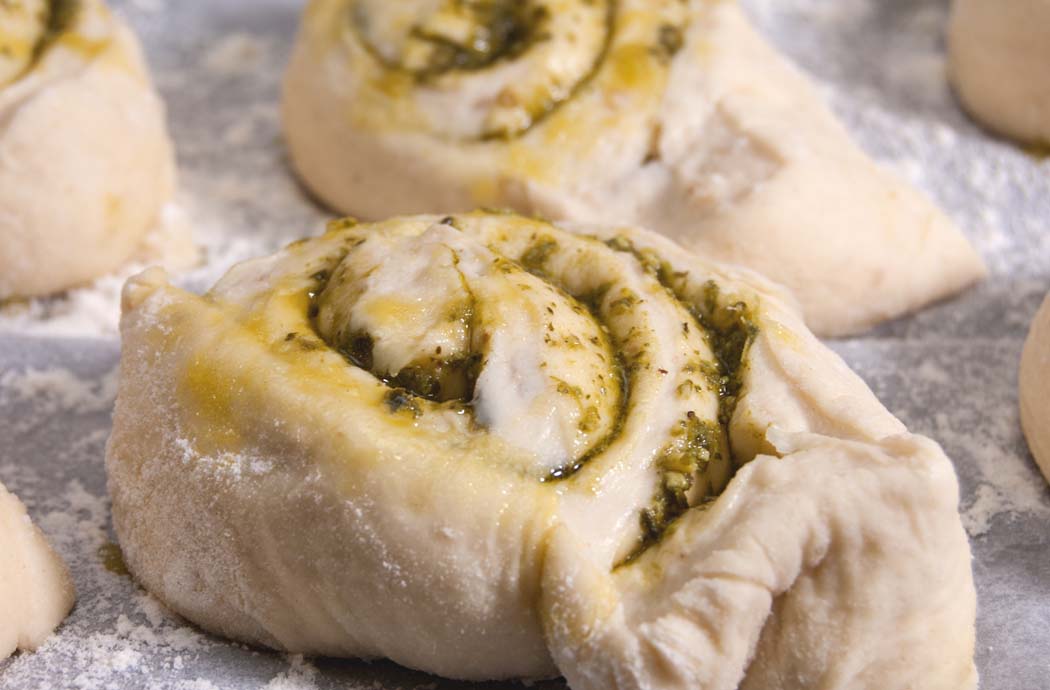 That's it.
Everybody can do that. So start softening the butter and measuring up the flour, and bake some irresistible sourdough pesto rolls. Eat them with your favorite soup together with some friends. But beware. These rolls will disappear quickly.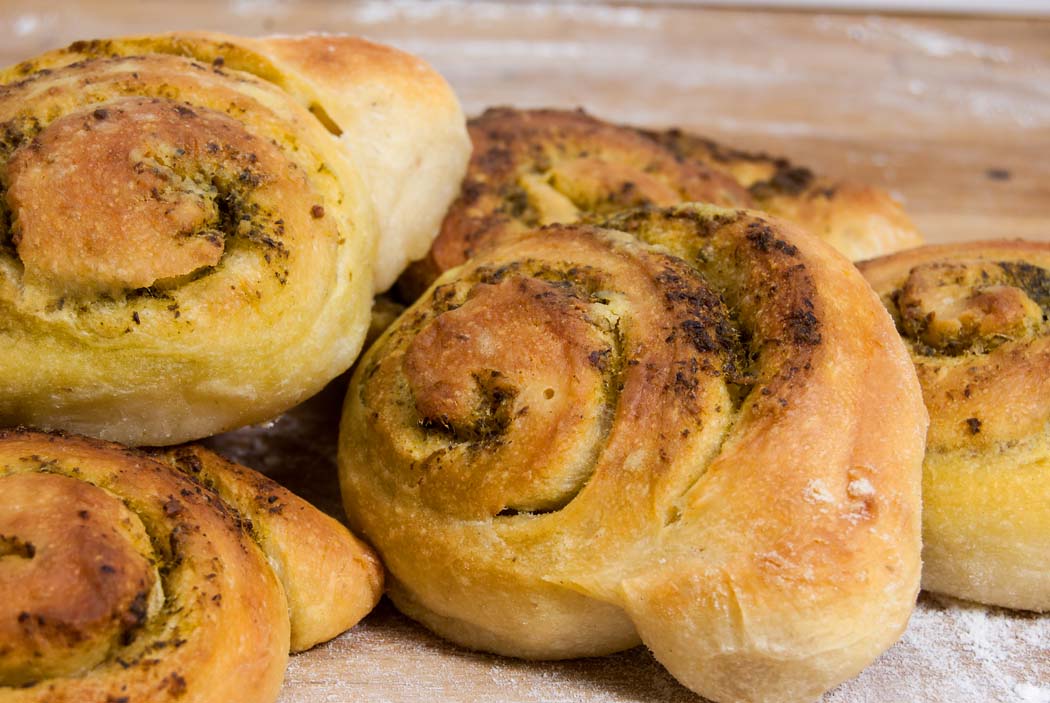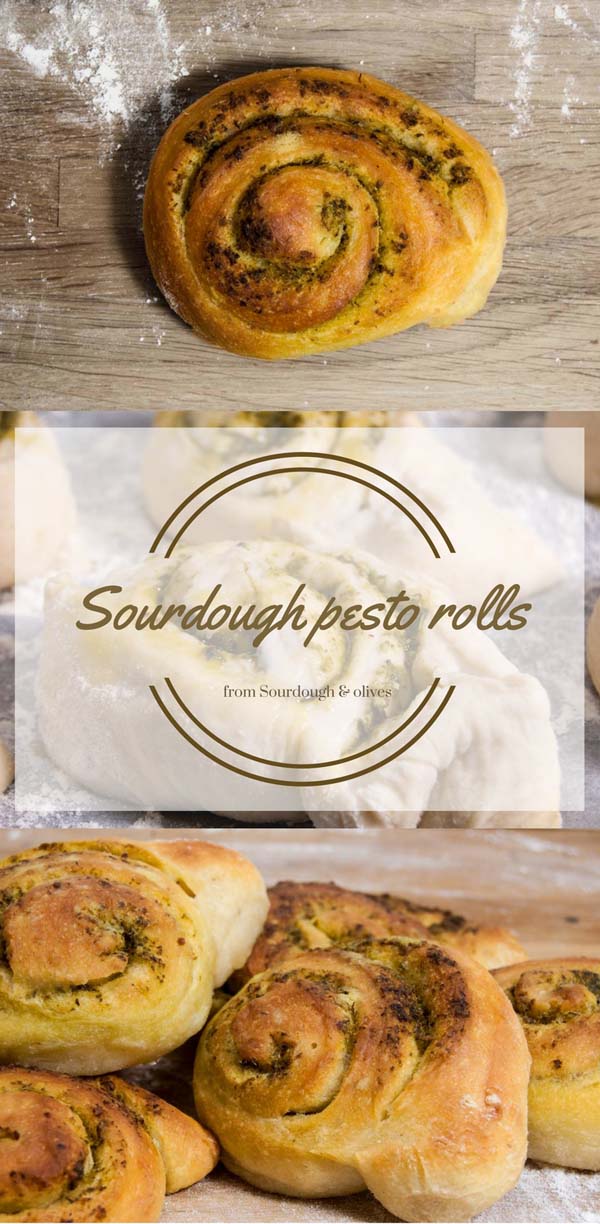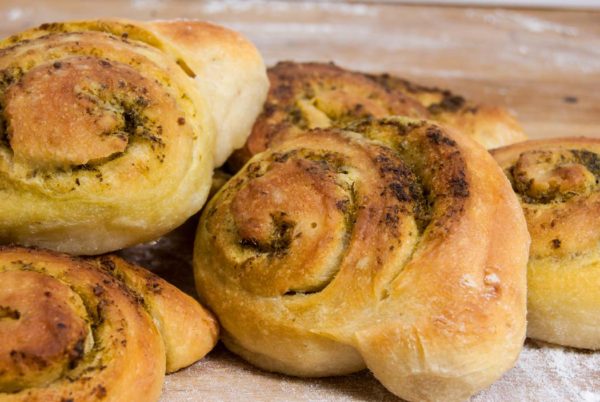 | | |
| --- | --- |
| | |
Mix all ingredients except salt in a large kitchen bowl. Use your hands so that you can feel when all the pieces of butter have been incorporated into the dough. Place the dough somewhere warm and let it rest for one hour.

Add salt and stretch and fold the dough according to the video in the recipe notes. Perform 3 more stretch and folds during the bulk fermentation, spaced by 30 minutes.

You can, of course, use a dough mixer if you have one. Add all ingredients, except salt and run until the dough passes the windowpane test. Add the salt the last minutes.

The time required for the bulk fermentation can vary a lot. Mine took 3 hours. Don't focus on time, but observe how the dough looks instead. It should have risen 40-50 % and show some bubbles on the top. The best temperature for bulk fermentation is about 77ºF/25ºC. If you have trouble finding a sufficiently warm place, you can place the dough into the oven with just the lamp lit.

Lightly flour your working surface and dump out the dough. Flatten the dough into a rectangular shape, about 3 mm (1/10 inch) thick. Use a rolling pin. Spread pesto on top of the dough and roll the dough from one side to the other. Place the seam downwards.

Cut the roll into pieces, about 2,5 cm / 1 inch thick and place them on a baking sheet with parchment paper. Cover with clingfilm and let the rolls rise for about 60-90 minutes.

Pre-heat the oven to 445ºF / 230ºC. Bake the rolls about 15 minutes. They should have a nice golden brown color when ready. Let the rolls cool on a wire rack.
For those who prefer to use a stretch and fold technique instead of running the dough into a dough mixer, you may find this video helpful. You can also look at one of my previous recipes.