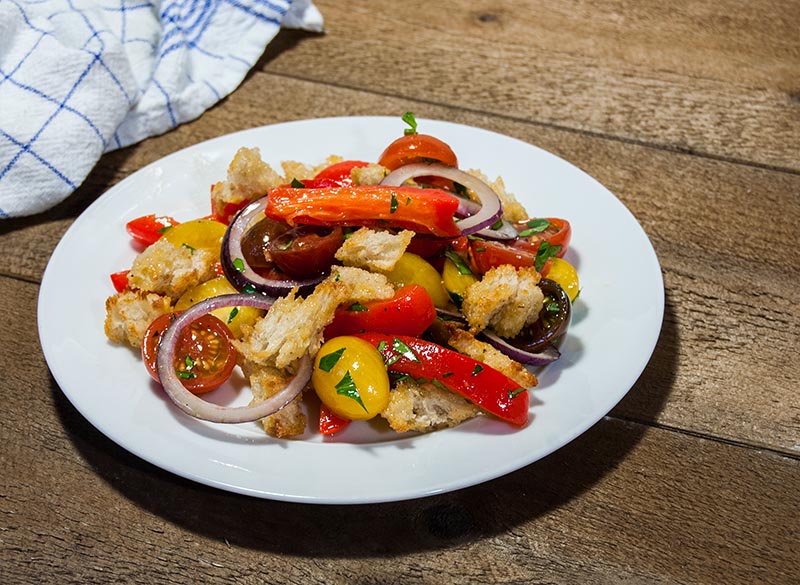 I faced a problem some days ago after too much Christmas food. I craved for Panzanella. Now, I know what you're thinking. Is that a problem? Yes, here in Sweden it is because you need tomatoes for a Panzanella. And the tomatoes taste nothing here at this time of year. At least most of them.
It must be possible to make a decent Panzanella here in the north even if it's in the middle of freezing winter. At least I tried to convince myself of that.
So I went to the grocery store and bought the best tomatoes I could find. They were not that bad. It was more flavor in them than I had expected.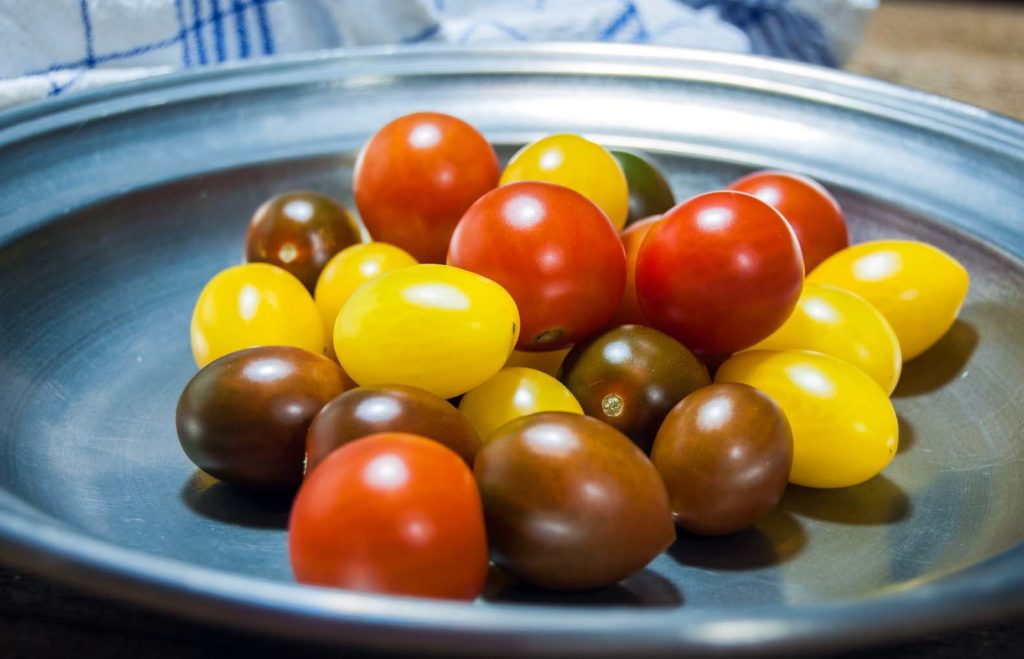 But I had read that it is possible to coax a little more concentrated flavor out of them by salting and draining them.
So that was just what I did. The result was above expectations. The tomatoes tasted more, and they were even slightly crispier.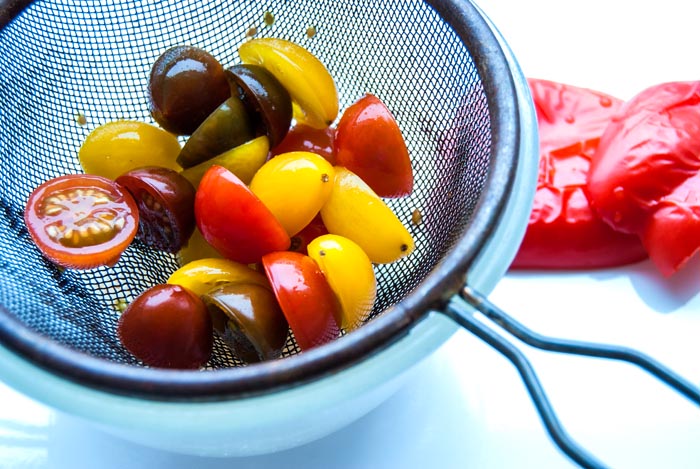 I decided to save the drained tomato juice for the vinaigrette. There was still some tomato flavor left in it. Instead of wasting it I could spread it all over the salad.
After that, it was time to think about the rest of the ingredients. One of the main ingredients together with the tomatoes is, of course, the bread.
You may have read that you should use fresh roasted bread for the best result. Because I hate to waste food I always try to use some of the stale bread pieces that usually remain in the bread box. I think that dishes like Panzanella was invented for that purpose. They gave poor people an opportunity to use pieces of stale bread that everybody had in their bread box.
But the bread still needs som softness. You don't want croutons in your Panzanella. It should be crispy on the surface and soft in the middle.
Just rip the bread into pieces and roast them in the oven for a few minutes. Just enough to give them some crispiness and some nice color.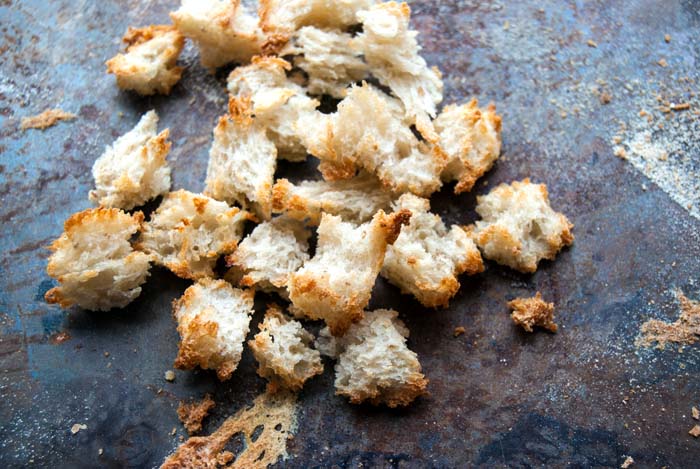 I think you need a minimum of five ingredients for a classic Panzanella.
Tomatoes, bread, garlic, red onion and basil. But I wanted something more. I just love grilled bell pepper, so I included that as well.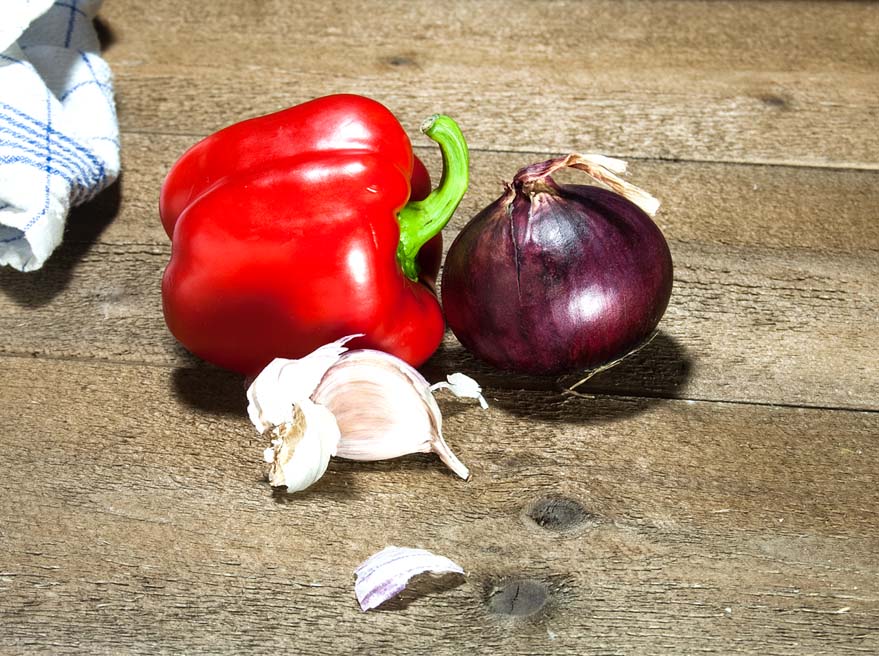 But there was another reason to include the bell pepper. Even if the tomatoes was quite good, they still lacked som sweetness. That's exactly what you get when you grill bell pepper.
Some people have problems with raw onion. But there's a trick to reduce its pungency. Soak the sliced onion in ice cold water. That will draw out the sulfates and make it more tolerable.
A Panzanella also needs a high-quality vinaigrette. I used olive oil, red wine vinegar, some of the tomato juice and a small dollop of Dijon mustard. The mustard helps the vinaigrette staying together better. It doesn't matter how much you whisk. The oil and the vinegar will separate if you don't add something emulsifying.
Always use your (clean of course) hands when you're dressing a salad. Your salad spoon and fork are not as gentle as your hands, and they won't tell you if the salad had enough of dressing.
After that, the only thing left to do is to enjoy the salad. Perhaps with a glass of white wine.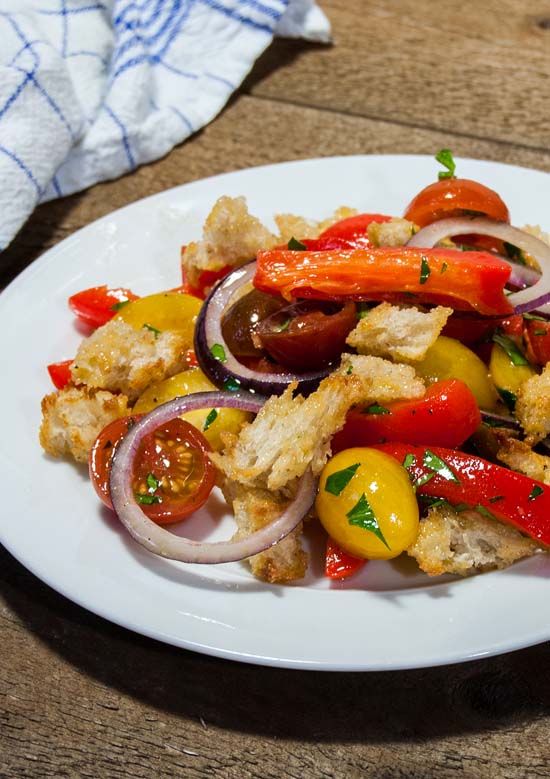 In conclusion, I would like to point out that you can add more ingredients. I have been using anchovies and capers with excellent results. Be careful with the anchovies, though. Otherwise, they may take over the whole show.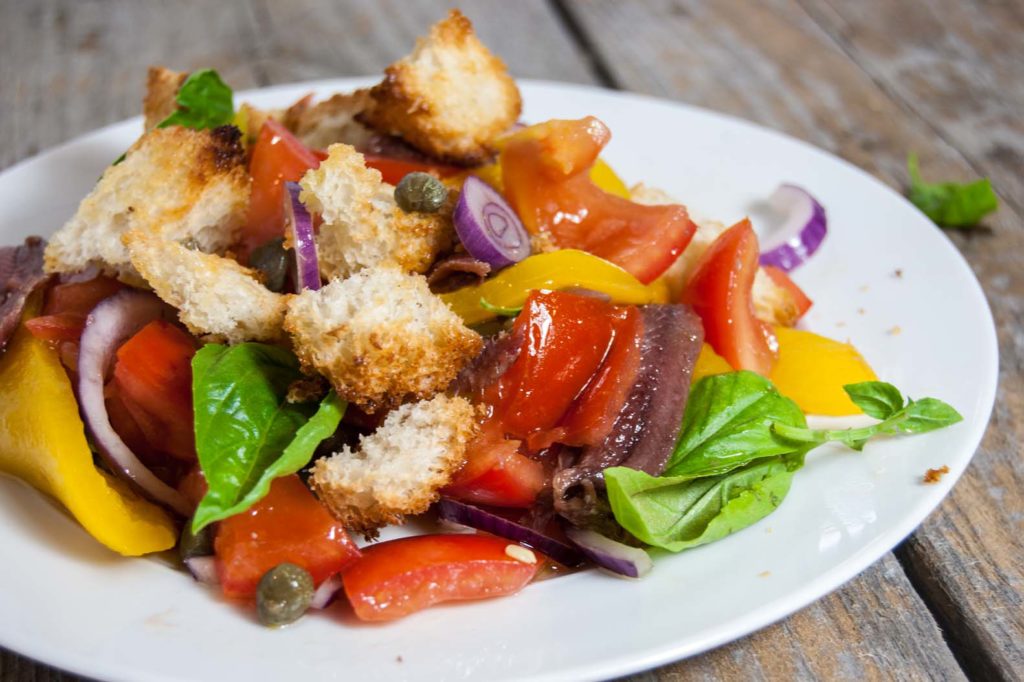 Apart from that, I only have one more thing to say.
It was possible to make a decent Panzanella in the middle of the winter.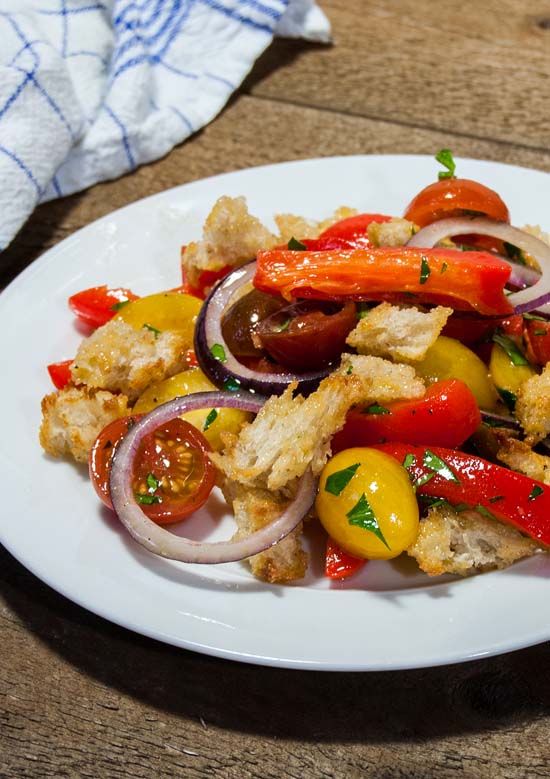 | | |
| --- | --- |
| | |
Cut tomatoes in half and place them in a strainer or colander over a bowl. Season with 1 teaspoon sea salt and toss to get everything coated. Let the tomatoes drain for at least 15 minutes.

Rip the bread into pieces and roast them in the oven at 350°/180°C for about 10 minutes. They should be crisp and firm and just slightly browned.

Grill the bell pepper and cut it into slices. Cut the red onion into thin slices and soak them in ice cold water if you want to reduce the pungency.

Add garlic, vinegar, some of the drained tomato juice, olive oil and mustard in a bowl and whisk to a homogeny dressing

Put bread, vegetables, dressing, and basil in a large bowl. Wash your hands properly and mix everything thoroughly. Wait a few minutes before serving to allow the bread to absorb some of the dressing.