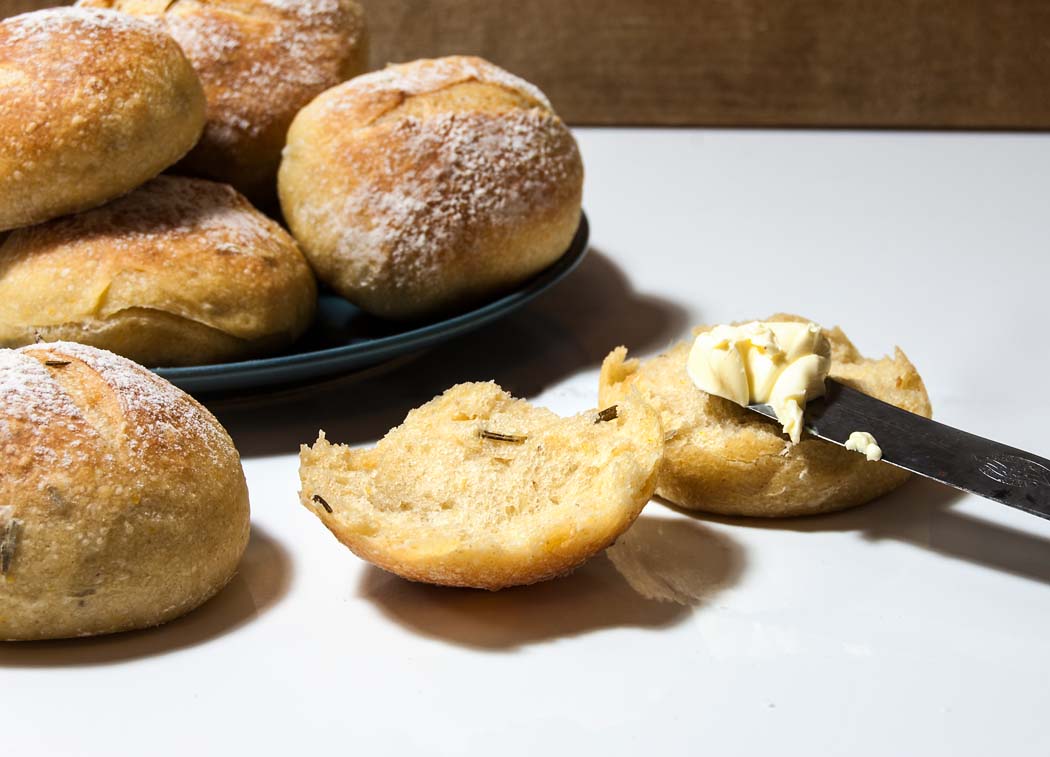 Rosemary and orange. Is that a good combo? It sounds like it should work, but I can't remember that I had tasted it before. That was my reaction when I read a recipe for dinner rolls from a Swedish baker named Jan Hedh. I love rosemary in bread, but orange? I was not that sure. Bread that contains whole pieces of fruit is something I try to avoid. I don't even like raisins in my bread. That is, by the way, a big problem during Christmas if you live in Sweden. EVERY traditional Swedish Christmas bread seems to be loaded with raisins.
But this recipe was different. It contained something called orange paste. That sounded much better, so I decided to give it a try.
The author had used commercial yeast in the original recipe. But I'm a sourdough-guy, so I decided to replace it with a wheat starter.
The hydration of the dough was also very low, only 45%. I can understand why, because it contains a lot of olive oil. 100 gram to 500-gram flour. A little bit too much for my taste, so I replaced the half of it with water.
It turned out to be a good decision. I decided to use a stretch and fold technique for this dough, instead of running it in a dough mixer. It was not that easy to mix all that oil into the dough, even if I had reduced it by half.
I also decided to reduce the amount of rosemary and orange paste by half. You normally serve dinner rolls with food, and I don't want the bread standing out too much. It should be a complement to the main dish, but it should not take over the whole show. But if you want to try the original recipe, you only have to double the amount indicated in the ingredient list.
The Orange paste was, by the way, a quite ingenious idea. You only have to zest an orange and mix it with sugar by kneading it with the backside of a spoon or a palette knife. I can think of a lot of ways to use this nice ingredient. Drizzle it over a cup of vanilla ice cream together with some rum? No?
Yeah, I know. This is a recipe for bread. Not some dessert for people with a fondness for alcohol (but admit that it sounds good).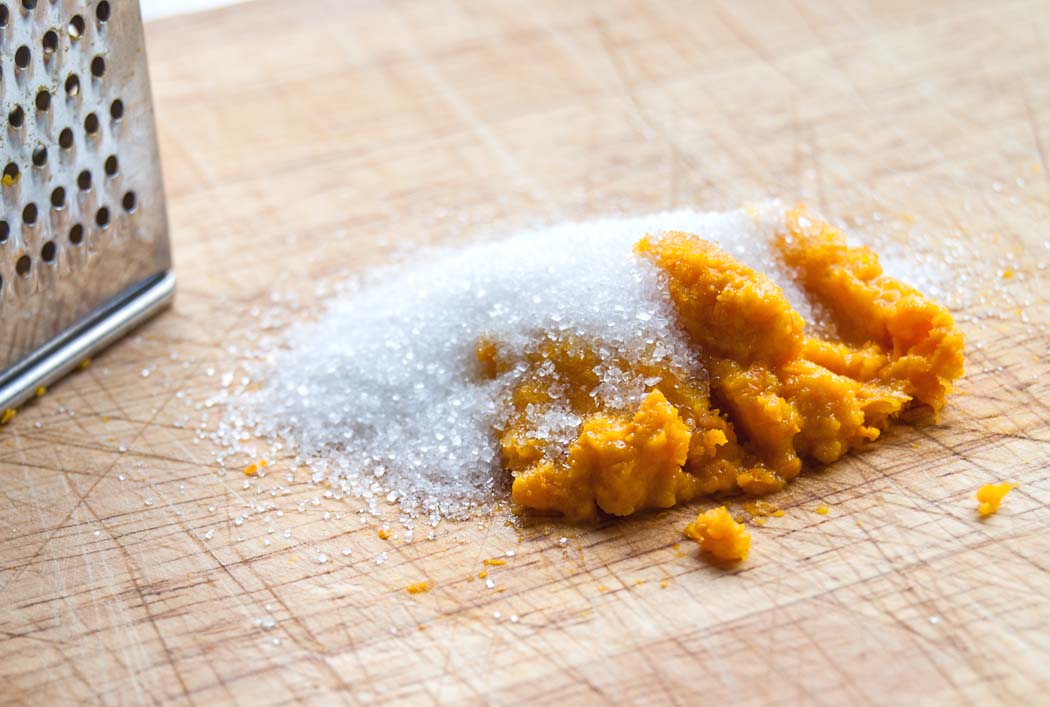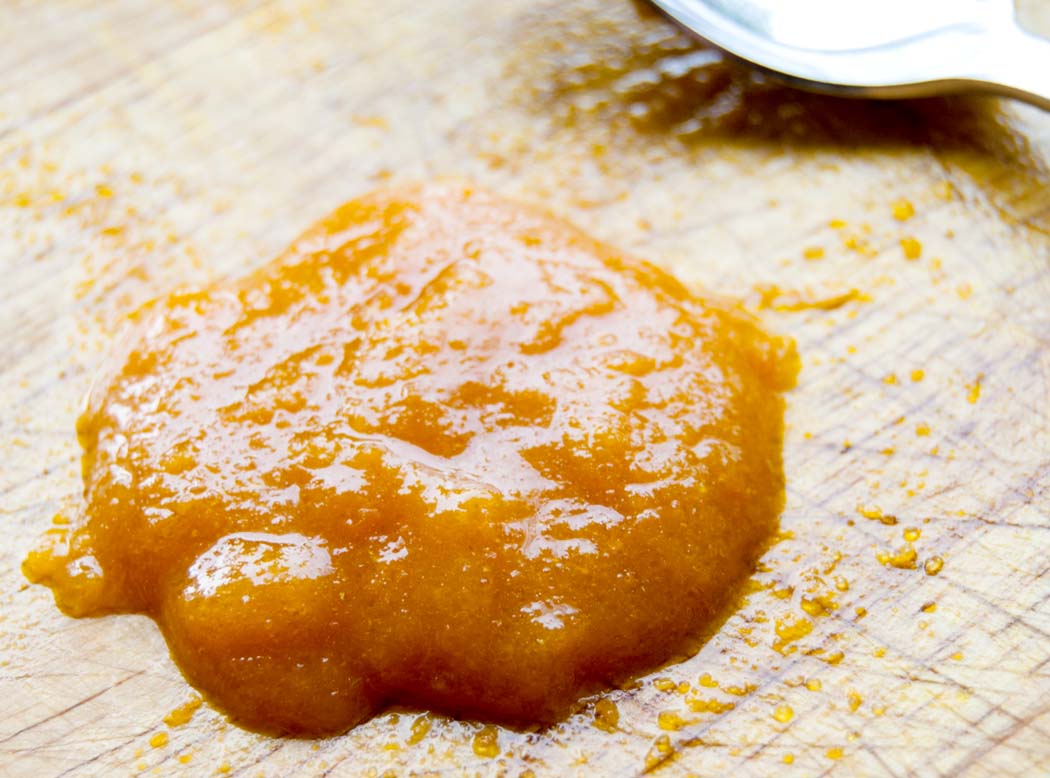 Next step is to fry the rosemary in a skillet with olive oil until somewhat crispy. Everyone knows how wonderful it smells when baking bread. With this recipe it starts to smell heavenly before the bread is even in the oven. Fried rosemary and zested orange. I was in a good mood that day in my kitchen. The only problem was the stretch an folding. It was not easy with all that oil. Next time I will use the dough mixer.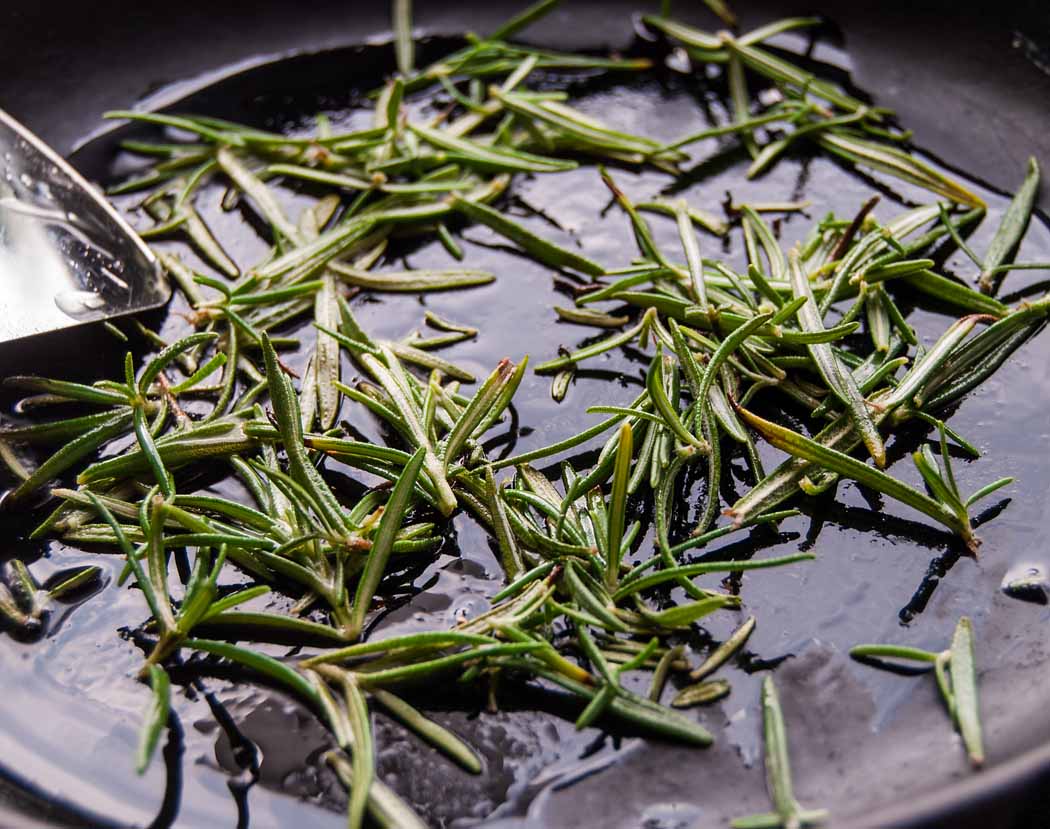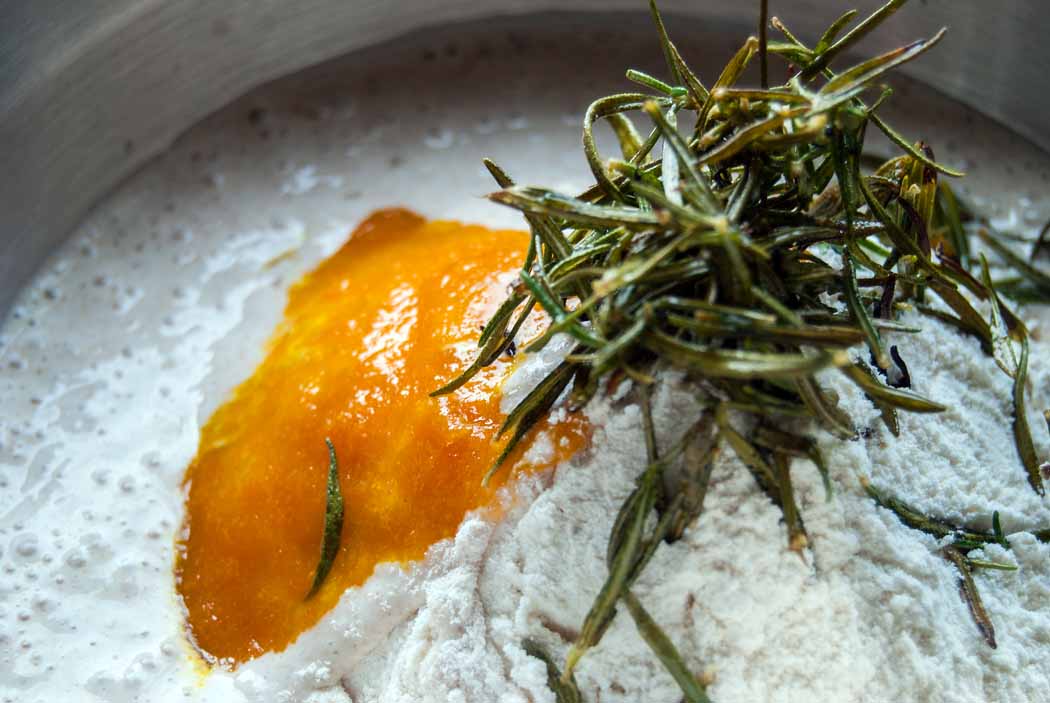 I also ran into some trouble when it was time to form the rolls. According to the recipe, the dough should be divided into smaller pieces that were supposed to be rolled out in a tube with a pointed end. Then it should be wrapped together. But no matter how many times I tried, I always ended up with something that reminded me of those things you can find on the sidewalk, produced by man's best friend. So I decided to go for a more traditional form.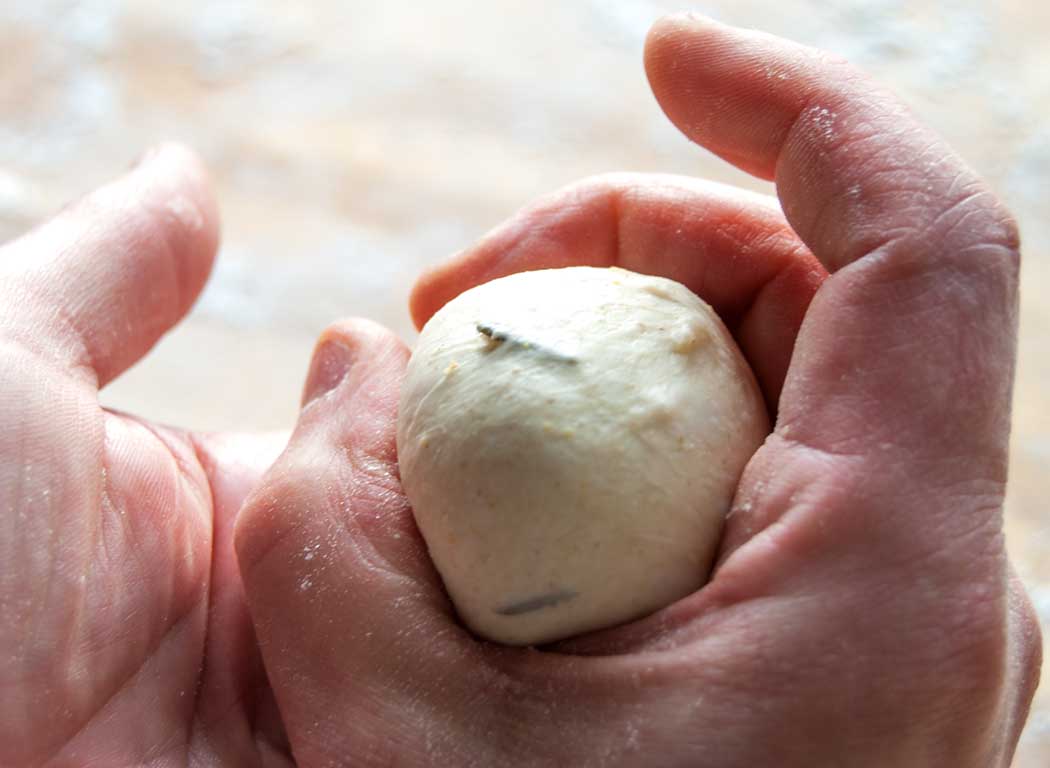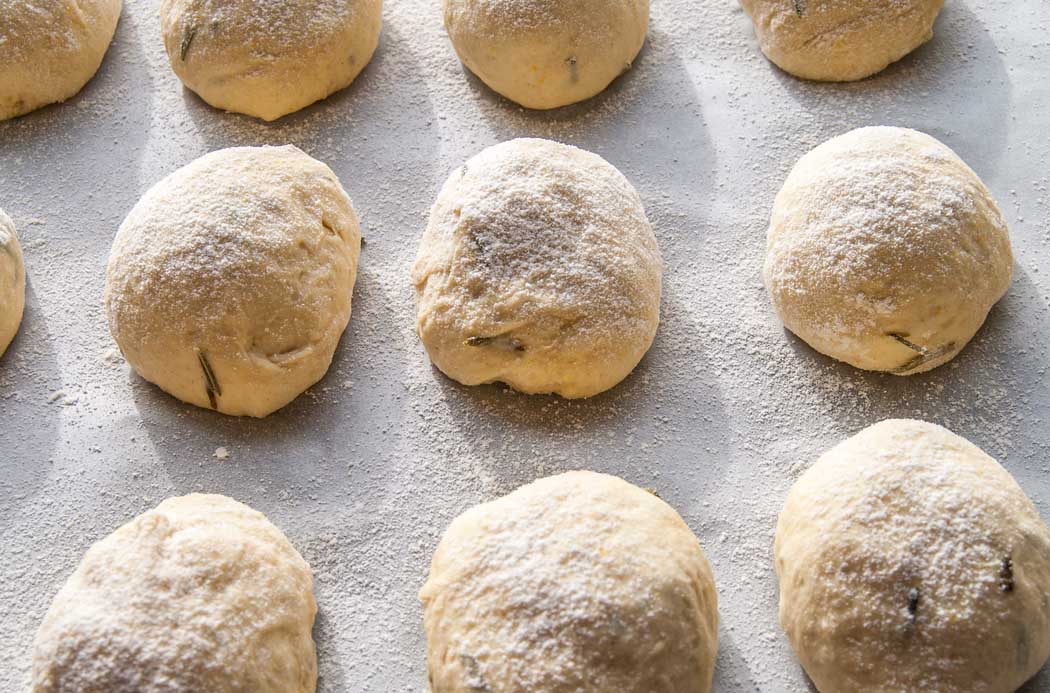 The rolls were ready after 15 minutes. I was afraid they would be a little bit dense due to the low hydration, but that was not the case. The crumb is quite closed, but it still offers a soft and nice texture. But I will probably increase the hydration a bit next time. I think 60-65% would be fine. The taste of orange is almost imperceptible, so perhaps I will increase the amount of orange paste as well. The taste of rosemary, on the other hand, was just enough.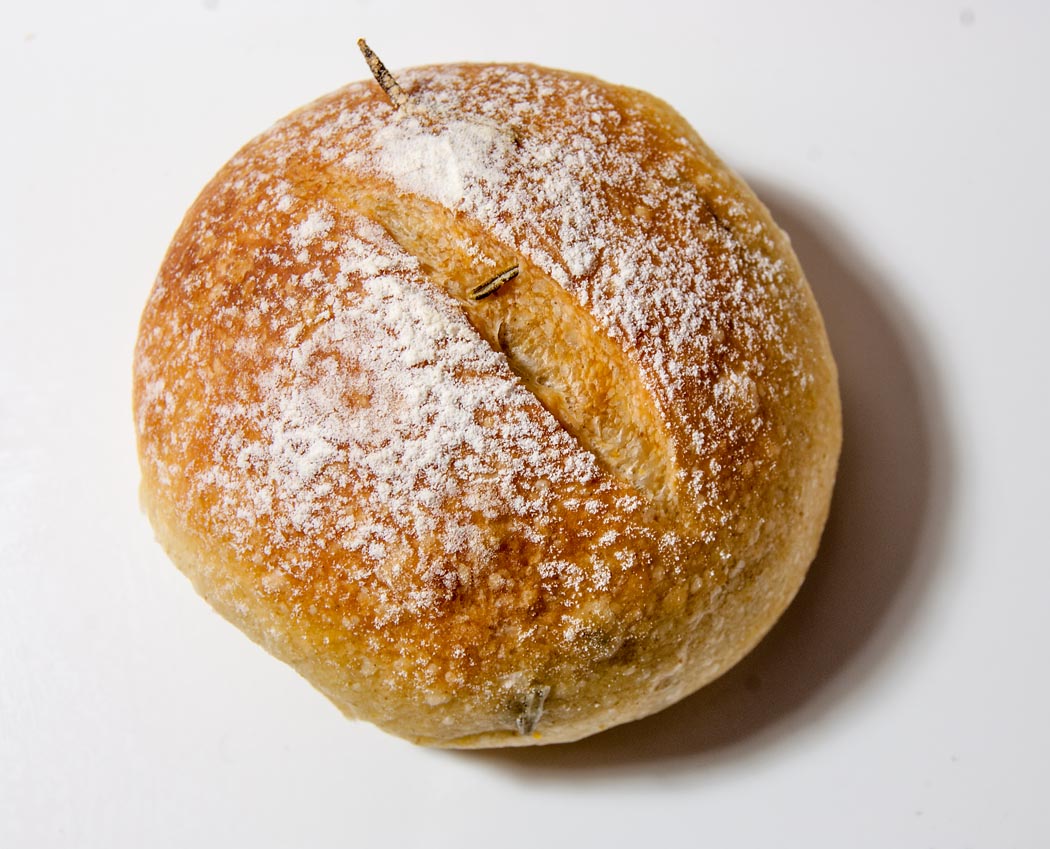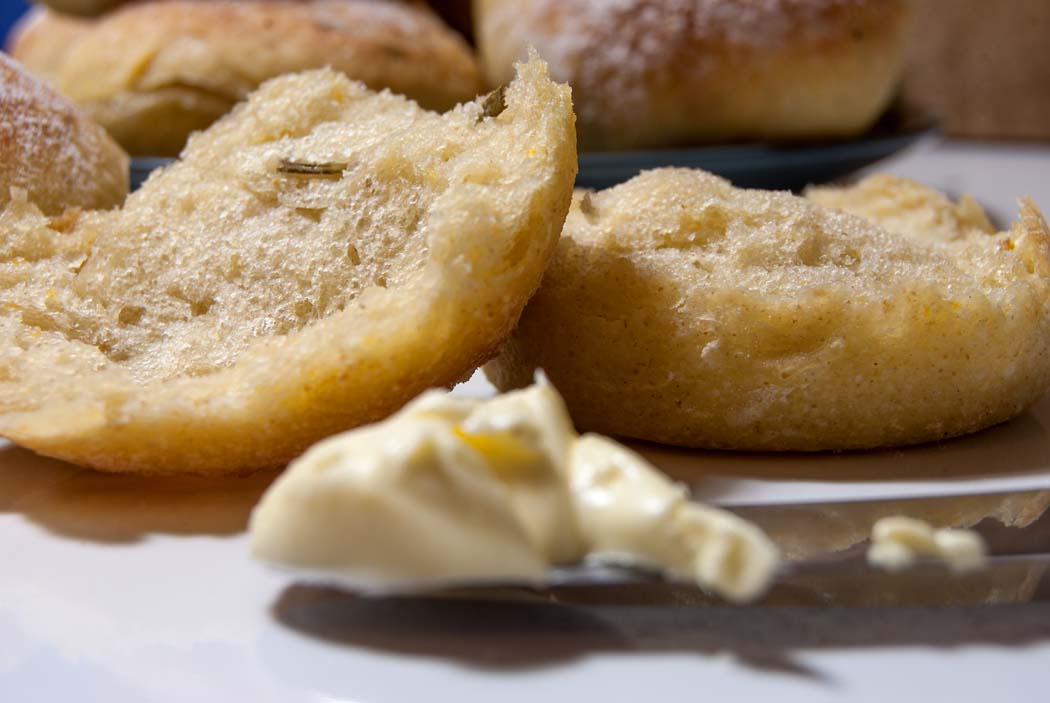 Ordinary dinner rolls tend to be a bit boring, but these have some character due to all the different flavors. My family and I ate them together with a chicken stew, but I think they will go well with almost any dish. Or why not eat them alone with your homemade butter?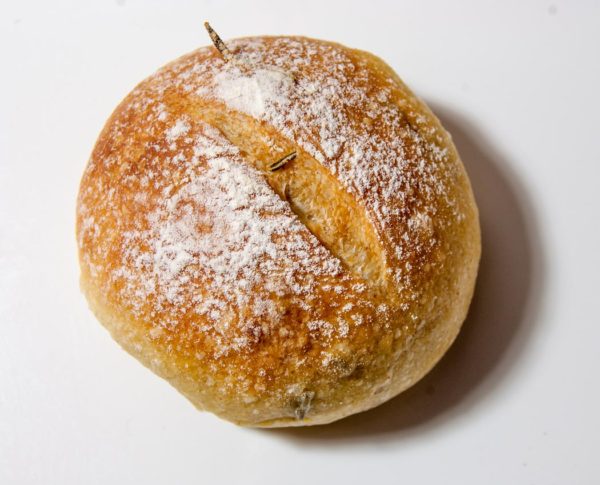 | | |
| --- | --- |
| | |
Fry rosemary in olive oil in a skillet over low heat. Let cool.

Zest the orange and rub with sugar with the backside of a spoon or a palette to a paste.

Mix all ingredients except salt. Be sure that all flour is hydrated. Let the dough autolyzing for an hour.

Add salt and stretch and fold the dough 8 to 10 times. Perform 3 sets of stretch and folds during bulk fermentation, spaced out by 30 minutes. Total recommended bulk fermentation is 3-4 hours depending on ambient temperature. The dough in the recipe fermented for 3 hours in 77ºF / 25ºC. During colder seasons, you can place the dough in the oven with the light on only.

Dump out the dough on a lightly floured working space and divide it into 15 pieces. Form each piece into a ball. Be sure to get some tension on the surface. I use to squeeze the dough through the thumb and middle finger as shown above.

Let the rolls rise for 1,5 -2 hours. Preheat the oven to 480ºF / 250ºC with two oven plates. One to bake the bread on and one just below.

Score each loaf and place them in the oven and bake for 15-20 minutes, or until they have got a nice golden color. Pour some water on the plate below to create steam during the baking process.

Let them cool on a wire rack