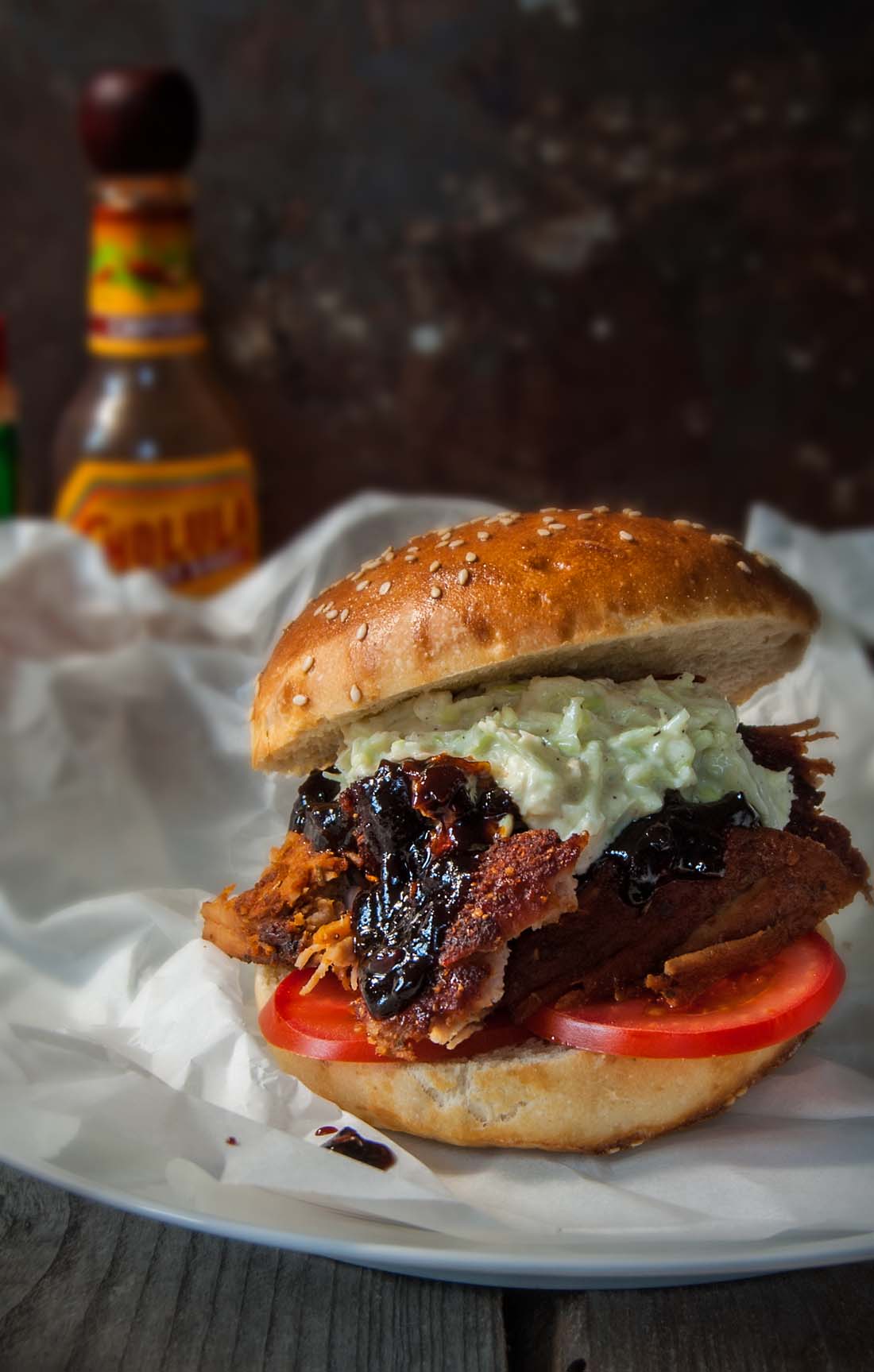 I was looking through my cookbooks, trying to find some inspiration for the weekend dinners. When I found pulled pork on hamburger buns, I knew I had found the perfect meal for the Saturday evening. It takes some time to cook pulled pork, but most of the time it takes care of itself. You just have to add some wood chips and checking the temperature now and then. The rest of the time you can just relax in a comfortable chair drinking a beer or whatever you prefer to do.
The recipe was written by Jonas Cramby, a popular food writer here in Sweden. He has no formal chef training, I think. But he has a genuine food knowledge that he writes about with a humorous twist.
The recipe for pulled pork in this post is almost a copy of the one in his book. I just decided to replace some of the chili powder with some smoked paprika in the BBQ sauce.
There was a recipe for hamburger buns in his book as well. I decided not to copy that recipe. It was nothing wrong with it. I'm sure it tastes great and fulfills its function, but it was baked with instant yeast.
And I am a typical sourdough guy. I know that you will always get bread with more taste if you bake it with a sourdough starter than if you use commercial yeast. Therefore, I always try to replace the yeast with a sourdough starter if possible.
You can find a lot of good recipes for sourdough buns, but I wanted to do something that was my own.
A good hamburger bread should be light, soft and airy. At the same time, it must be able to withstand some meat juices without getting soggy. I wanted a brioche type of bun. But not too much brioche, so I decided not to go overboard with the butter. Feel free to experiment with the amount of butter, but whatever you do, don't use margarine. It's a grisly invention. Remember what Anthony Bourdain said. Margarine is not food for humans.
Milk, on the other hand, is excellent food, and it is also the secret to get soft bread. Most of the times you don't want a soft crust on your sourdough bread, but hamburger buns is an exception. So I used equal parts water and milk for this recipe.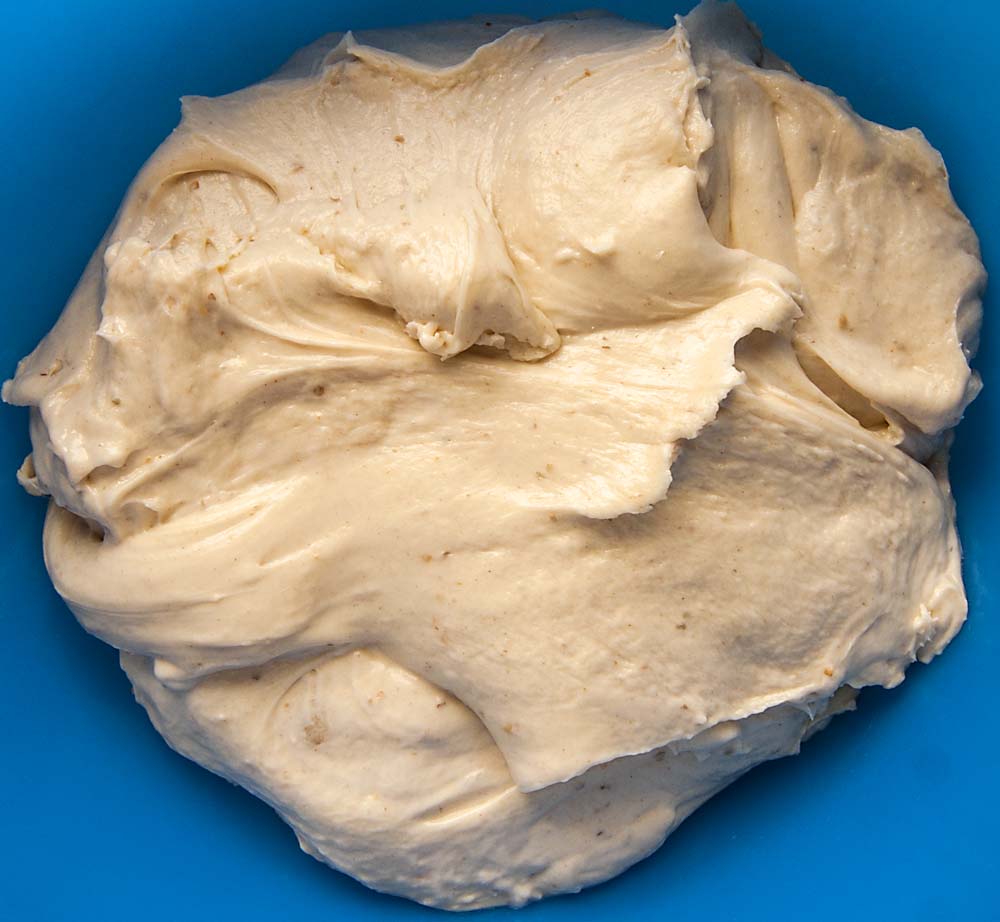 I used my dough mixer for this dough. I'm sure it's possible to mix it by hand, but it's always a bit tricky with all this butter.
On the pictures, You can see that I have made the buns quite big. I did that on purpose because I wanted to be able to load them with a lot of pulled pork. If you are planning to make these buns for hamburgers, I think it's a good idea to make them a bit smaller. Divide the dough into ten pieces instead of seven as I did.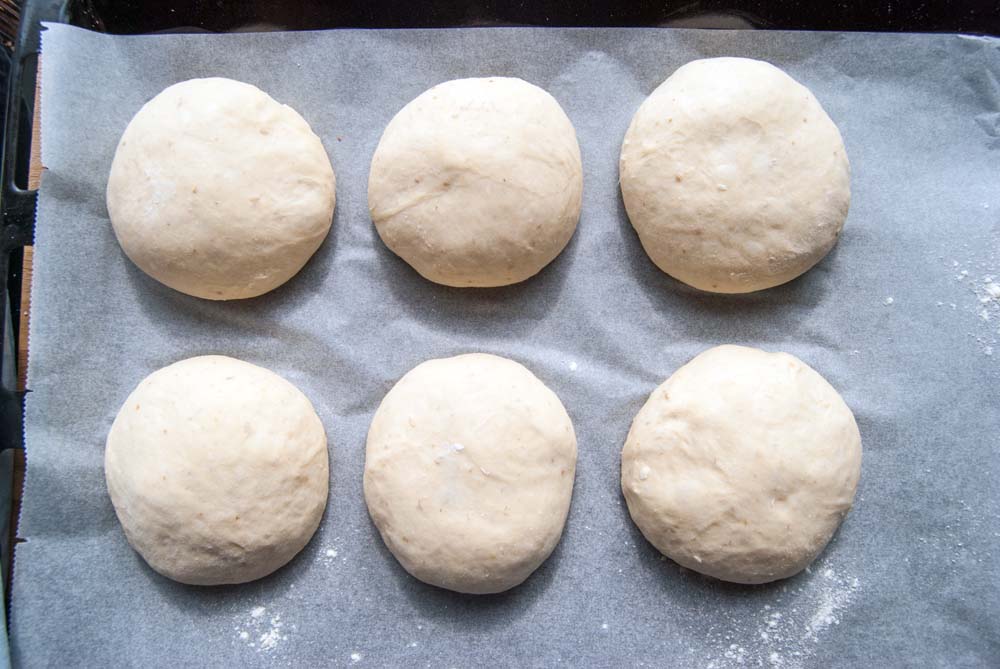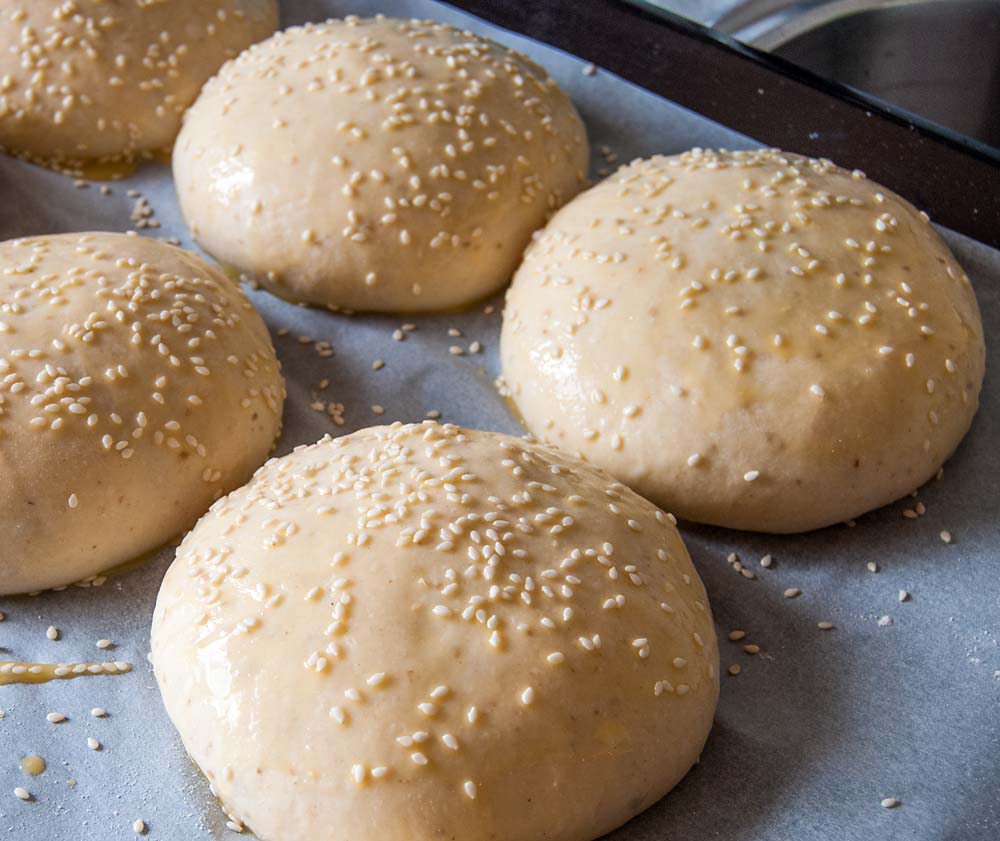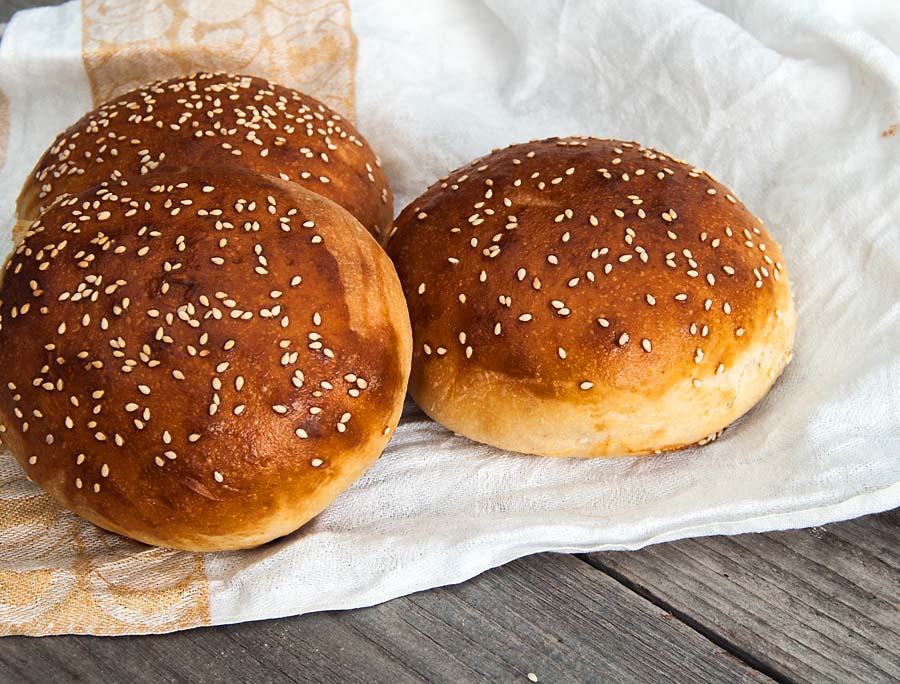 I was very pleased with the results when I placed the buns on a wire rack to cool. They had turned out just as I wanted them. Everything had gone according to plans. No, it was time to deal with the pulled pork. I started to apply the home made rub I had made of brown sugar, onion powder, Rosemary, pepper, and cumin. I was halfway through that process when I looked out through the window.
There were dark clouds gathering in the sky. Before I was ready preparing the meat, it started raining. And it rained a lot.
I cursed the SMHI (The Swedish Meteorological and Hydrological Institute). They hadn't said anything about rain.
What to do now? I went back to to the recipe. I had read that it was possible to make this pulled pork in an oven. The result would not be the same of course. The author was very clear about that, but what choice did I have? Barbeque the meat in the pouring rain? It was not an attractive option.
So I pre heated the oven, placed the meat in a casserole, stuck a thermometer in it and shuffled everything into the oven. Now I only had to wait for at least four hours. That gave me plenty of time to think about the barbeque sauce. I had already found a recipe for that as well, but now I had to do some changes. Pulled pork is supposed to be cooked in a barbeque smoker. A kettle grill is OK. Then you get that tasty, rich, smoky flavor that is the whole meaning of barbeque. You can't get that in an ordinary kitchen oven unless you decide to start a fire in it. Something that I strongly discourage you from for obvious reasons.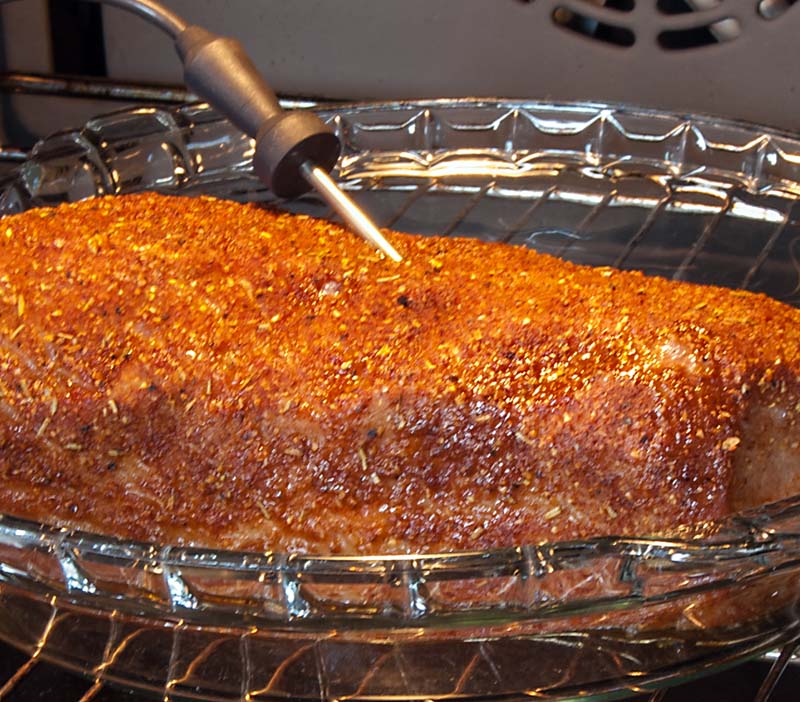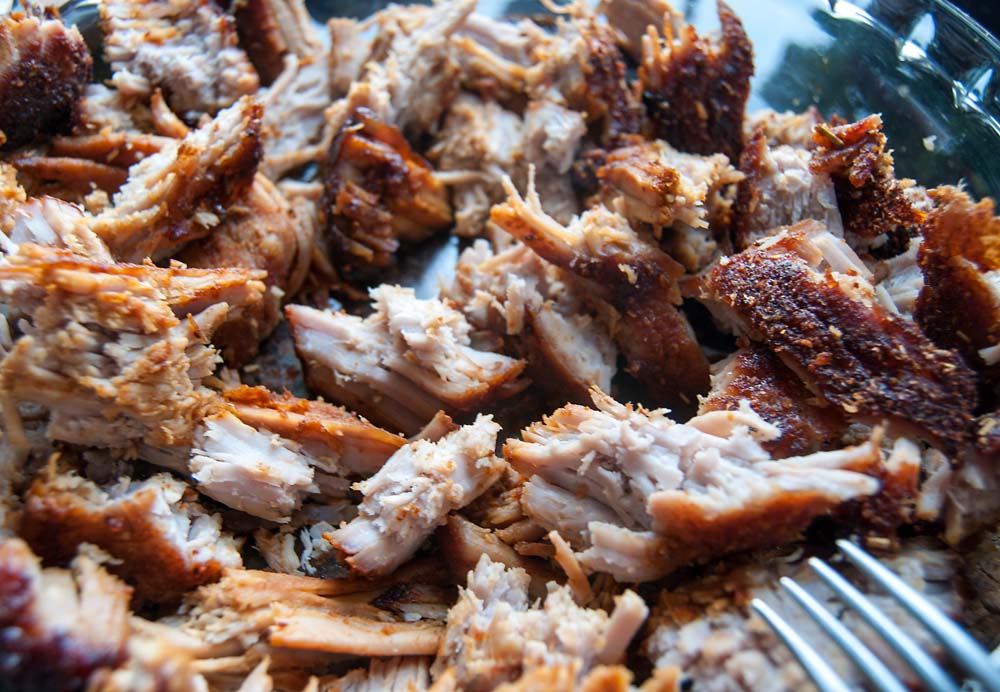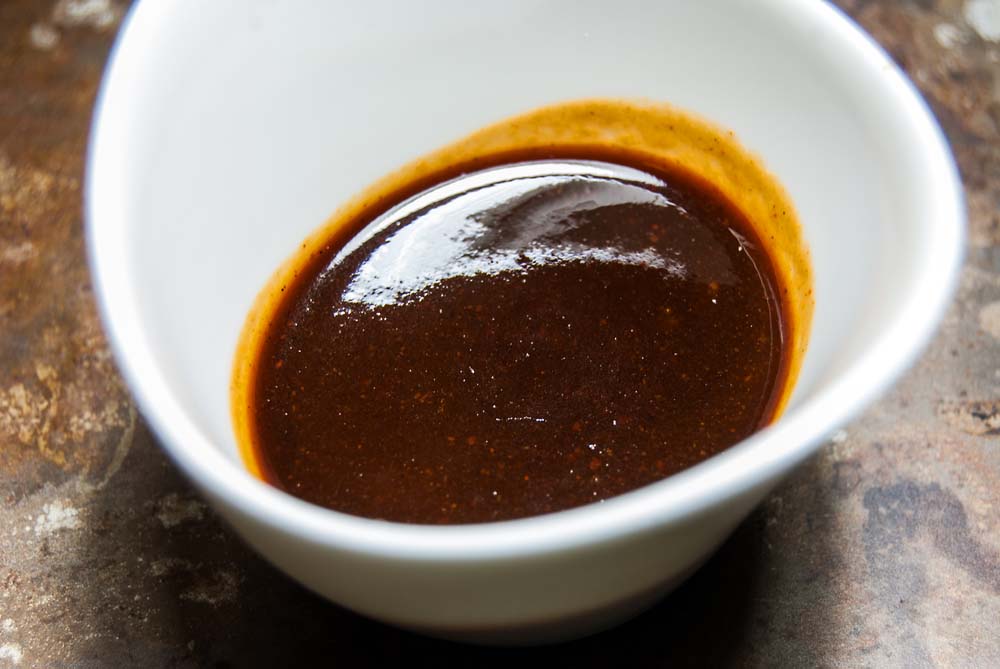 So I decided to add some smoke to the sauce instead. And I did that with smoked paprika and a few drops of liquid smoke. All barbeque aficionado will probably stop reading now, and in some way, I can agree. It felt a little bit like cheating. But I always have a bottle of liquid smoke in the refrigerator because it is very useful sometimes. And if you use a good quality liquid smoke which is made of smoked water only, it's not that bad.
Making the sauce is simple. You just mix all ingredients and boil until you get a thick, sweet sticky, and marvelous sauce.
In the end, I could serve the family what I had promised. Pulled pork in hamburger buns with BBQ sauce. I also added some cole slaw and homemade french fries. Everyone was happy and said it tasted just as delicious as if I had cooked it on the BBQ smoker.I don't agree to that, but it did taste very good. And when I went to the refrigerator for another beer I looked out through the window. The sun was shining again.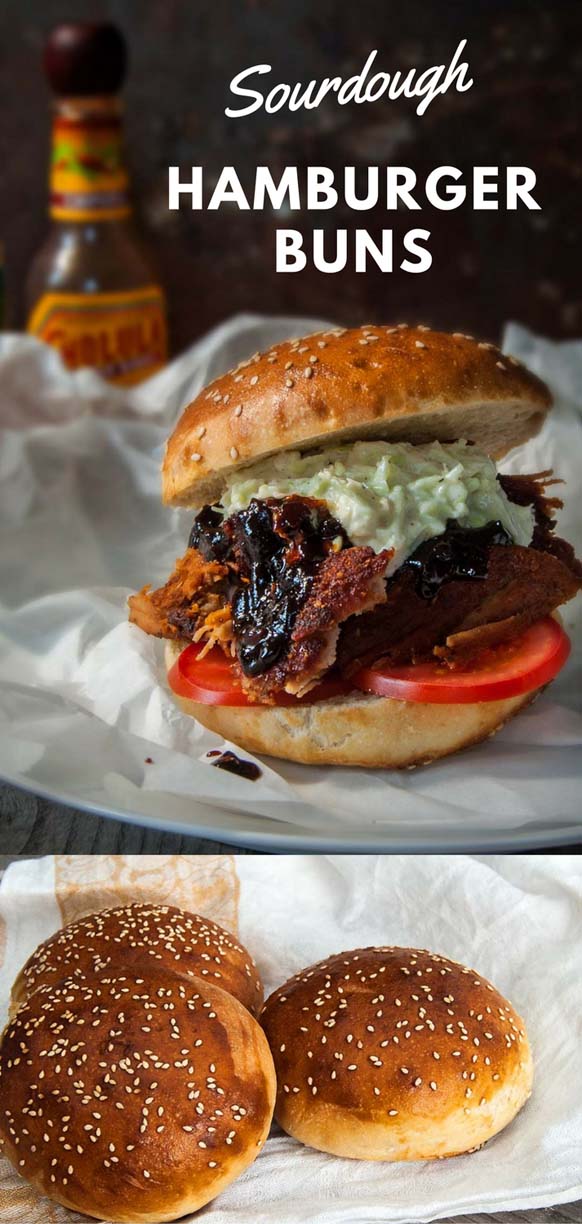 Take out the butter from the refrigerator and let it soften for 15 minutes. Mix all ingredients except salt, butter, and egg. Mix the dough in a dough mixer for 3 minutes on medium speed, or until all flour is hydrated.

Add one egg. Save the other egg for brushing the buns. Add butter in small pieces, one by one. Wait until every piece is incorporated into the dough before you add the next.

Run the dough in the mixer for 6-8 minutes. Add salt and run the dough until elastic. Do window pane test. If necessary run it in the mixer for some additional minutes.

Let the dough ferment for 2 - 3 hours at room temperature.

Pour out the dough on a lightly floured working surface. Divide the dough into pieces of appropriate size. 7 for pulled pork and 10 for hamburgers. shape each piece into a ball. I used the same technique as when I'm shaping a boule. Just make sure that the surface is taut.

Place the balls on a baking sheet with parchment paper. Let them rise for an hour, covered. A kitchen towel is Ok, but a big plastic tray that covers all the balls is better Pre-heat the oven to 480ºF / 250ºC. Place an extra baking sheet in the bottom of the oven.

Press gently with a finger against the dough. If the hole disappears completely when you remove your finger, the dough is under-proofed. If the hole springs back halfway, the dough is ready. Whisk the remaining egg with some milk and brush is on the balls. Sprinkle some poppy seed on top (optional)

Place the baking sheet with balls in the oven and pour some water on the sheet below to get some steam. Bake for 20 minutes. Turn down the temperature if necessary.

Let the buns cool on a wire rack.
Mix all spices and store in air tight container.
Fry the onion, garlic and cumin in oil on medium heat for 1 minute. Add vinegar and the rest of the ingredients. Let it boil until you get a thick sauce.
Pre-heat the oven to 230ºF / 110ºC Apply the rub on the meat and place it in a casserole or baking dish. Cook until the inner temperature has reached 230ºF / 95ºC. Shred the meat with two forks before serving with hamburger buns and BBQ sauce.