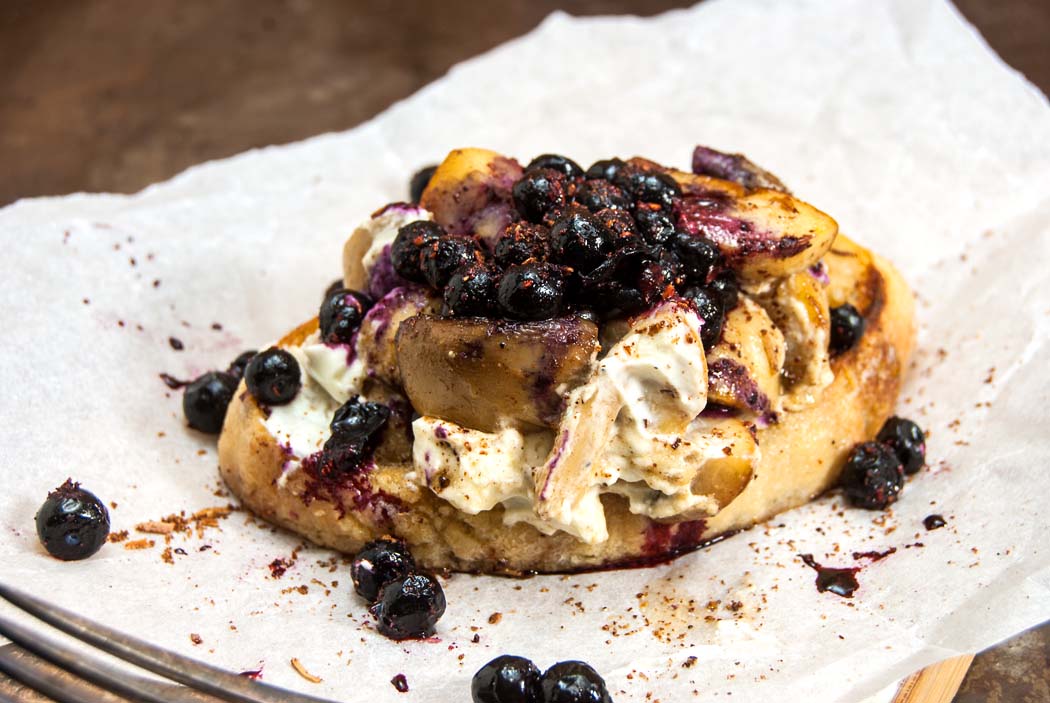 Baking sourdough bread is one of the most satisfying things I know unless my starter is messing with me. That's why I'm trying to bake on a regular basis, at least once a week. I try to avoid my starter getting into a deeper sleep. If they are allowed to fall into a coma they can be a bit grumpy when you try to wake them up. Trust me.
But if you bake often there will be a lot of bread. And quite often my family and I don't manage to eat everything before it gets stale.
It's not a big deal since there are lots of things you can do with stale bread like bread crumbs, croutons, etc.
But the easiest way to take care of stale bread is perhaps to make a grilled sandwich or crostini out of it. The result is often delicious. Much better than if you had used some junk bread from the grocery store. And the best thing is that you can put almost anything on a crostini. Search your refrigerator to see what you can find. With a little imagination, you can create a fantastic lunch, at almost no cost.
This week I found some leftover brown mushrooms in the fridge. That felt like a good start. Nothing can go completely wrong with mushrooms. Now I only had to find something that goes well with mushrooms. Butter and garlic are the obvious choices. But I also found some creme cheese. That should work as well.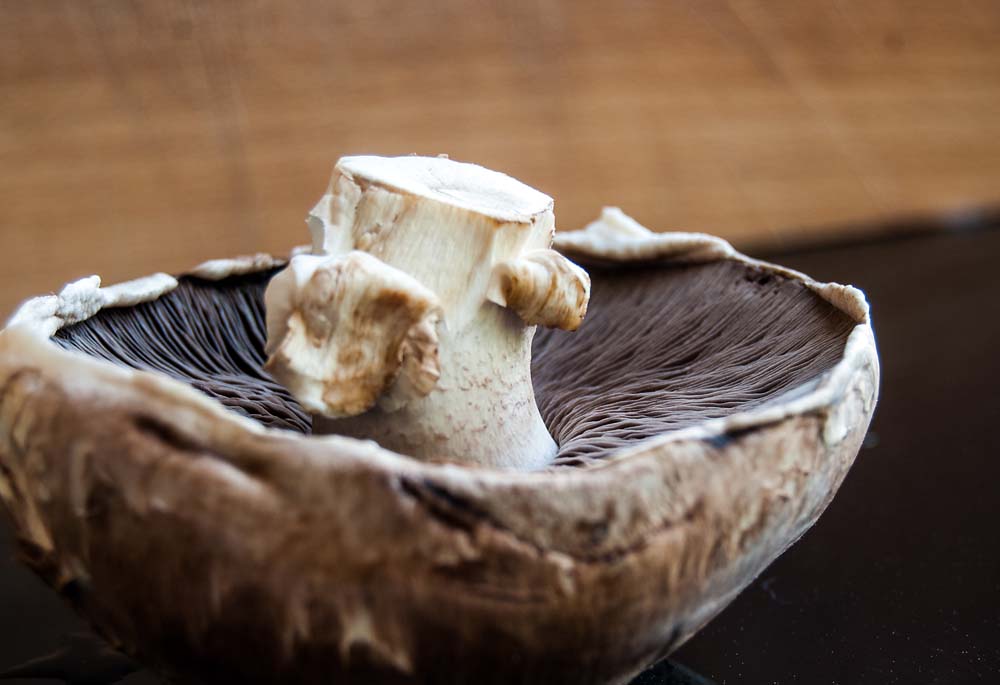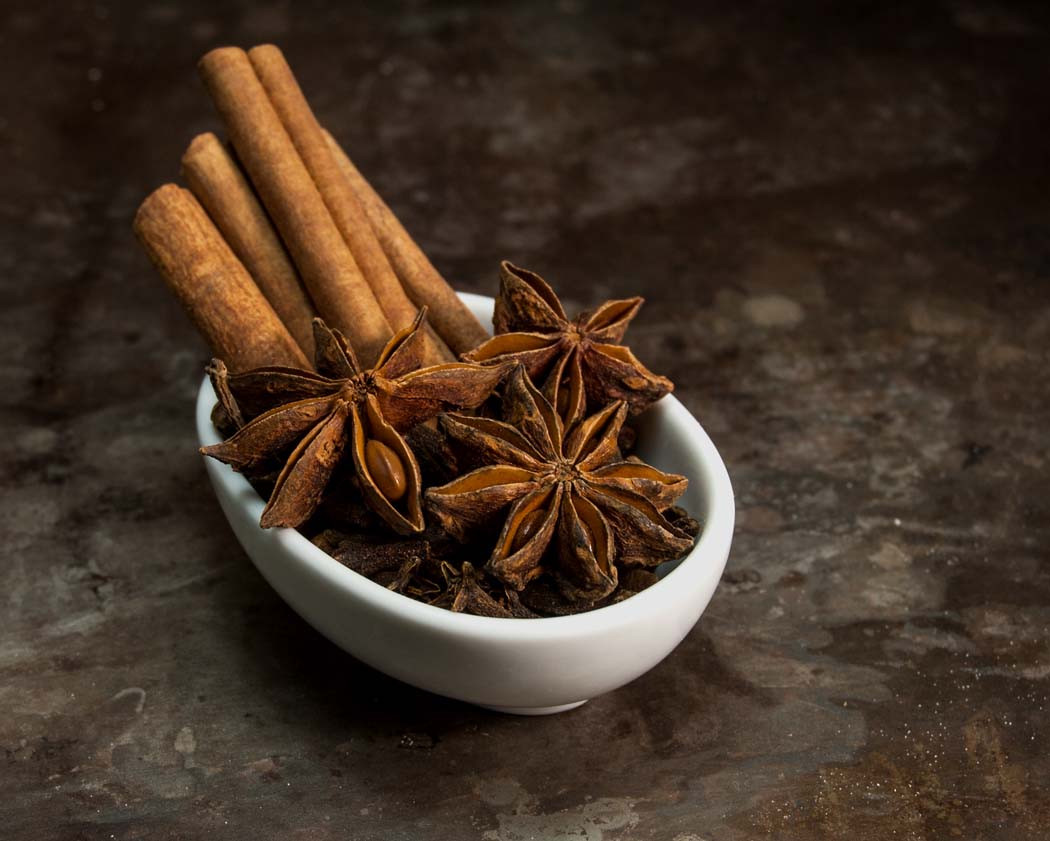 Now it was time to be a little bit more adventurous. Instead of choosing mushroom-friendly herbs like thyme or oregano I went for star anise. I also wanted a hint of sweetness, and I had already grabbed the bottle with balsamic glaze when I changed my mind. Balsamic glaze is great, but not very adventurous. Besides, it was not long ago that I published a recipe with mushrooms and balsamic glaze. Another one would feel a bit boring. But what should I choose instead?
After a moment of thinking, I chose blueberries.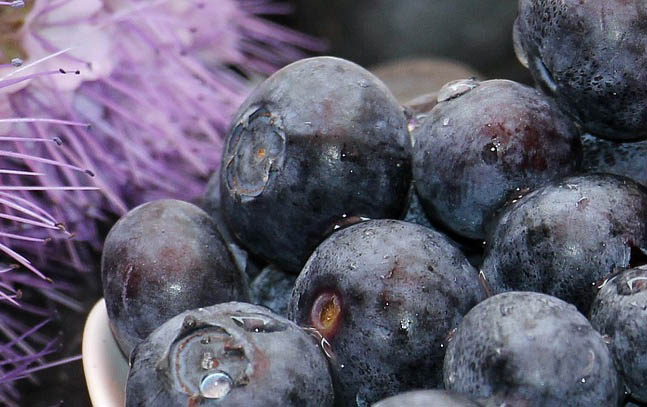 Now, before you leave, thinking that my ability to pair food can be compared to that of an ape, I want to point out that anise and blueberries work excellently together. Blueberry jam with star anise is a treat.
But would blueberries and mushrooms be a good pairing? I had no idea. I have to admit that I had never read any recipe with these two ingredients together.
So I decided to see if I could find anything on Google. And to my surprise, I found lots of recipes claiming that mushrooms and blueberries were an excellent combination. A bit unexpected, but yet excellent. And don't forget the cream cheese. Cream cheese is a good pairing to everything, so I decided to give it try.
And to my surprise, it was just as good as everybody claimed. I thought it would work, but I never expected it to be that tasty. Anise is an exceptional spice for both mushrooms and blueberries. That was perhaps not so unexpected. But mushrooms and blueberries are also a good pairing. I promise. Next time I make this crostini I will reduce the amount of creme cheese though because I think it softens the flavors a bit to much. And perhaps I will also add some muscovado sugar to enhance the taste of blueberries.
Cooking is an eternal process of experimentation. That's what makes it so fun.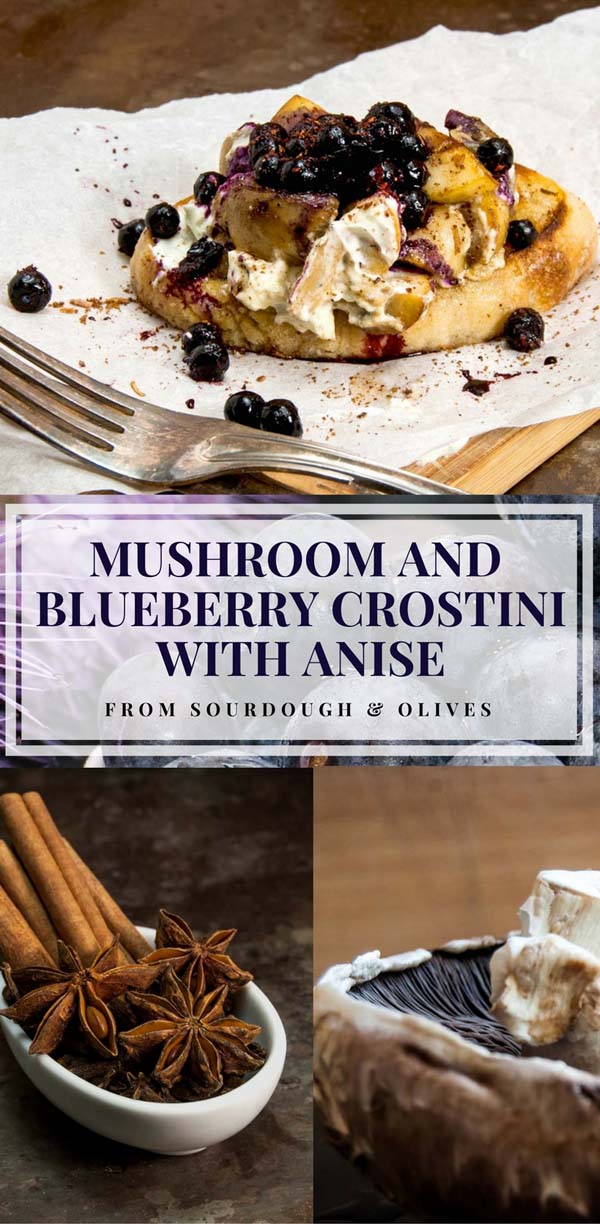 Start by grinding star anise to a coarse powder in a mortar and pestle. Grind the whole stars (both seed and pod) Mince the garlic clove

Cut the mushrooms into quarters and fry on high temperature with half of the butter. Lower the heat and add garlic and a pinch of anise the last minutes. Add salt and pepper to taste.

Fry the bread slice with the rest of the butter in a skillet until golden brown.

Spread cream cheese on the bread slice and add the mushrooms.

Mash half of the bluberries togheter wit a pinch of anise. Spread on top of the mushrooms.

Garnish with the rest of the blueberries and sprinkle the rest of the anise over the crostini.