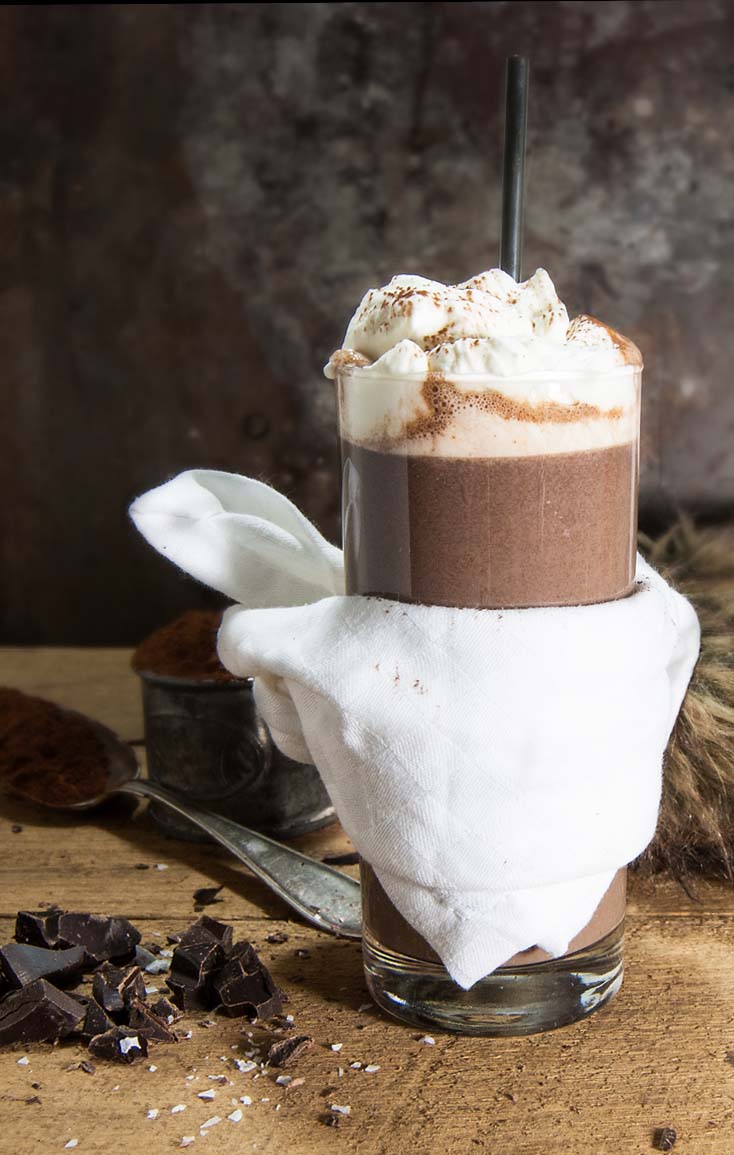 It was quiet here on Sourdough&olives last week. It was because I was up in the north of Sweden on vacation.
I had a week of incredible nature experiences and skiing, completely disconnected from blogging and social media (well, almost).
But now I'm back, rested, and loaded with food inspiration.
We ate some great food up there in Tänndalen, such as burgers on local highland cattle with truffle mayo. Or how about pizza with marinated reindeer and caramelized red onions.
So in a way, I was not disconnected from my blog at all. I found inspiration for new recipes and blog posts almost every day.
But sometimes the weather becomes very harsh in the Swedish mountains. One day the temperature was -5ºC (23ºF). That's not so cold really, but in combination with a wind speed of almost 38 mph, it can be a bit unpleasant.
You get cold VERY quickly.
But there is a cure.
Hot chocolate.
Hot chocolate is the optimal outdoor winter drink. The kids love it, and with a few tweaks, you can easily make it more adult. And that doesn't necessarily mean that you have to pour a lot of rum or other brownish liquor in your chocolate (even though I can recommend that also). You just have to think a little bit different regarding the ingredients.
Choose your chocolate wisely.
Let's start with the chocolate. Or perhaps you should consider using cacao powder instead. In Sweden, it's a long tradition to use cacao powder in our hot chocolate. The health benefits of using cacao powder are greater than if you use chocolate. Cacao powder can be a challenge to find, and shall not be mixed up with cocoa powder. It's not the same thing, and the difference regarding nutrition content is quite big. With that said, cocoa powder is not a bad alternative. It's just not the superfood that cacao powder is.
Unfortunately, there's also a difference between different brands of cacao powder. Choose one that has been processed at low temperatures. That goes for you Swedish readers as well. The brand with the stylized eyes on the package that most of you probably use is not the best choice.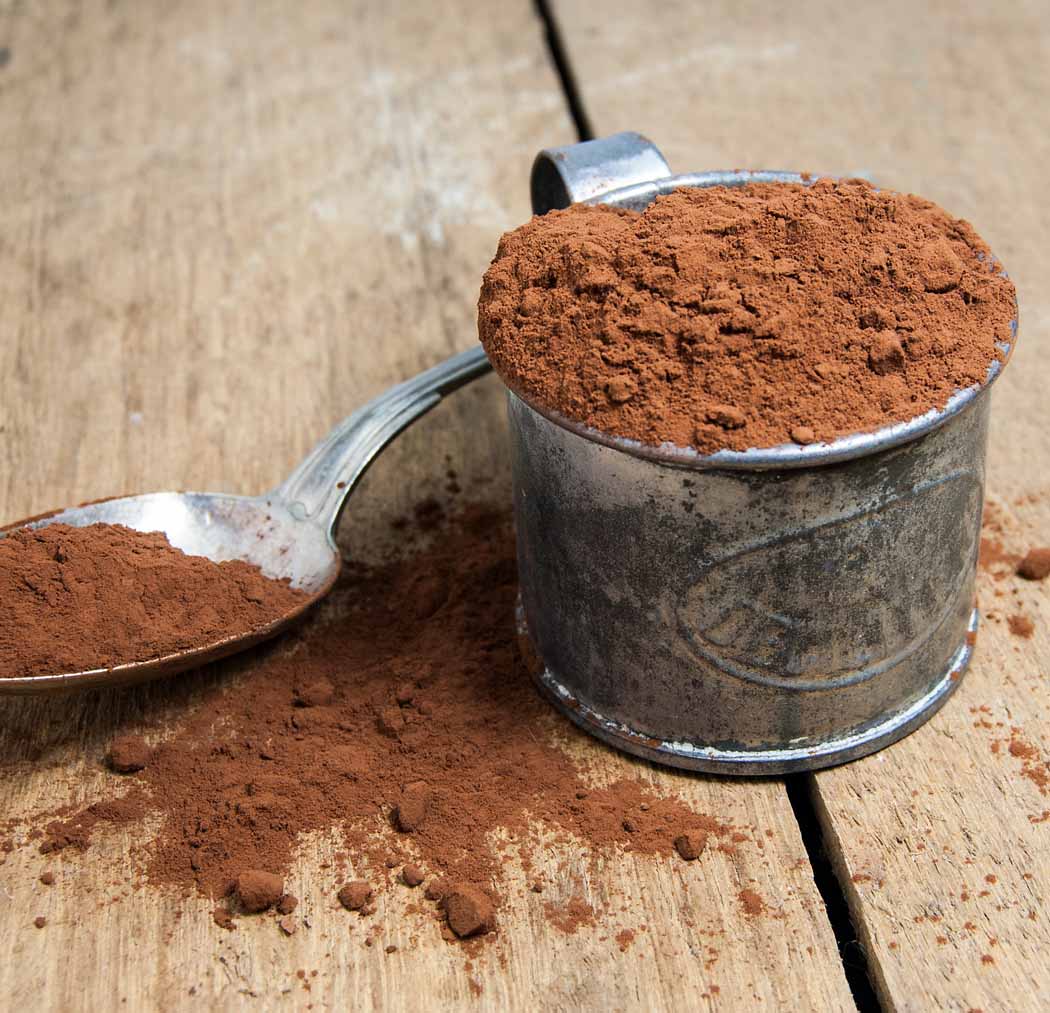 Does all this sound complicated? Perhaps you're not interested in any health benefits, just some pure pleasure.
Use chocolate instead.
It will give you a hot chocolate with a rich taste and a smooth, slightly creamy consistency. Just make sure to choose chocolate of good quality and high cocoa content. The higher the cocoa content, the better. You can always balance the bitterness with some sweetener.
Milk or cream? Or perhaps water?
Yes, it is possible to make hot chocolate with cacao powder and water. If you're aiming for a healthy hot chocolate, or if you're lactose intolerant it can be an option. You will get a quite pronounced chocolate taste if you use water and cacao powder.
You will also get a very healthy drink, as cacao beans are considered a superfood.
Cream, on the other hand, is a little bit too much in my opinion, even for the "decadent" version.
I think whole milk (3-3.5% fat content) is the best alternative, especially if you're going to add cream on top.
Sweetener and spices.
If you're going for the chocolate variant, you may not need to add any sweetener at all. It depends on how sweet or bitter the chocolate is.
If you're using cacao powder, you need to add some sweetener. Cacao powder contains no sugar at all, and your hot chocolate will be a very bitter story without sugar. I prefer muscovado sugar, but feel free to use whatever sugar you have at hand.
I like to add ground cinnamon to my hot chocolate as it blends perfectly with the chocolate taste. Chocolate goes well with many things, like cardamon and even chili, but cinnamon is my favorite.
But there is one more thing that I always add to my hot chocolate. A magic ingredient that enhances the chocolate taste and lifts the drink to another level.
And the best part is that it's something that everybody already has among their spices.
Salt.
You don't need much. Just a pinch.
Do you hesitate? Think about those fancy and expensive chocolate bars with sea salt you can buy in the grocery store.
Salt is a must, I promise.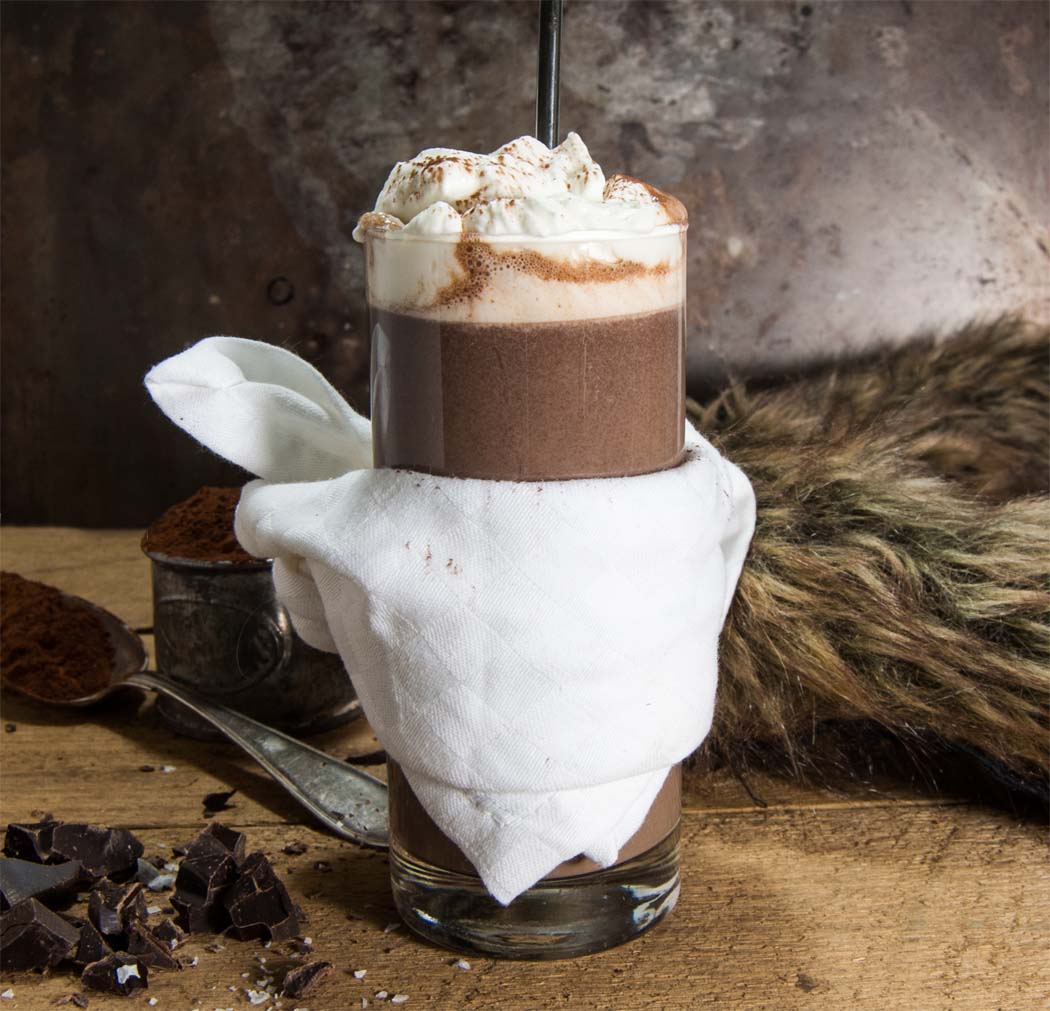 That's all you need to make a top-notch hot chocolate that will warm your body and soul on a cold winters day. Adding some whipped cream on top makes it even more luxury and decadent. And if you persist that there should be some rum in hot chocolate, I will not disagree.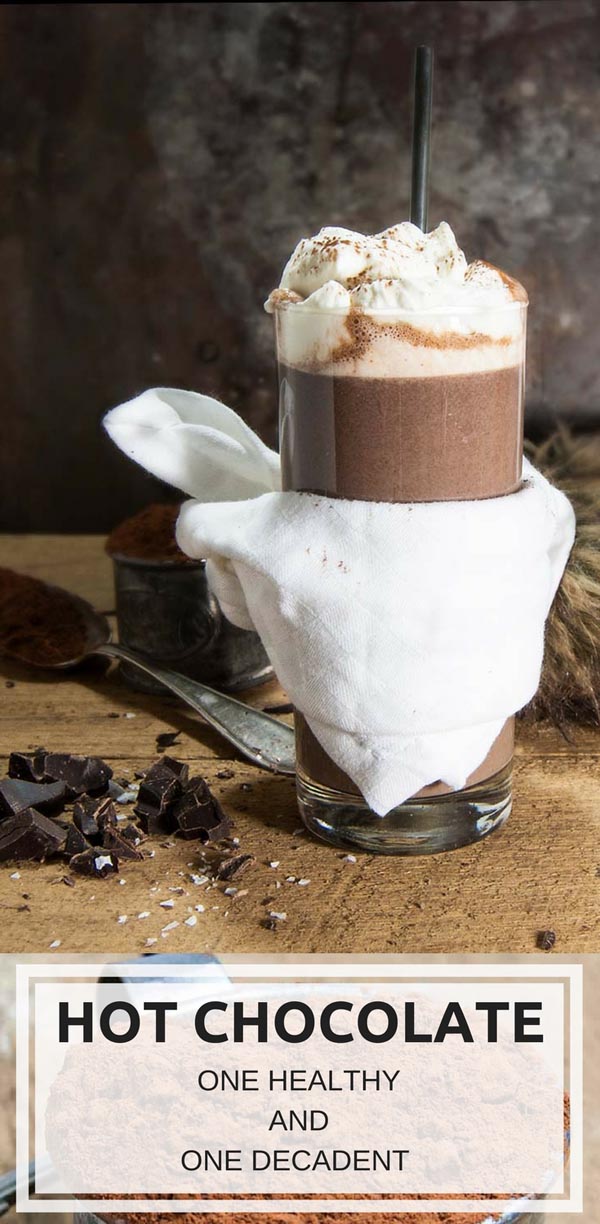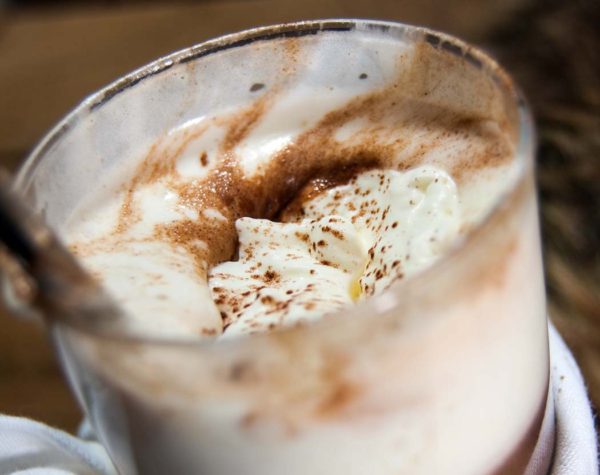 | | |
| --- | --- |
| | |
Bring water or milk to a simmer, not boil.

Add cacao powder and whisk until no lumps remain. If you use chocolate, whisk until all chocolate has melted, about 5 minutes.

Add the rest of the ingredients and whisk until suger and salt has melted.

Pour the hot chocolate into a high glass or cup, and top with whipped cream. Dust with cacao powder.