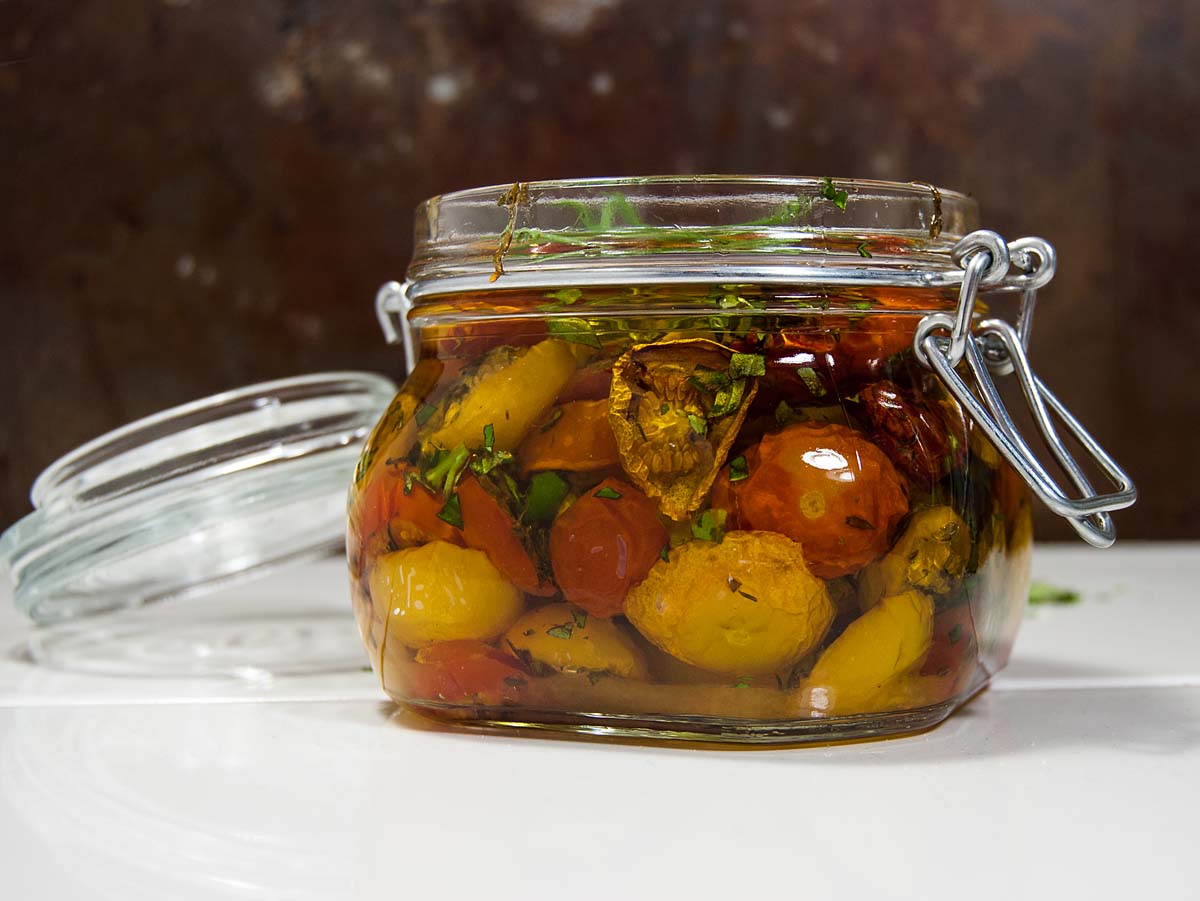 I have a greenhouse in the garden where I grow mainly tomatoes every year. There are some plants with cucumber and peppers also, but most of the surface is occupied by tomato plants. There are many reasons for that. First, I use a lot of tomatoes in my cooking. Second, they are easy to grow. And third, it's almost impossible to find good quality tomatoes in the grocery stores here in Sweden. Sometimes you can find a variety that tastes something, but too often the taste is very close to water.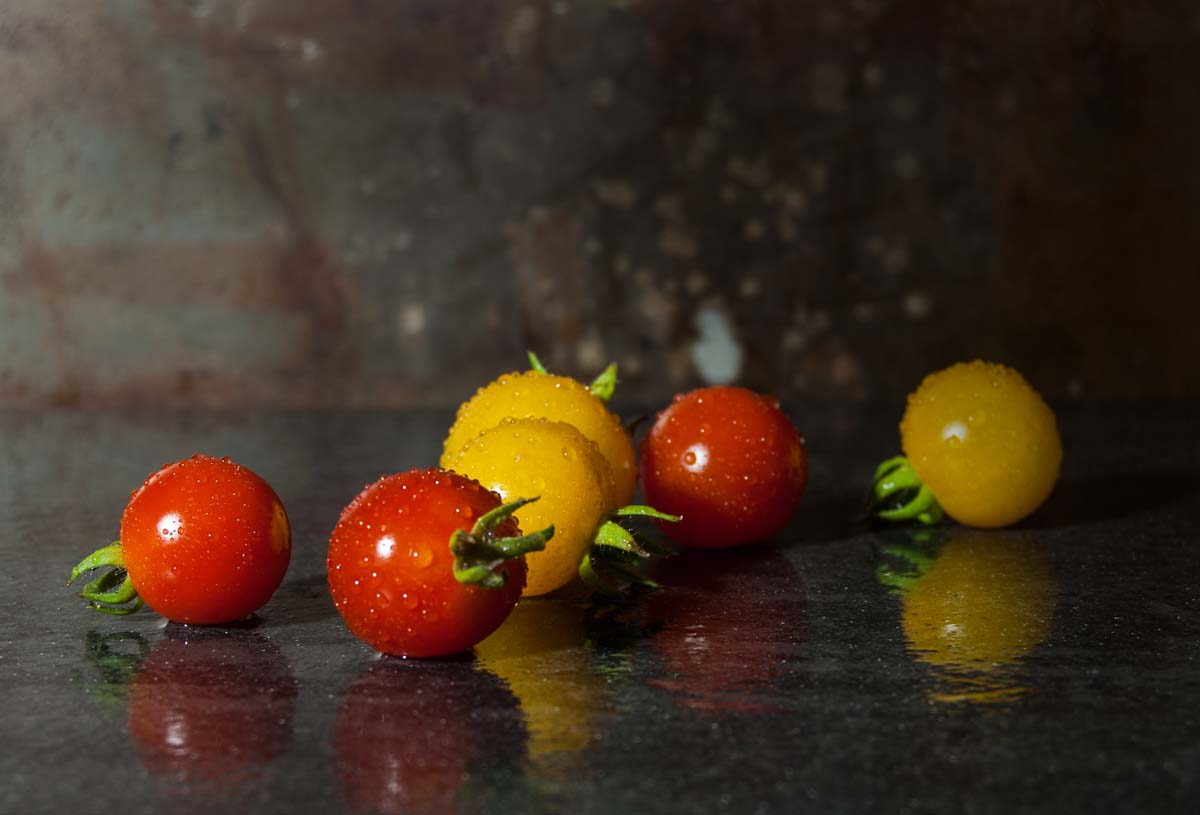 The only problem is what to do with all the tomatoes. Of course, I grow far too much every year. My main excuse is that it's good to have plants in reserve if some would die. But that doesn't happen very often. Few plants are hardier than tomato plants. The fact that everyone in the family wants to have their own tomato plant also contributes to the huge amounts of ripe tomatoes in the greenhouse at this time of year.
My neighbor looks at the greenhouse every day as he walks to the car. I know what he's thinking. How the hell are they going to eat all those tomatoes? The answer is, of course, that we can't.
We eat as much as can, and we give away a lot of tomatoes to friends and relatives. But there are still tomatoes left. And they will soon start rotten if I don't do anything with them.
Imagine that. Me, the guy who agitates against food waste whenever I get a chance, has a greenhouse full of tomatoes rotting away.
That's really bad.
So I have started making tomato sauce, I freeze them, and I'm thinking about making some tomato paste. It's more or less the same procedure as last year.
But this year I have tried something new. Roasted tomatoes marinated in olive oil, garlic, and herbs. Suddenly the greenhouse doesn't look so overfilled with tomatoes anymore. I have found a new favorite. These cherry tomatoes are full of taste before they get into the oven. But after they have been roasted, they can only be described as small sensations. The sweet, concentrated tomato taste almost explodes in your mouth.
The approach is simple. Just cut the tomatoes in half and place them on a baking tray with parchment paper. Drizzle some olive oil and sprinkle a lot of you favorite herbs. I used thyme, rosemary, and some flake salt.
Put them in the oven on low heat for about two to three hours, depending on the size of the tomatoes and how much you want to roast them.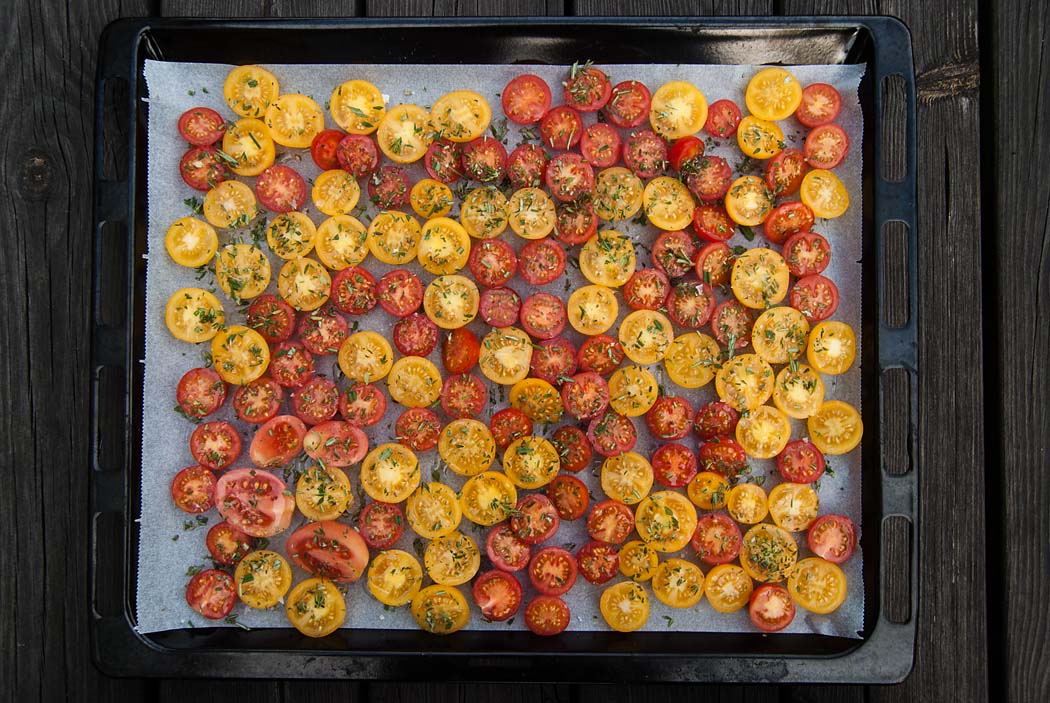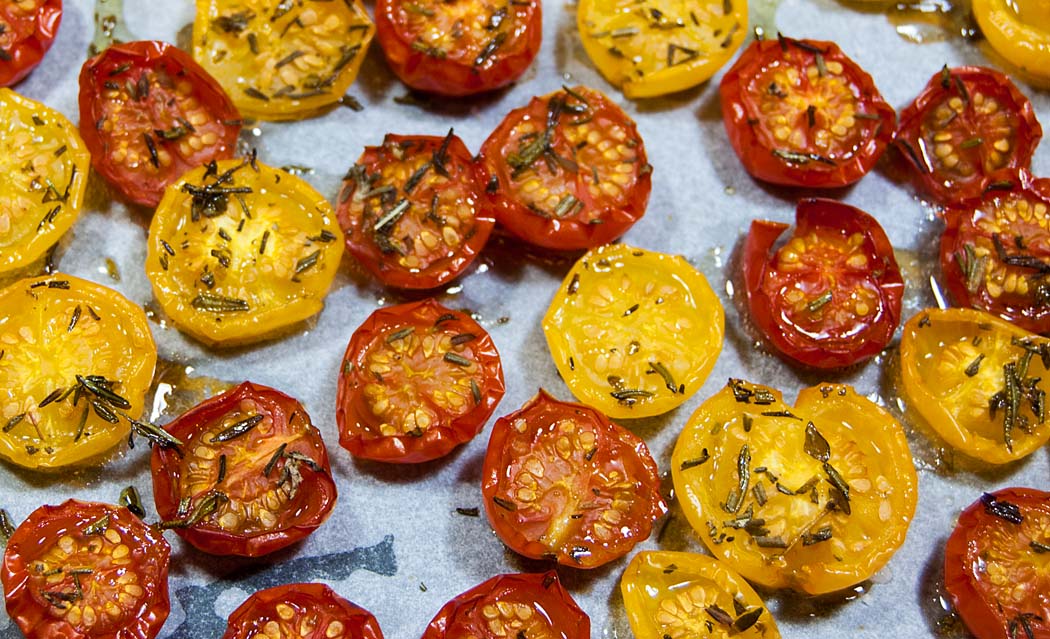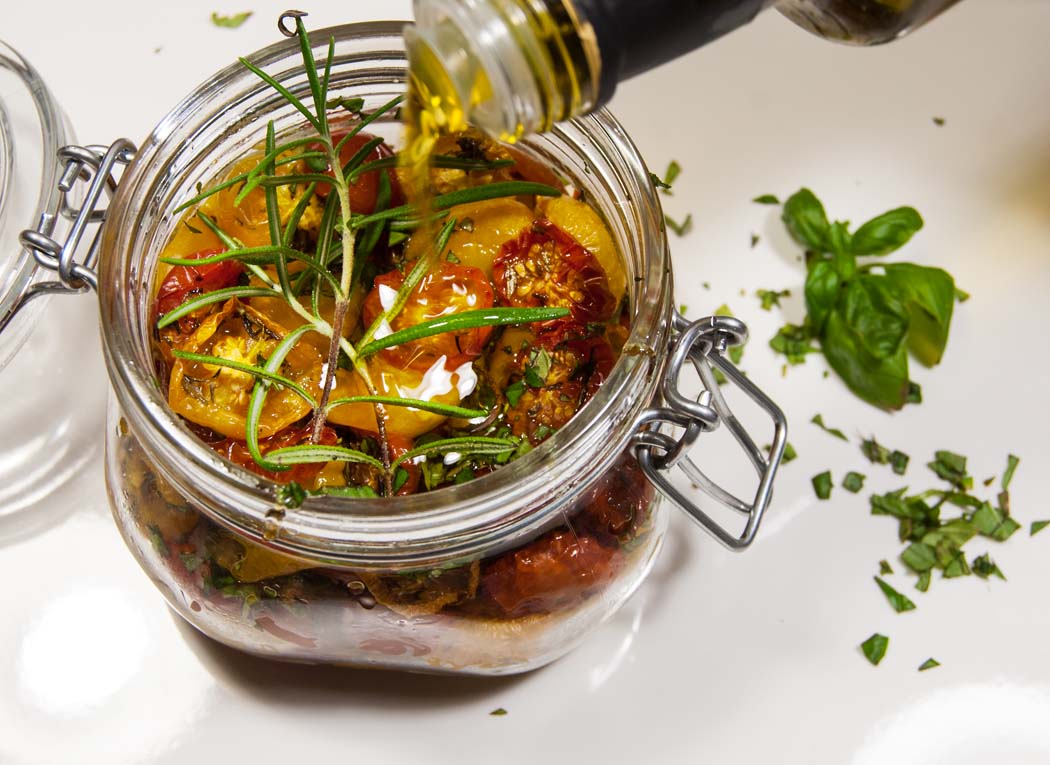 When they are ready, you can let them cool for 15 minutes before you place them into a sterilized jar, together with sliced garlic and perhaps some more herbs. I added some oregano, basil, and some more rosemary.  Fill the jar with good quality olive oil, and you are ready. Now you have a little treasure that you can hide in the refrigerator. But hide it well, or you may find it empty next time you look for it.
But what about the crostini you can see below? Just cut a slice of your sourdough loaf that I'm sure you have in the pantry. If not, you can always bake one with this recipe. Roast it in a skillet or a toaster.
Load some marinated tomatoes on the slice together with some Feta cheese. Don't be afraid to add some of the oil from the tomatoes. Garnish with a sprig of rosemary, or whatever you have available.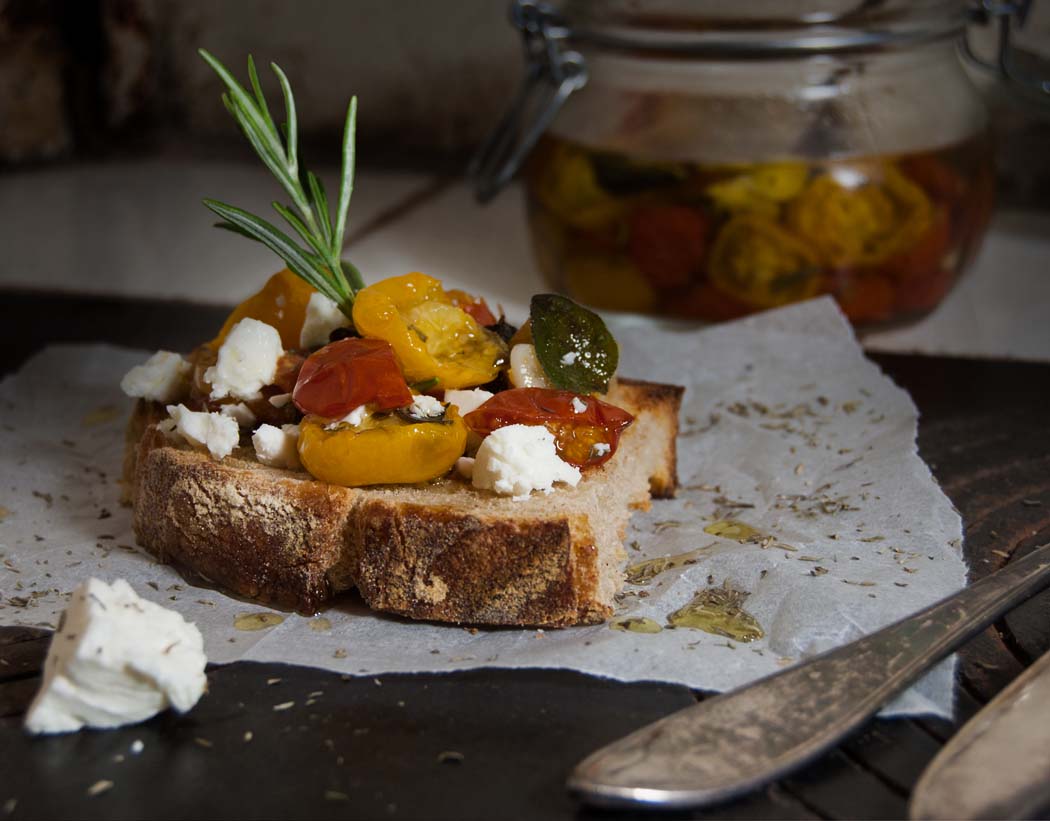 That's it. You have the perfect starter or a dish for your buffet. It's so simple to do, but yet so incredibly tasty. You can, of course, add more ingredients if you want. Perhaps you can change from Feta cheese to Mozzarella. And don't forget some grated parmesan, as I did. Or maybe some capers?
An explosion of flavors. That's the best way to describe how it feels to put one of these roasted tomatoes in your mouth. Can be used to almost everything from salads, kebab to crostinis. I have not specified any quantities in this recipe. Just take all the tomatoes you have and add as much chopped herbs that you want. It can't go wrong.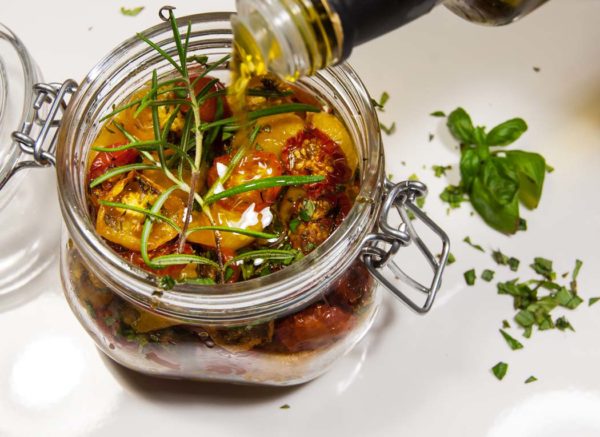 | | |
| --- | --- |
| | |
Roasted, marinated tomatoes
Preheat the oven to 230ºF / 110ºC.

Cut the tomatoes in halves. Place them on the baking sheet with parchment paper, top side up. Drizzle some olive oil and sprinkle plenty of herbs and some flake salt over all tomatoes.

Roast the tomatoes for 2 - 3 hours depending on size and how much you want to dehydrate them. Open the oven lid now and then to get rid of some moisture.

Let them cool for 10 to 15 minutes.

Transfer the tomatoes to a sterilized glass jar. Mix with sliced garlic and more herbs. Top of with olive oil. Seal jar and store in the refrigerator.
Roast a slice of sourdough bread. Load some marinated tomatoes on the slice together with some Feta cheese. Drizzle some of the oil from the tomatoes. Garnish with a sprig of rosemary, or whatever you have available.