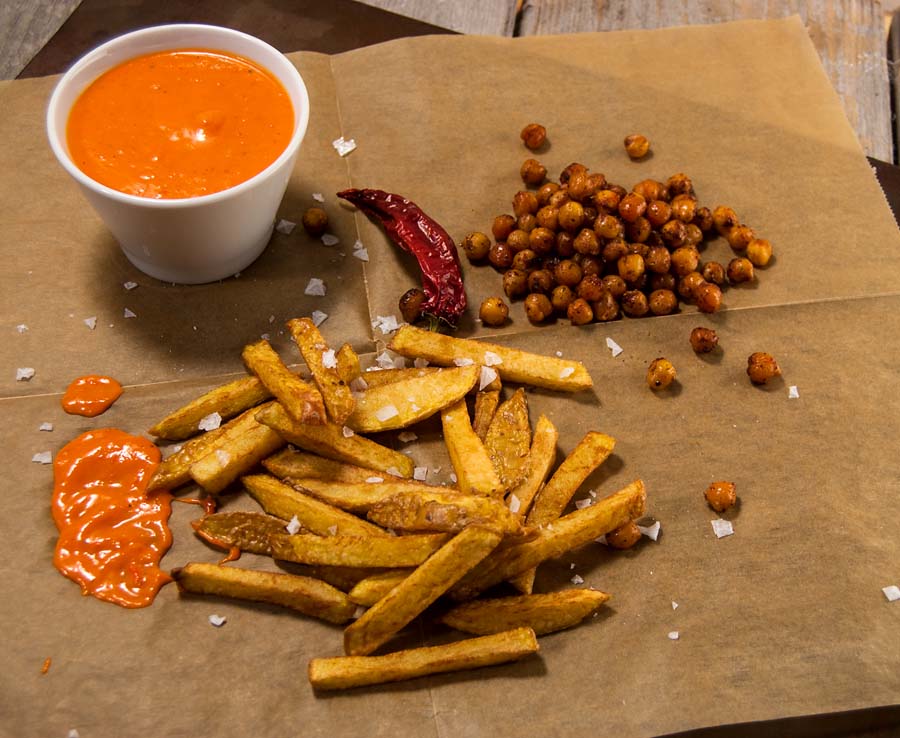 The barbecue season is here for us who lives in the northern hemisphere. Unlike those living in southerner latitude, we only have a limited time every year that we can barbecue. You can, of course, barbecue all year round here too. But for some reason, I'm not tempted to stand in the middle of winter fumbling with my fork and tong in the blistering cold, even though I know that some claim that winter is the best time for barbecue. That's the time when it tastes best, they say.
Weird people.
At the other hand, most enthusiasts are a little weird. I mean, how many can feel pure happiness when they see that their sourdough starter has overflowed, turning everything around into a complete mess? Not so many. But I do. And I know that most real sourdough enthusiasts feel the same.
But let's go back to the barbecue. To your perfectly barbecued steak you need a top notch sauce, right? Mojo Rojo is a perfect choice.
It's a tapas sauce from Spain, more specifically from the Canary Islands. It's traditionally served with Papas Arugadas or wrinkled Potatoes.
Red peppers and paprika are the main ingredients. Together with garlic, cumin, olive oil, and lemon juice this sauce can also be paired successfully with most smoky and flavorful grilled or barbecued dishes. When I did some research, I discovered that there appear to be two versions of this sauce. One with chili peppers and paprika powder, and one with both chili peppers and bell peppers.
For some reason, I suspect that the latter may not be completely authentic, but I'm not sure. But I think it's more versatile, so that's the one I will write about in this post.
It's quite easy to do. Start with cutting the bell peppers in pieces and roast them in a hot skillet until the skin begins to turn black and wrinkled. You can also roast the peppers in the oven in larger pieces and peel them. When the skin starts to turn black, you just rinse the pieces under cold water. After that, it is quite easy to remove the skin.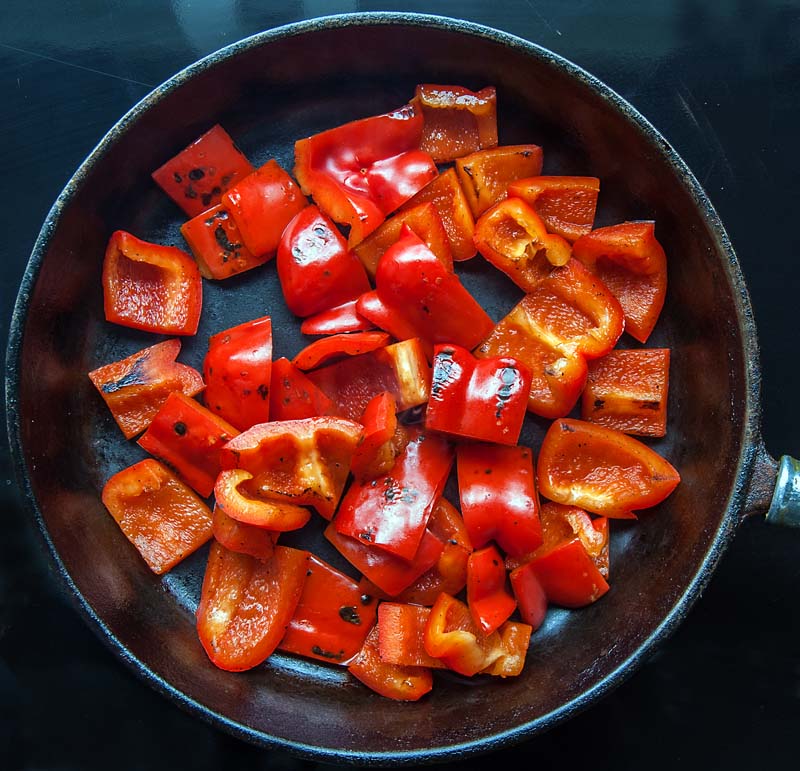 But I think that whole procedure is unnecessary. I just mix the pieces with skin and everything with the rest of the ingredients to a smooth sauce. The sauce will contain som black dots from the charred skin, but I don't mind that. I think it adds a rustic touch.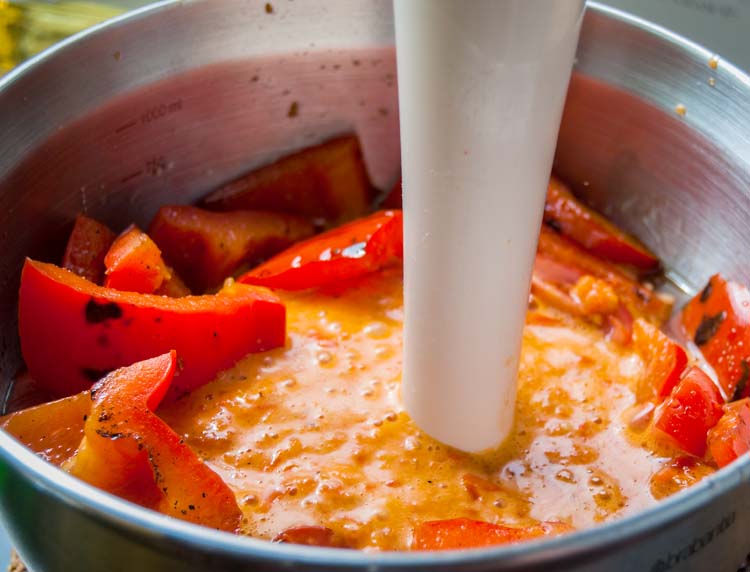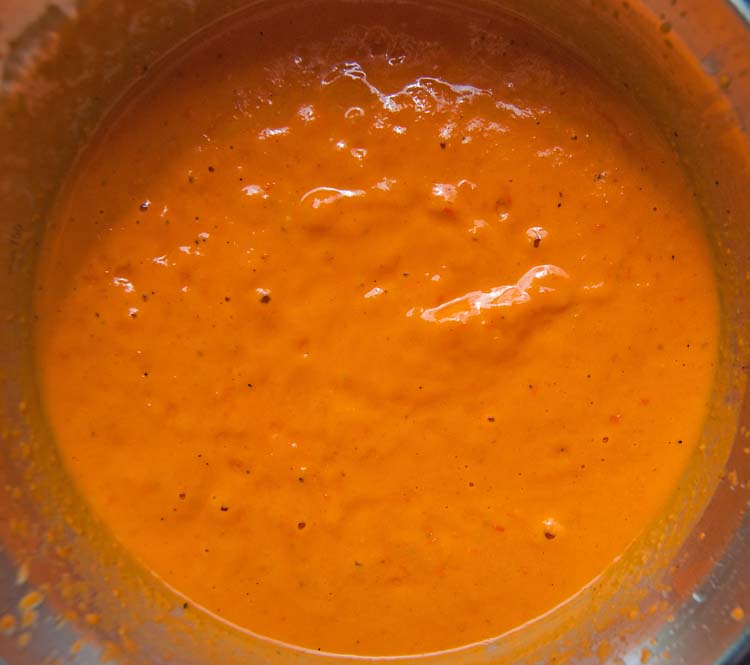 Some recipes tell you to mix the bell pepper raw, and that is of course easier. But I urge you not to skip the roasting process. The bell pepper develops a delicious sweet flavor when roasted that you don't want to miss. If you think the sauce is too watery, you can add some leftover bread and mix it with the sauce.
As said before Mojo Rojo goes very well with all kinds of meat, but it's also a perfect dipping sauce. Pour some roasted chickpeas and french fries on a parchment paper in the middle of the table together with a bowl of Mojo Rojo. Grab a bottle of your favorite beer and sit down around the table together with your friends and enjoy.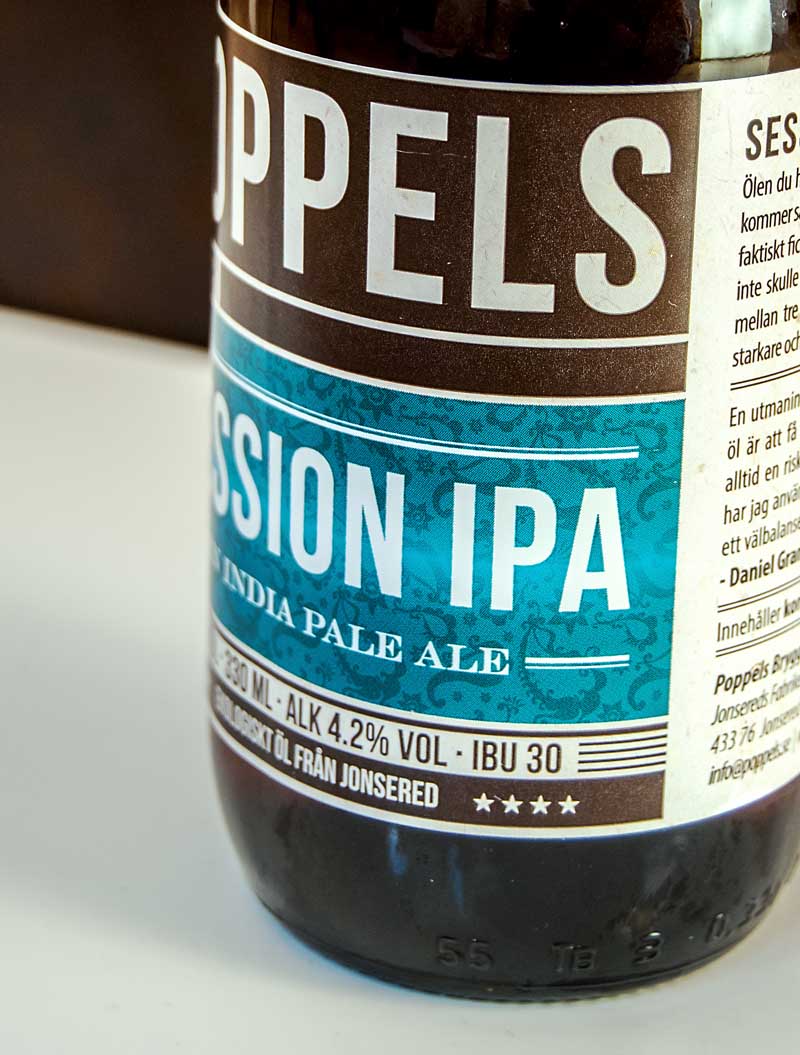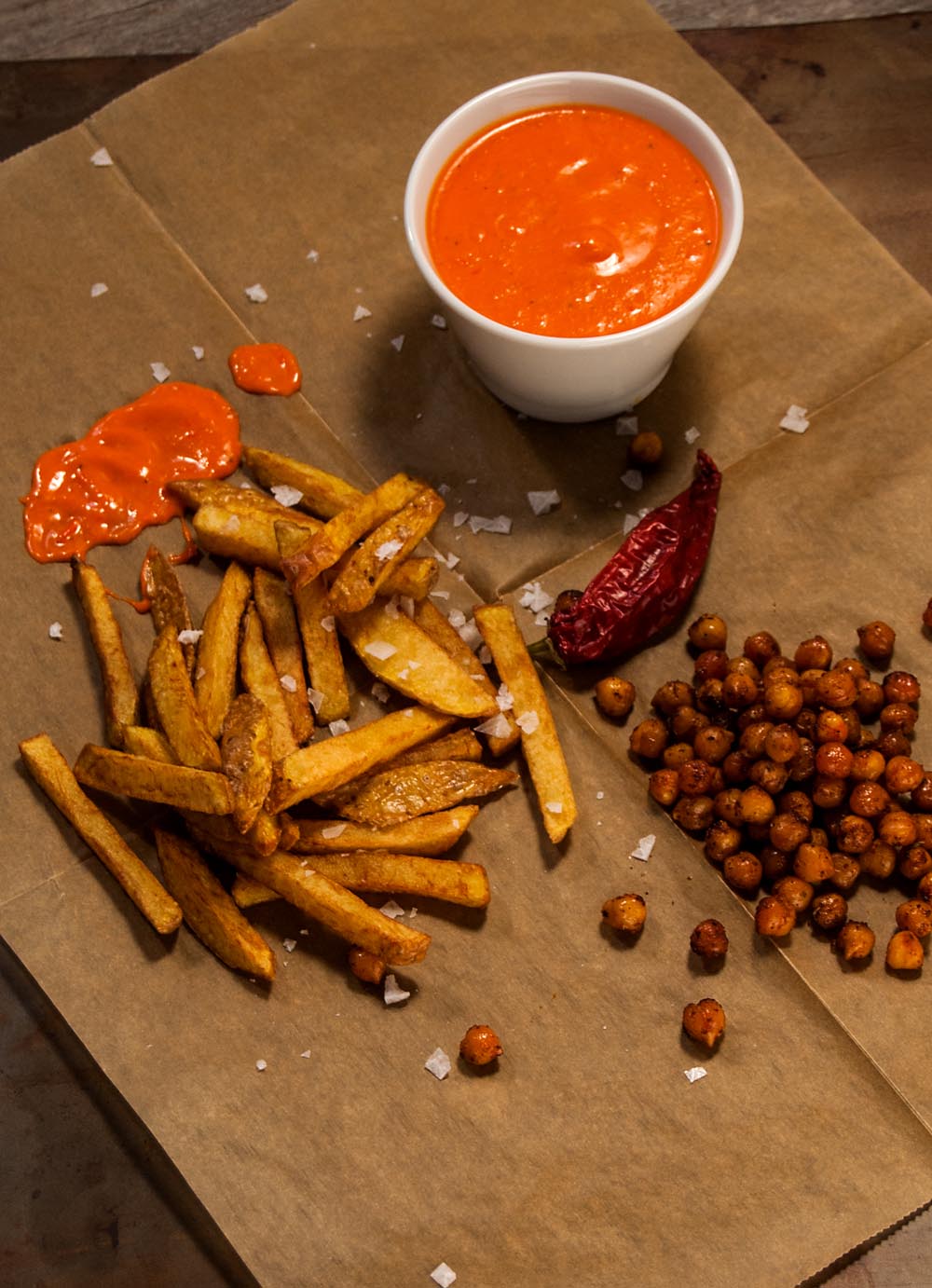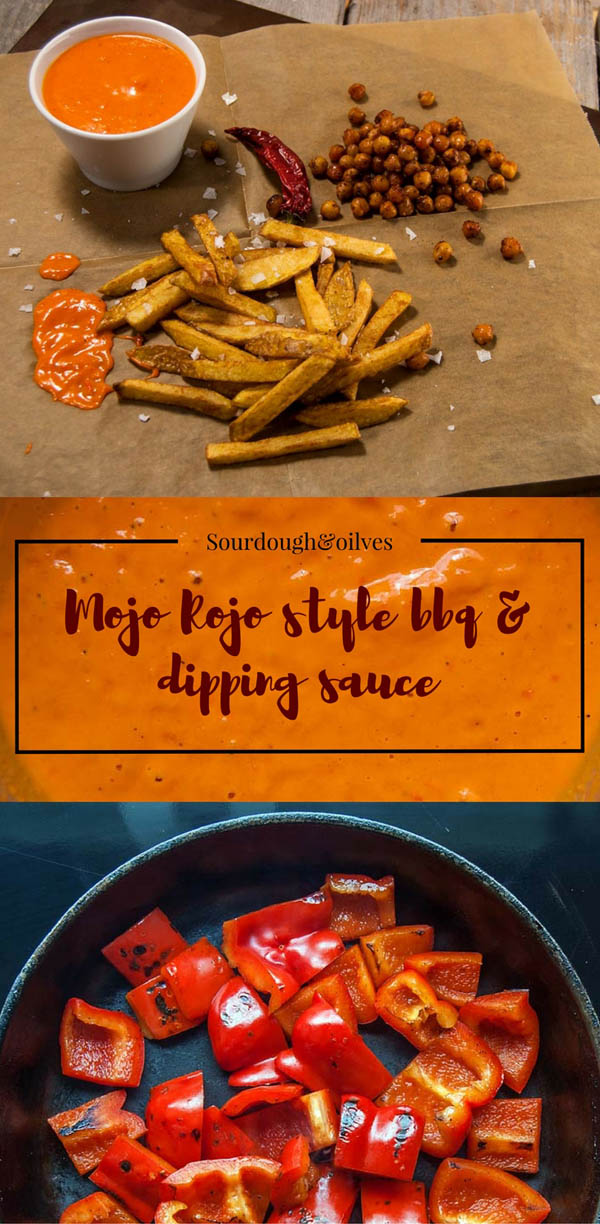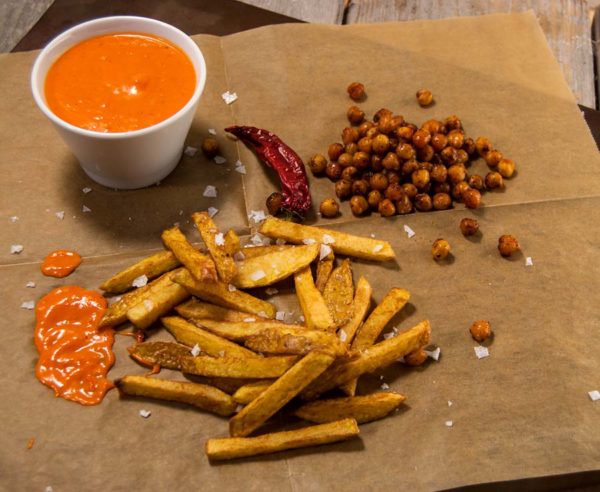 | | |
| --- | --- |
| | |
Cut the chili pepper and bell pepper in halves and remove seeds and pith. Cut them into smaller pieces.

Roast the pieces of bell pepper in a hot skillet until the skin starts to turn black.

Mix bell pepper, chili pepper, garlic cloves, and cumin to a smooth sauce in a blender or with a stick blender. Flavor with salt and lemon juice. Add some leftover bread and mix it with the sauce if it's too watery.
Preheat the oven to 480ºF / 250ºC. Rinse the chickpeas and let them dry on a paper towel.

Mix the chickpeas with the rest of the ingredients. Roast them on a piece of parchment paper for 20 minutes, or until they have a nice color.