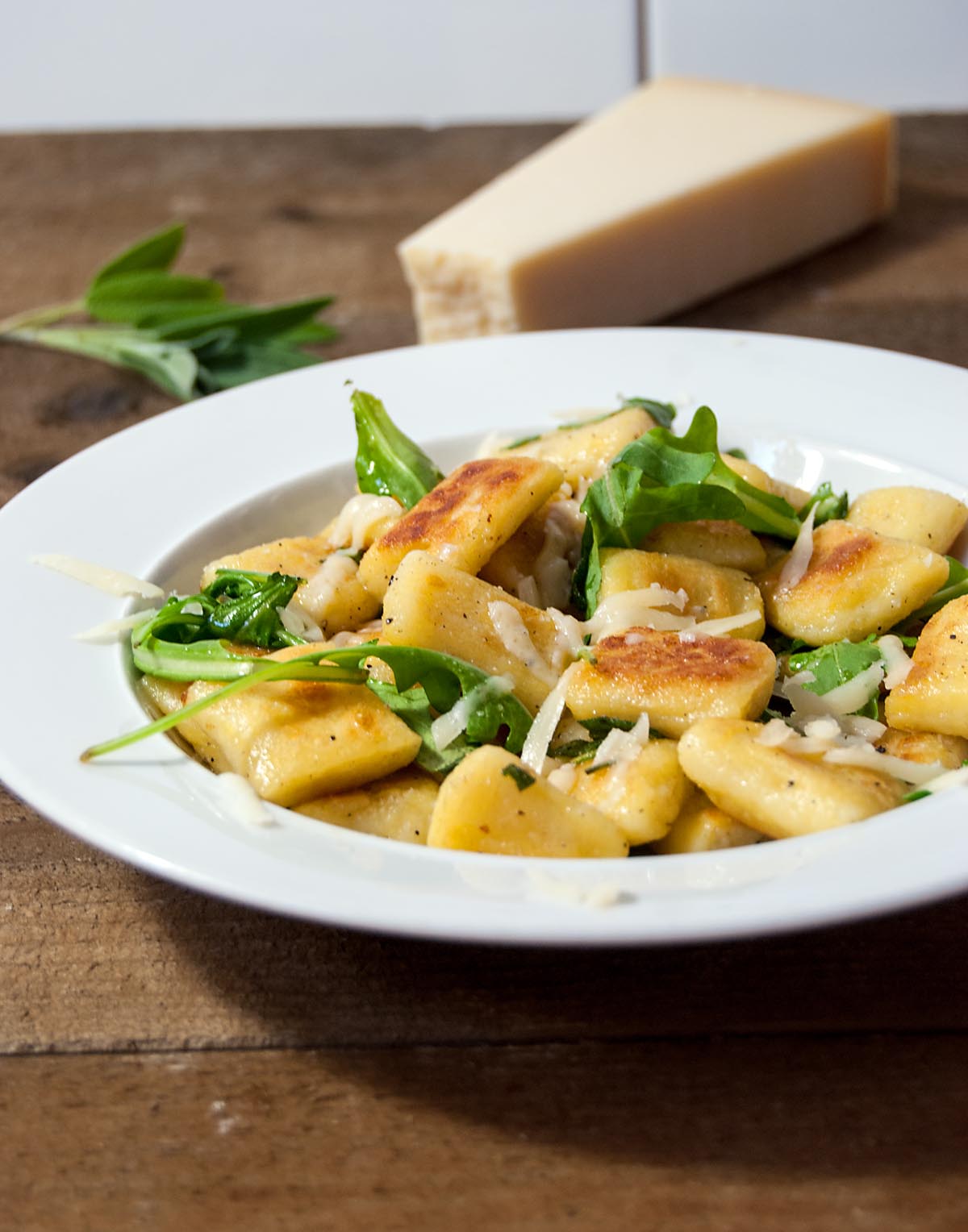 There is an ongoing battle in our home. My kids claim that potatoes are disgusting. If they are not deep-fried, that will say. Then they are suddenly delicious.
But there must be a better way to get the kids to eat potatoes without having to fry them. And I think I have found a solution.
Gnocchi.
Both of them love pasta and my plan was to convince them that Gnocchi was a sort of pasta.
My son was not that sure.
"It contains potatoes" he complained.
"And flour and egg. Just like pasta" I answered.
He gave me a suspicious look.
"Are you sure it's not disgusting?"
"Yes, I'm sure."
That was a lie. I had never tasted potato Gnocchi in my whole life. I love Italien food, but I had never tasted potato Gnocchi. Polenta gnocchi yes, but never potato gnocchi.
"You better taste good," I said to quietly to the dough ropes is was rolling.
According to one of my Italien cook book, Gnocchi is a popular first main course. A primi. Despite the simple ingredients, it's considered to be a delicacy. The basic recipe for gnocchi contains only boiled potato, flour, egg yolk, and salt. You mix all ingredients on a floured baking table like you do when you mix the dough for homemade pasta except you don't knead Gnocchi dough so much. If you overdo it, the gnocchi will be tough and gummy. Just mix until everything comes together in a uniform piece of dough. It is difficult to say how much flour that has to be added because it depends on the starch content of the potatoes.
A good rule of thumb is to add flour until the dough stops sticking to your hands.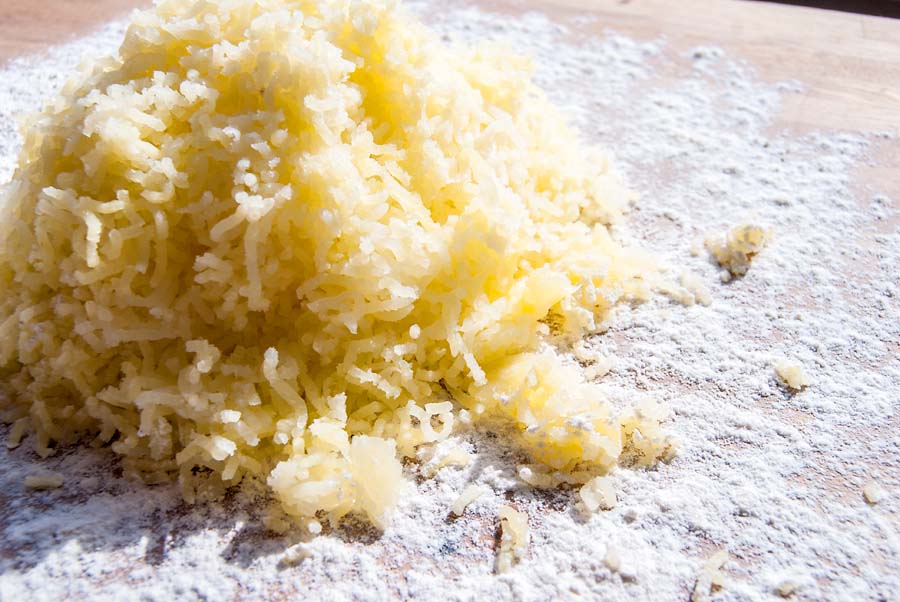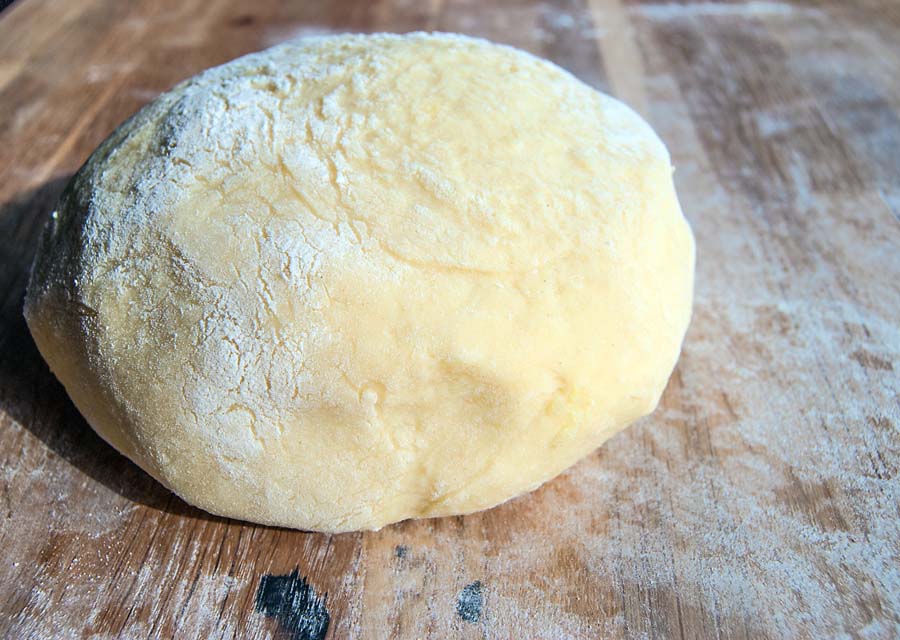 Now it's time to roll ropes with the thickness of your thumb. You cut the ropes into 1-inch pieces and press the pieces lightly with a fork before you boil them. Do not skip that last moment with the fork. A smooth gnocchi is almost useless according to some recipes I have read. It must have some indentation. Otherwise, it will not be able to carry enough of the butter or sauce it's served with.
Gnocchi can be served natural, with only melted butter and grated parmesan cheese. It tastes good, but I think I prefer them served with a tasty tomato sauce and lots of parmesan.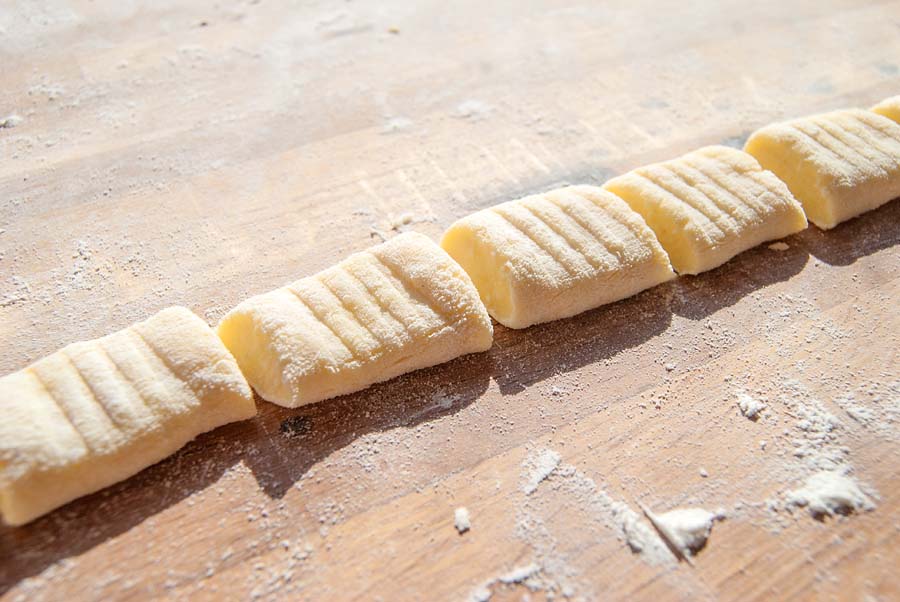 Or you can fry them. It's probably not very authentic, and some Italien food lovers may frown in disgust, but I don't care. I fried some of the gnocchis I made in plenty of butter with sage. Sage fried in butter can lift the most ordinary meal to something heavenly. Just don't take to much. It's a herb with a quite dominant taste. I also added some Ruccola. With grated parmesan on top, this dish is just as mouth watering as it sounds.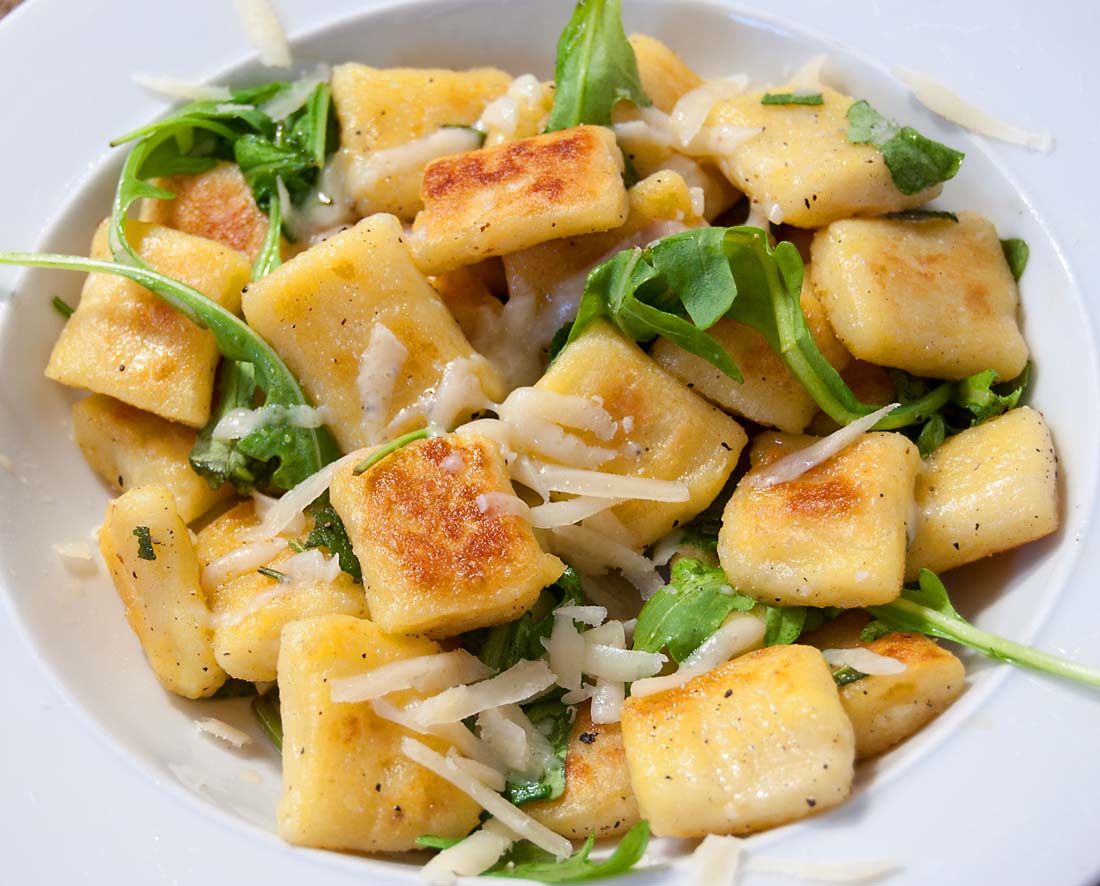 Did my kids like it? Yes, they did. Especially my son, but he preferred them boiled. Perhaps he is the real connoisseur in the family.
Boil the potatoes with their skin until fork tender in salted water.

Drain the water from the potatoes and let them cool for some minutes. Peel the potatoes.

Mash the potatoes or use a potato ricer. Add egg yolk and flour on top of the mashed potatoes and sprinkle some salt.

Start working all ingredients together. Start with a fork and continue with your hands until you have formed a smooth dough. Don't knead too much or the Gnocchi will be gummy.

Divide the dough into 8 pieces and roll each piece into ropes to a thickness of your thumb. Cut each rope into 1-inch long pieces. Press a fork gently against the gnocchi to create ridges.

Boil in salted water until the gnocchi starts to float up to the surface. Drain and serve with melts butter, tomato sauce or other preferred sauce.
Fry boiled Gnocchi on medium heat in butter. Add the sage when they start to get a nice golden color and fry for an additional 2 minutes.

Add the Ruccola, salt and pepper and stir before pouring it all up on dinner plates. Sprinkle some grated Parmesan cheese on top.