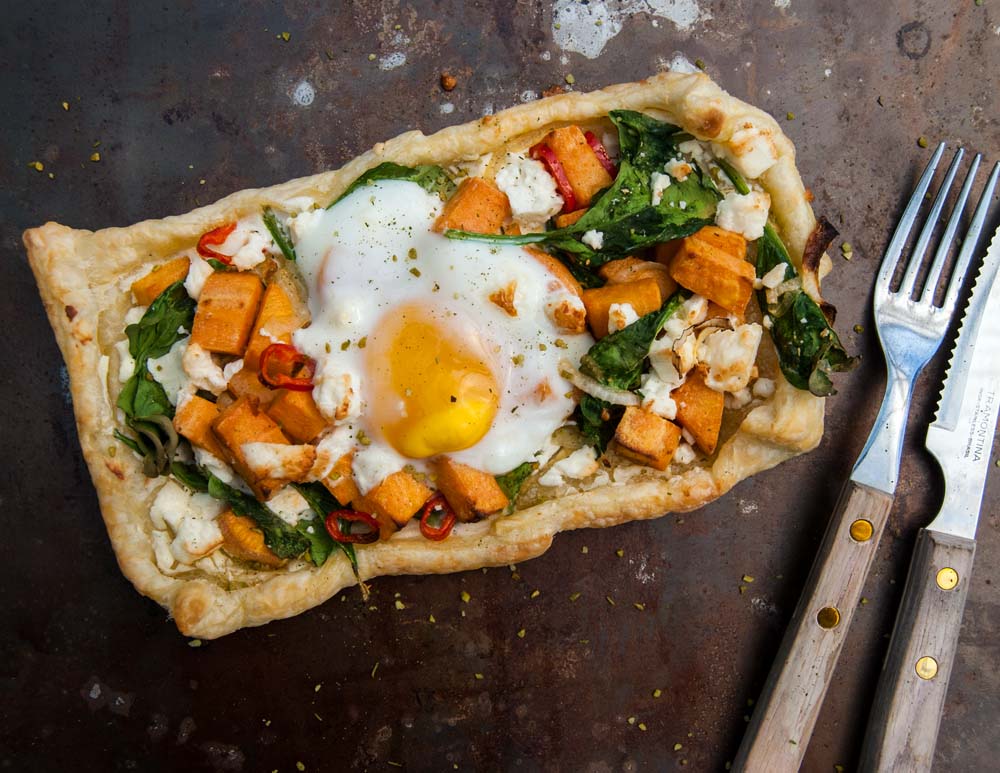 Galette is the fast food version of pizza. You don't agree? Well, I admit that it's two different kinds of dishes, but in many ways, the principle of making them is the same. You take what you have in the refrigerator and pantry, put in on a thin piece of dough, and shuffle it right into the oven.
The difference is that it's faster to make a Galette. If you use puff pastry instead of the ordinary pie crust.
The reason is that you can buy and use ready puff pastry.
Yeah, I know. You can buy ready pizza dough as well, but honestly.
Have you ever bought a pizza dough that tastes good that doesn't come from a pizza restaurant?
I haven't.
They tend to have a consistency that reminds of a crispy cake. That's not an option when it comes to pizza. I promise. The most important thing about pizza is to get the dough right.
It's not that crucial with puff pastry. The stuff you can buy in the grocery store is quite good. I'm not going to object if someone claims that homemade puff pastry is better than the bought stuff. But the difference is not as great as in the case of pizza dough.
In this recipe, we will use sweet potatoes, onion, chili, spinach, creme cheese, and some feta cheese. And on top of everything, we will crack an egg.
There is a lot of taste in this dish, from the sweet potatoes, balanced with the salty feta cheese. Everything is also jazzed up with some chili to make it more interesting. I have used Jalapeño for this recipe. Next time I will try to sprinkle some Chipotle.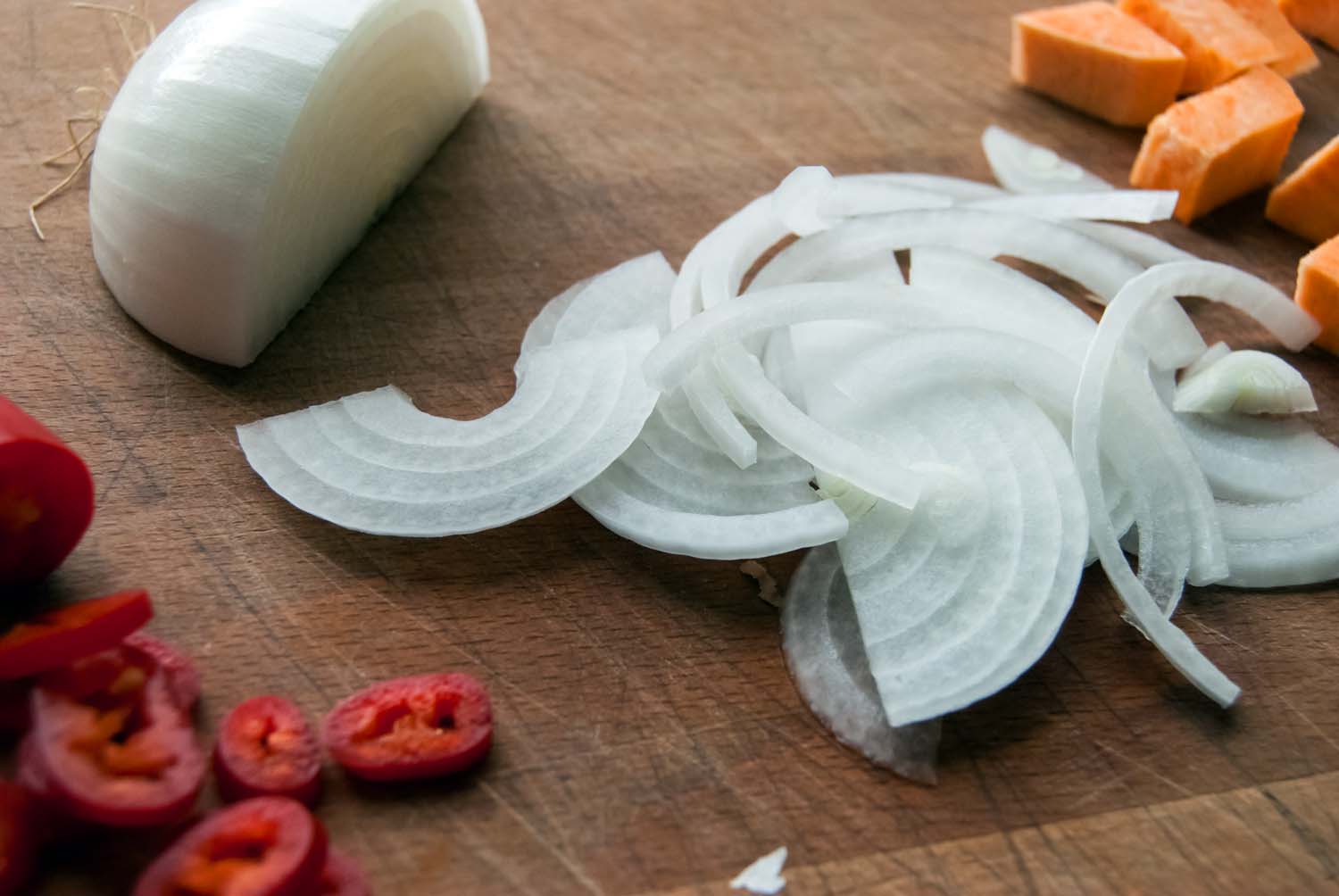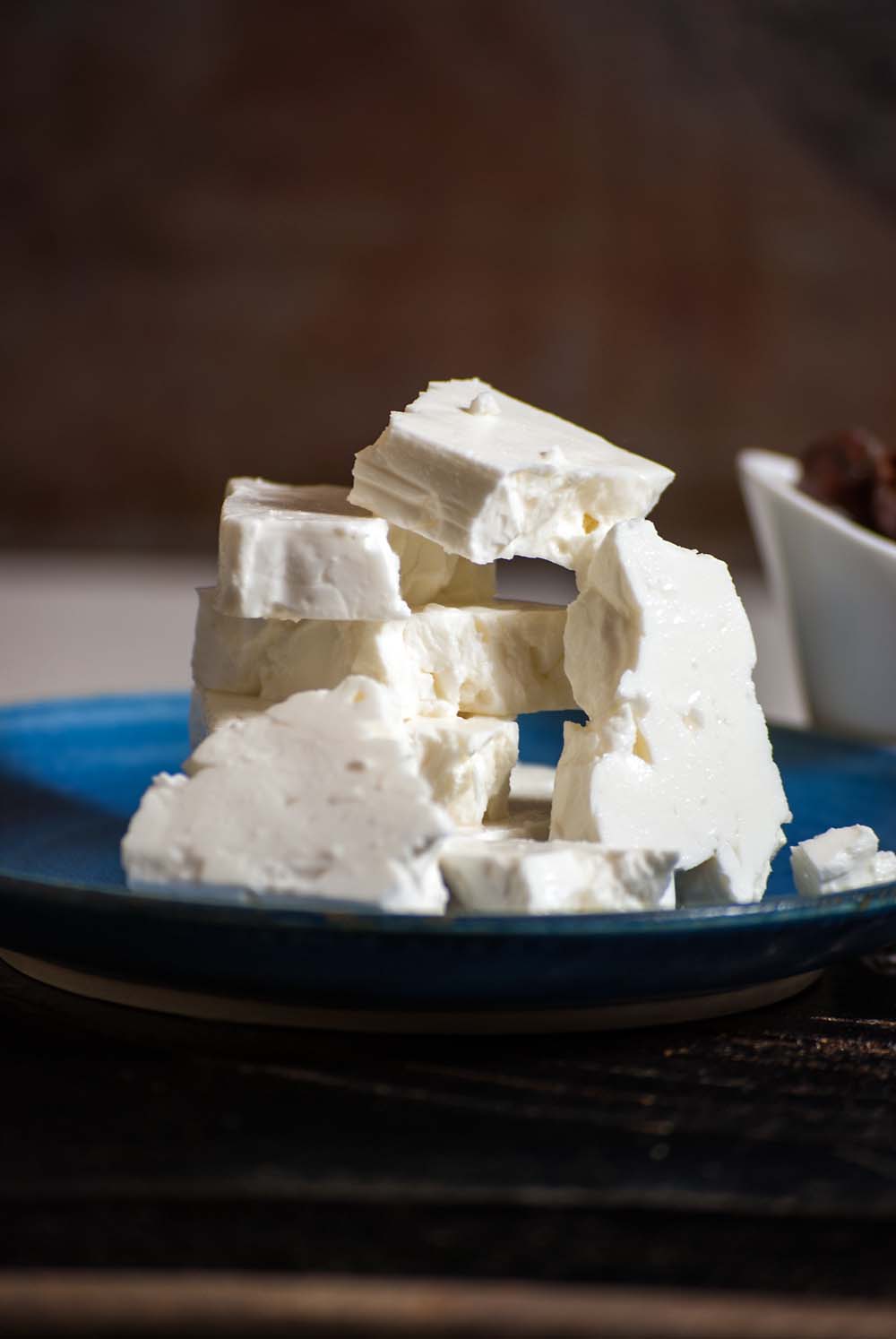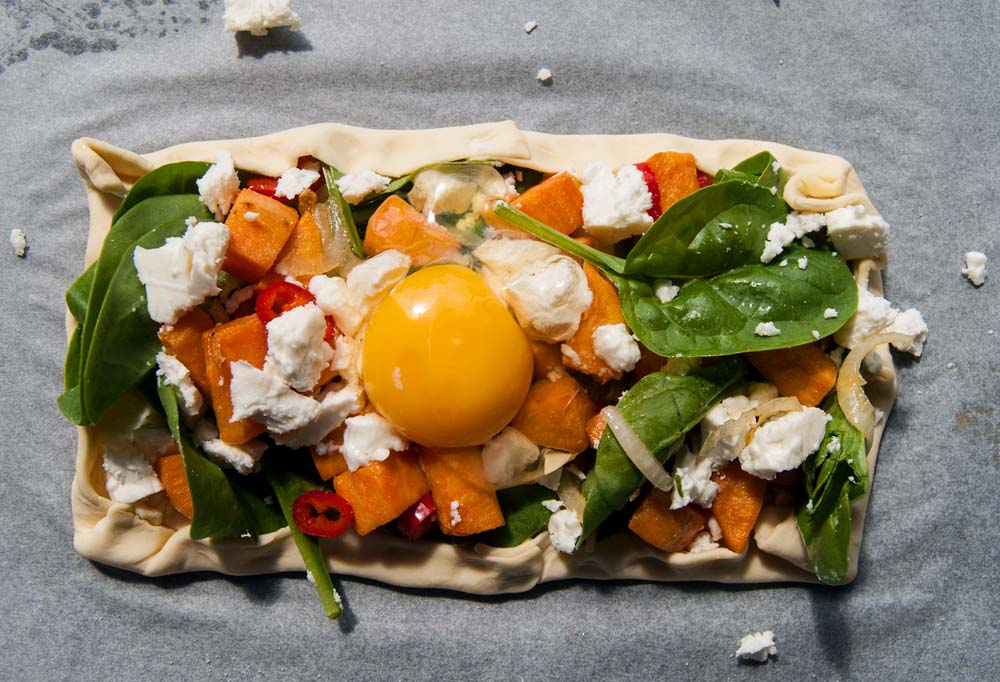 I have tried to replace the spinach for Kale with excellent results. Kale gives more taste. But if you don't like Kale, spinach is a more neutral option.
All you have to do is frying the sweet potatoes with the onions for 8 minutes, spread it on the puff pastry together with the rest of the ingredients, crack an egg on top of everything and put it in the oven. After 15 minutes it's ready.
Perfect for a quick lunch. Or make a big one for the buffet.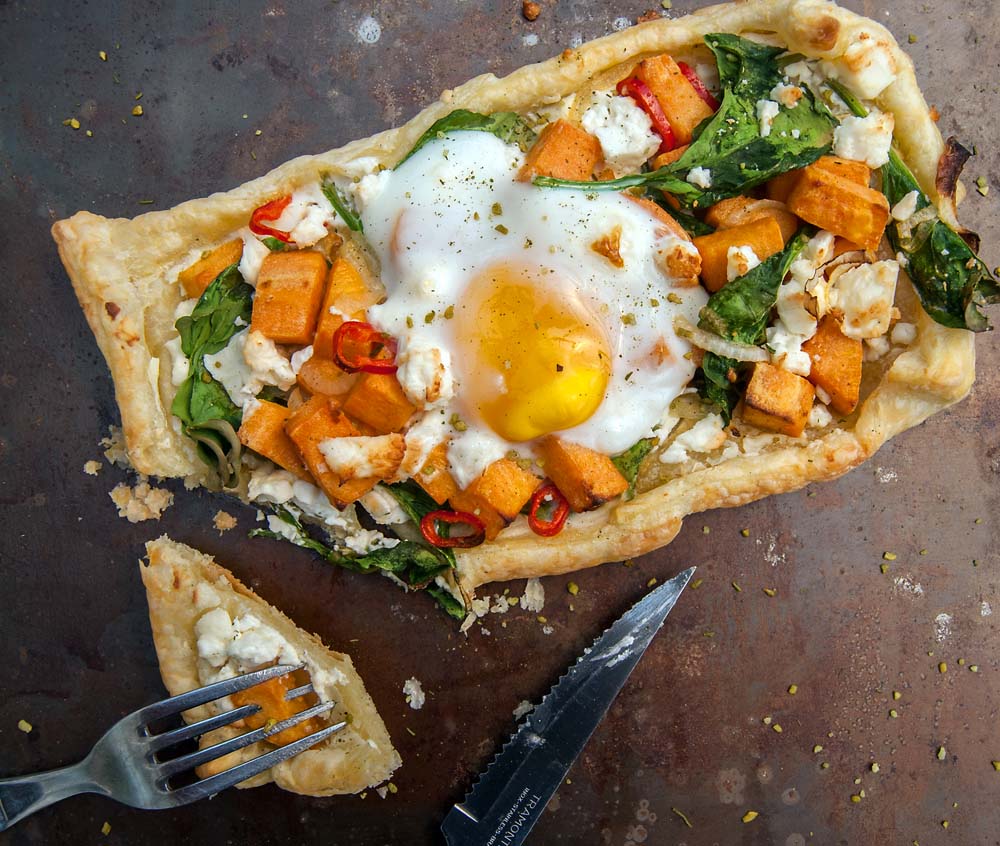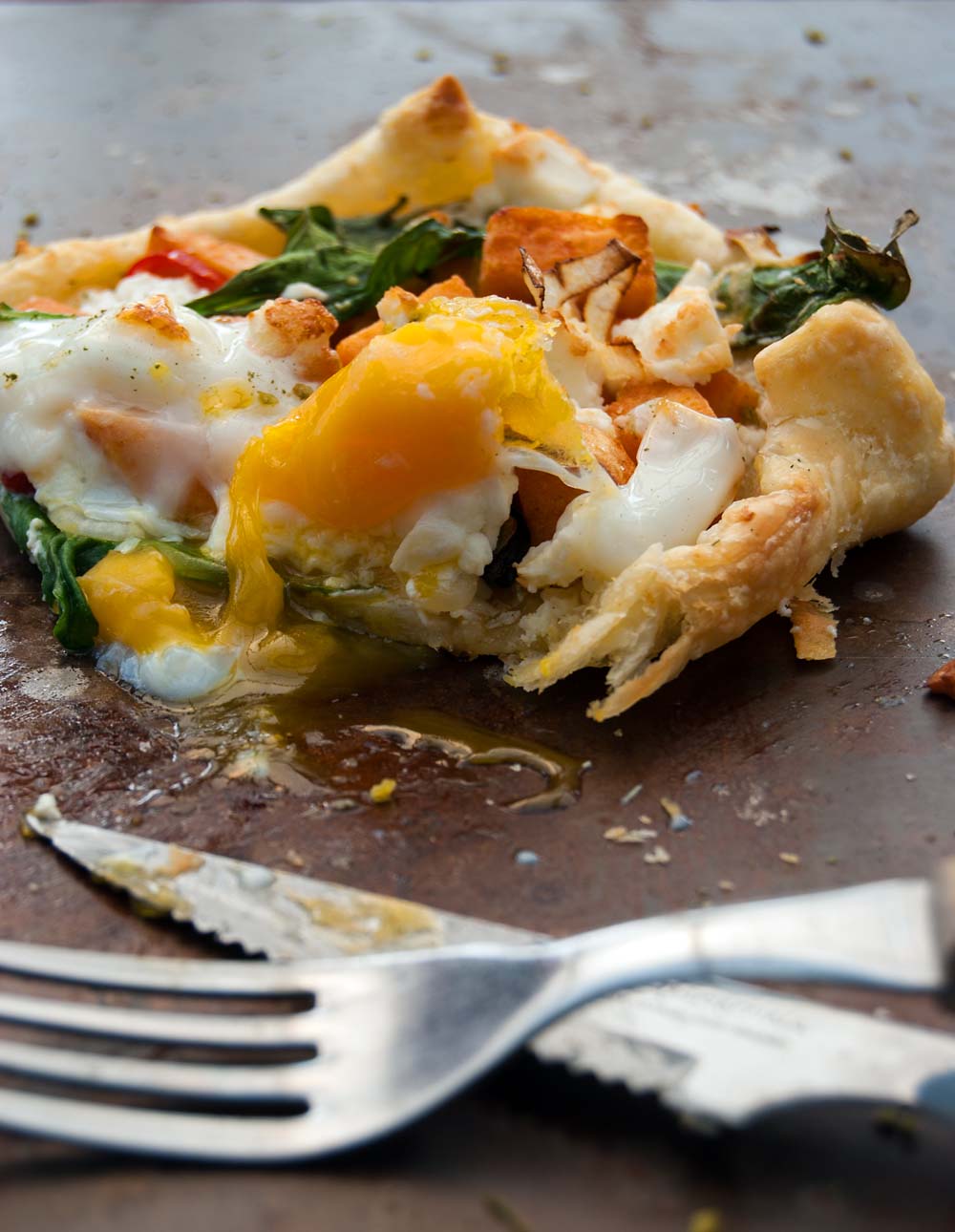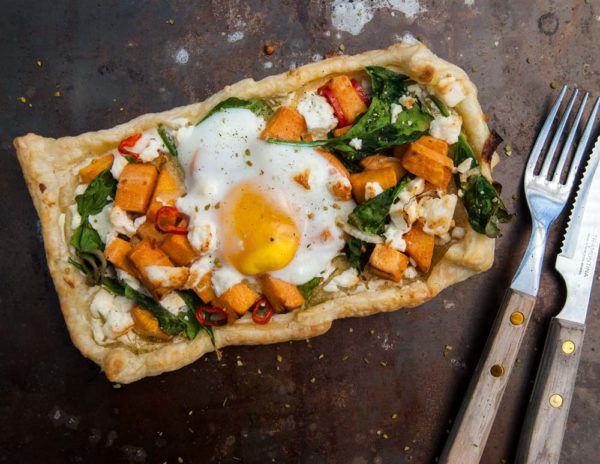 | | |
| --- | --- |
| | |
Preheat the oven to 437ºF / 225ºC.

Peel and cut the sweet potato into squares. Seed and slicep the chili. Cut the onion into thin slices.

Fry the sweet potatoes and onion on medium heat for 8 minutes.

Add spinach and chili and fry for an additional 2 minutes. Add some salt.

Roll out the puff pastry on a baking sheet with parchment paper.

Spread the creme cheese, but save a border of 1 inch all around.

Spread the vegetables and crumble the feta cheese .

Crack the eggs on top of the Galette.

Fold up edges of the puff pastry. Bake in oven for 15 minutes.