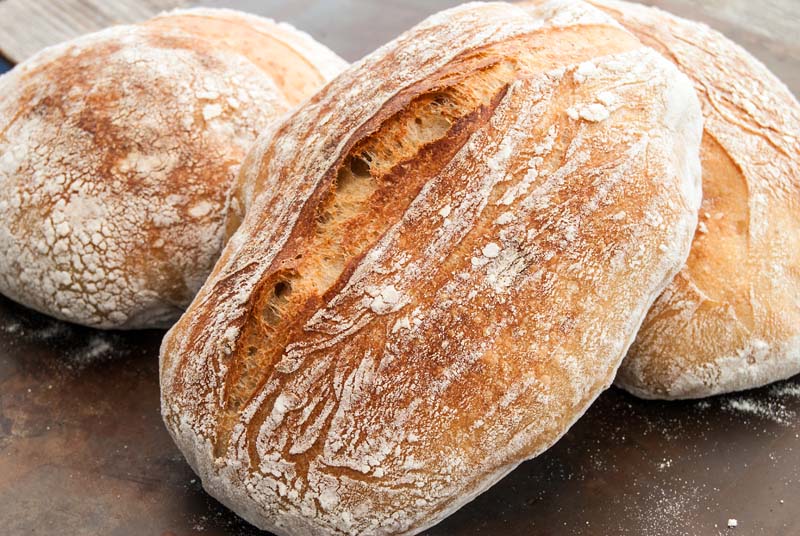 First time I was baking with raisin yeast, I was surprised at how easy it was. I was a newbie to sourdough baking, and I had struggled with my wheat starter for a while. It's funny how easy it sometimes sounds when you read instructions for how to make a sourdough starter. Just mix flour with water and place it somewhere warm. And in a couple of days, you have a bubbling starter.
Yeah, sure.
Most of us who have tried know it's usually not that simple. Sometimes it doesn't matter how much you're taking care of your starter. You're still just rewarded with some tiny bubbles on the surface. At best. Sometimes it looks dead as a mummy.
As we become more experienced, we learn how to keep our starter mature and lively, but in the beginning, it can be a bit daunting.
That's why I think it can be a good idea for beginners to take a break from the traditional starter and try raisin yeast instead. It may look complicated at first glance. It's circumstantial, but it's in fact not that difficult. And the chance of being rewarded with a bubbly starter is bigger than if you just mix flour and water and hope for the best.
According to some bakers, a traditional levain must be started with raisin yeast. I have no opinion about whether it is correct or not, but I do know that you get excellent bread.
Raisin yeast ( together with other types of fermented fruits or berries) sometimes goes under the definition wild yeast or natural starter to distinguish it from the traditional sourdough starter. I don't think that's correct. The only type of yeast that doesn't qualify in the wild yeast family is commercial yeast.
Now, I'm not claiming that commercial yeast is something bad. It's perfect for certain types of bread. But it won't give you bread with that special, tasty crumb with a crunchy crust that only a bread made from a natural starter can provide. Raisin yeast is no exception.
As I have mentioned before, I find it very easy to bake with raisin yeast. Up to this date, I have never failed. I have however heard about bakers that have faced some problems. Some claim that you should only use raisins not coated with oil. I have used both types and never experienced any problems, but if you can find any without oil coating, preferably organic, I encourage you to use them. Unfortunately, the producers sometimes use palm oil, something that can only be considered as vicious.
The procedure to make the yeast is just as easy as to mix a sourdough starter. All you need is some raisins, lukewarm water, and some sugar. Add everything into a glass jar with airtight lid.
Shake the jar until all sugar has dissolved, and place it in a warm place. Now you only have to wait. After 3-4 days, you will hopefully see some bubbles from the raisins. The yeast is ready when all raisins are floating and releasing lots of bubbles. Pour everything through a strainer, but take care of the liquid. It's the liquid that is the actual yeast.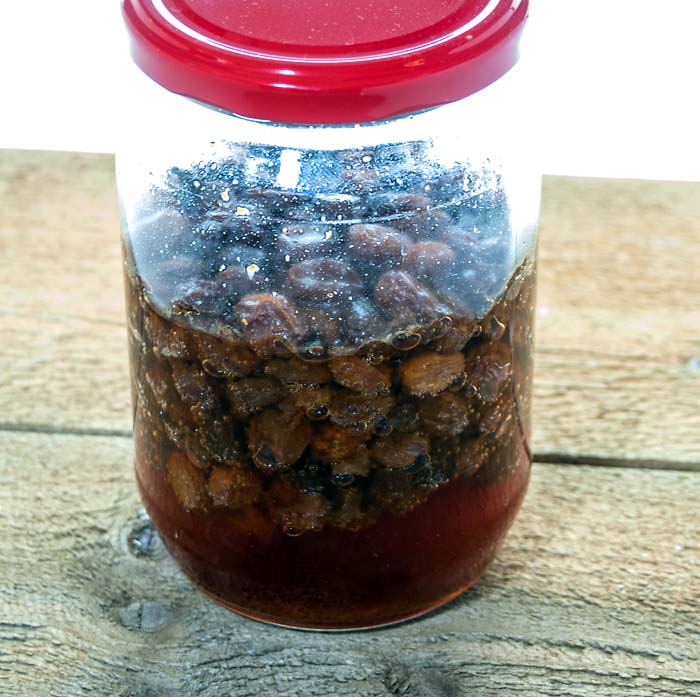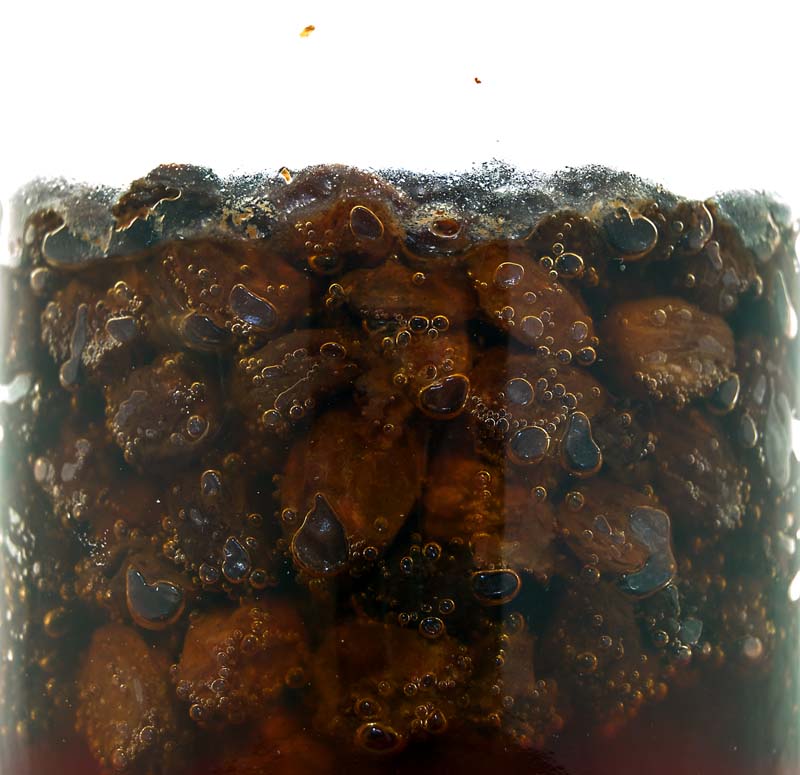 You don't need the raisins anymore so you can waste them. Or you can use them in some bread or pastries. Be creative. Food waste is BAD.
Now you can make your first raisin starter dough (a weird word, I know. But I don't know what to call it). You mix raisin yeast with flour and let it ferment for at least 4 hours. I use to let it ferment overnight. If you follow the recipe below you will get som leftover yeast. Pour it into a jar with an airtight lid and store it in the refrigerator.
There it should keep for several months.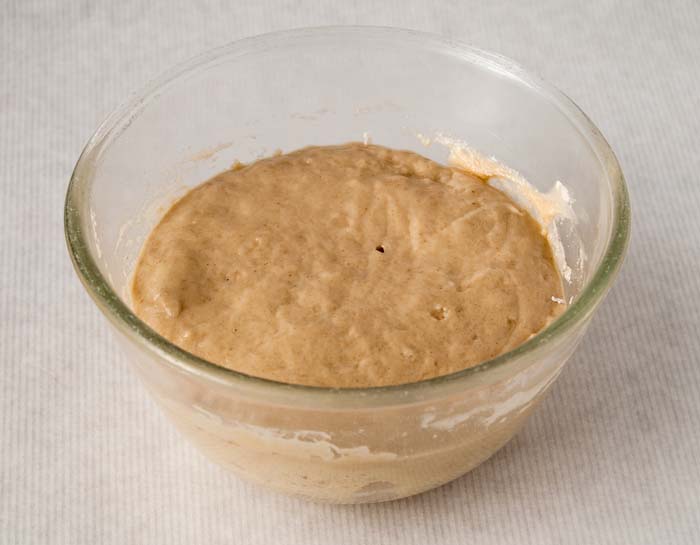 It's time to refresh your starter dough, and you do that by adding som water and flour. Knead everything into a smooth dough that you let ferment for 3-6 hours depending surrounding temperature. It should double in size.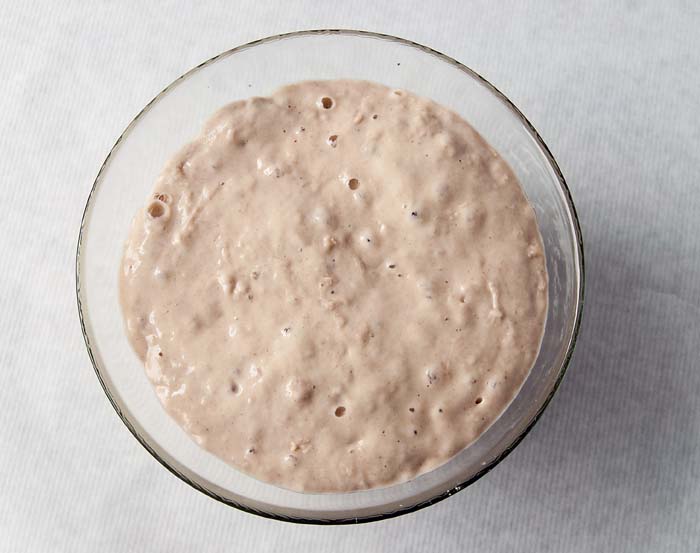 Finally, it's time to mix the levain. I advise you to do that the evening before you want to bake. Let it ferment overnight, and you are ready to bake the next morning.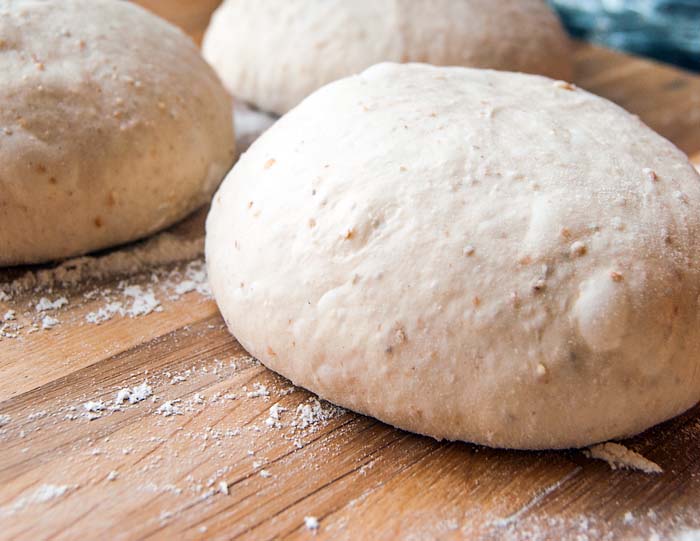 The levain can be used as a starter in many different recipes. I have included one below that I use on a regular basis.
Make sure that you spare some of the starter dough. You can keep it in the refrigerator for 10-14 days. When you want to bake, you just have to refresh it with flour and water to a new levain. If you do it in the evening, you are ready to bake again in the morning, and you don't have to start all over again.
And don't forget that you now have a powerful ally in the refrigerator. A tablespoon of that leftover raisin yeast can wake up the most sleepy sourdough starter. I promise.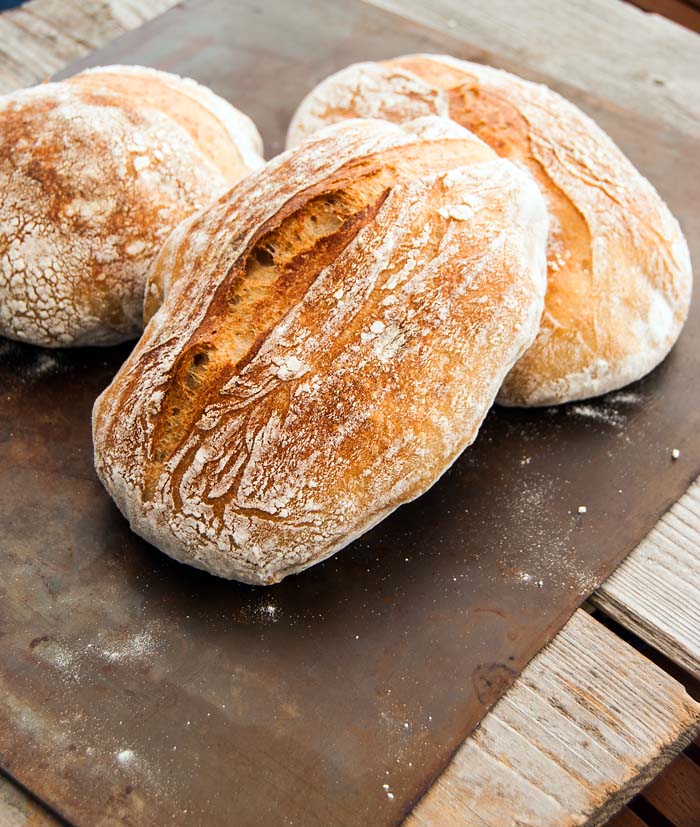 About flour.
The flour I used has 11.5-12 % protein. You may have to increase the water amount to get the same result if you are using a much stronger flour.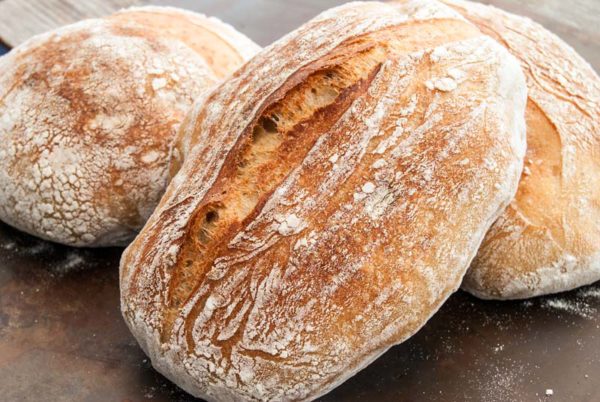 | | |
| --- | --- |
| | |
Heat water to approx. 35 °C. Mix sugar, water, and raisins into a large glass jar with air-tight lid, and shake until sugar has dissolved. Place the jar in a warm place, preferably ca. 25-30 °C, if possible. Otherwise, it is good anywhere at ordinary room temperature. It will work. It will just take a little bit longer to start the fermentation process.

Let it ferment 4-6 days. The yeast is ready when all raisins are floating and releasing lots of bubbles. Pour everything through a strainer, but take care of the liquid. It's the liquid that is the actual yeast.
Mix raisin yeast with flour and let it ferment for at least 4 hours, or overnight.
Add water and flour to the starter and knead it to a smooth dough. Let it ferment for 3-4 hours.
Mix 100 gram of the starter dough with flour and water and knead to a smooth dough. let it ferment overnight, or at least 4 hours.
Mix all ingredients except salt in a dough mixer until the dough is elastic. Use window pane test. Add the salt the last minutes. If you prefer to knead by hand you can use a stretch and fold technique. You will find a link in the recipe notes

Let the dough ferment until doubled in size.

Spread some semolina on a lightly floured working surface. Form the dough into two loaves with an oblong batard shape. See link in recipe notes. Let the loaves rise in bannetons or on lightly floured parchment paper. Place kitchen towels on the sides to support the bread if you don't use bannetons. Always use rice flour when you are preparing your bannetons. It's superior compared to ordinary flour.

Let the loaves rise until doubled in size, about 60-90 minutes.

Preheat your oven to 480ºF / 250ºC with two oven plates. One to bake the bread on and one just below.

Score each loaf along the side and place them in the oven. Lower the heat to 440ºF / 230ºC. Pour some water on the plate below and bake each loaf in 45-50 minutes.

Let the bread cool on wire racks.
Follow this link for instructions regarding stretch and fold technique and forming the loaves.